The Real Housewives of Toronto recap, Episode 7: Game of Joan
*Deep Breath.*
Kara… YOU CAN'T SIT WITH US!
Seriously! These real housewives need to get realer! If this was Atlanta or Beverly Hills, Kara would have had a chardonnay shower by episode 2 but this Toronto cast is seemingly too busy having tea at the Windsor Arms Hotel and golfing with Gregg Zaun to participate in a necessary throw down. Are they making us wait for a Niagara wine tour episode for a good ol' fashioned wine splash in the face? Well, we want it now because Kara's crime of the week was multi-offensive.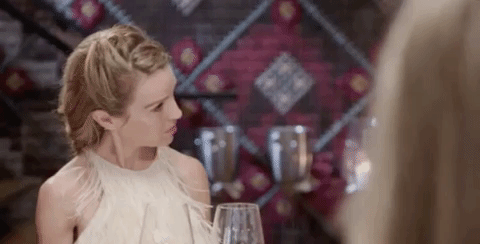 Not only did Kara try and make the phrase "Snack Bracket" happen but she also had the lady balls not to come clean about talking dirt about fun Joan. For anyone needing a refresher, the show provided one by replaying the unjust panty dropping rumour clip IN BLACK AND WHITE, ya'll! So we'd all truly get the gravitas of the situation.
See also
And get it we did, as an entire television audience took off their hoop earrings and waited for the fight.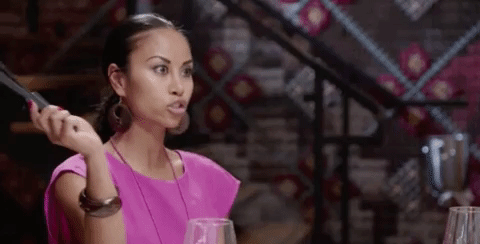 Kara must have sniffed out that everyone was ride or die team Joan in advance because she showed up to lunch at the King West restaurant Patria ready to rumble.
She wore her armour of designer pink ostrich feathers and requested that her stylist prepare her for war by putting braids in her hair, "like in Game Of Thrones." She then told everyone she looked just like Jon Snow so we're preeeeeetty sure she's never actually seen the show. And when the confrontation finally happened, it wasn't like Game Of Thrones at all! Blood soaked swords and ice wizards or whatever were replaced by a polite conversation between Joan and Kara on the sunny restaurant patio. Where the harshest word said was "déclassé" and the only fist raised was Roxy's, hoisting her beverage to her mouth and dramatically raising an eyebrow while watching through the window.
Oh boy… #RHOT pic.twitter.com/iDkviMj81X

— slice (@slice_tv) April 19, 2017
It was a major disappointment and as we collectively put our hoop earrings back on it was no surprise to see the whole thing fizzle out with Kara using her nonsense rib injury to bail on the upcoming trip to Barcelona where the ladies had all agreed to be fat sculpting models. We get it though! Kara can't just run off to Spain and miss an opportunity to sulk about being the outsider of a group of women she can't stop talking about how much she hates. I mean, come on! REAL friends would totally understand that!
Relationships may be rocky but thankfully we have the AMBI gala coming up where all can be mended over the sweet, sweet music of Earth Wind and Fire and a table that costs 25 thousand dollars to sit at. The RHOT ladies just need a chance to chill out and remember the important things in life. Like Ann's broccoli hat. Obviously!
Until next week, Toronto.
We're so game for your cazy ideas, Roxy! #RHOT pic.twitter.com/BTVqD7UEI6

— slice (@slice_tv) April 19, 2017