The Real Housewives of Toronto recap, Episode 5: Everyone needs therapy
There was A LOT of therapy on this week's episode of The Real Housewives Of Toronto.
Physical therapy. Sound therapy. Retail therapy. Luxury Yacht therapy. I need therapy after watching this show every week. You name it!
Now… There's a lot of crazy ground to cover so everyone hop aboard the 'are you f*%$ing kidding me bus' and let's ride!
We start with Kara who requires medical intervention for a fractured rib. A pain so great she equates it to being punched in the boob. Something I TOTALLY believe Kara has experienced before. A lot. Especially after we saw her get the rib injury by purposefully causing a rideable, inflated hotdog in episode 4 to flip because she wanted her hung over friends to throw up.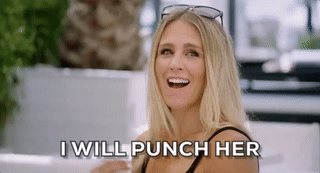 In the realm of retail therapy, Grego sets out to buy some sexy lingerie at Yorkville's boutique intimates store 'Avec Plaisir' for her and her Disney prince husband Pierre's wedding anniversary. For a second opinion, Grego brings along Joan because despite the fact that lingerie is basically just the throwaway sandwich wrapping of sex, no decision can be made on this show without the help of several rich people. After much deliberation Grego and Joan choose a weird, white nightie that looks like something you'd wear while having a catholic priest remove a demon that is possessing your soul. I hope Pierre is like, into that sort of thing.
Next up, there's just enough time for Ann and Joan to hit up the Summerhill décor shop 'Artifacts' to buy Roxy a giant, silver dog made of fiberglass for her birthday and then we're whisked off to the big surprise party at ACE night club where everyone who is anyone is there.
Introducing my boyfriend, Leo #RHOT #puppylove pic.twitter.com/OQg9v66wID

— Luxuriouslola (@luxuriouslola) April 5, 2017
Except Kara. Don't worry, she kindly sent a video to give Roxy some birthday wishes but mostly to show off her very obvious home made sling. Rib injury, guys! HEY YOU GUYS! RIB INJURY!!! However, Dr. Jana is suspicious. No one would put you in a sling with a broken rib (apparently) so gurl must have come down with LYING ABOUT IT DISEASE! Roxy smells the bull doody too and assumes that Kara faked the severity of the injury to miss her birthday party (again) on purpose (again).
All kinds of suspicious… #RHOT pic.twitter.com/qdaZFgCU72

— slice (@slice_tv) April 5, 2017
With so much bad energy the RHOT ladies (sans Kara) head to the Helix Health Centre the following day for some sound therapy. That's healing through vibration of sound, ya'll. If you're thinking the ladies got sucked into the scheme of some quack medical science, I assure you that the session was run by a guy named Jesse wearing a whale tale necklace. Which is the only qualification I need. HEAL ME, JESSE!
Too bad we couldn't enjoy the sound of silence because our chakras got all shook up on Joan's Yacht in the Toronto harbour when Kara was back to loudly complaining about her broken rib, insinuating fun loving Joan is an alcoholic and calling Grego a pirate. RUDE! We're so over Kara toeing the line in those gaudy orange and blue suede stilettos. What is wrong with this woman? What gypsy curse does she hold over the rest of the RHOT cast who are too afraid to call her out?
Hoping for a boob punch in episode 6.
See also