The Real Housewives of Toronto recap, Episode 6: Designer dresses and hot messes
Things got a little hairy last night on The Real Housewives Of Toronto… and we are not talking about Roxy and her dog's Russian eyelash extensions.
The Kara vs. Roxy feud is coming to a boil like a big 'ol pot of b*tch soup and this time, fun Joan is caught in the crossfire. When Roxy finds out Kara has been telling everyone and their eyelash extension artist about Joan getting wine drunk and dropping her panties at the cottage, she officially went too far. But the struggle is real as Roxy suffers from major rumour constipation and gets super uncomfortable keeping it in; never knowing the right moment to transform into a colonial town crier and march through the streets with a stupid bell going, "Here ye! Here ye! I do declare that Kara is-ith the worst!"
Looks like someone is missing again #RHOT pic.twitter.com/7sWrZnmAL8

— slice (@slice_tv) April 12, 2017
It certainly wasn't when Ann re-proposed to her husband Steven over a plate of fresh Ontario broccoli. Or the random moment when Jana discussed golfers "visiting her hole" with Blue Jays analyst Greg Zaun or even during a private dinner at Spoke On The Water where Grego gave up details of her ballerina past and jealous ex confirming what we already knew, that her life is the plot of a Step Up movie. By that time, Roxy is turning a fashionable shade of blue from holding onto the juicy Joan rumour for an entire episode but manages to remain civil all the way through Michael Dee's designer pop up shop (with Parisian flare). As gurl sips champagne and throws mad shade in a hot pink blazer, Kara continues on her course of offending people, like the tiny 98-pound wrecking ball that she is.
#Willyoumarryme @SottoSottoResto We are #engaged pic.twitter.com/ZWdeo5UtcE

— Ann KaplanMulholland (@AnnKaplan_OwnIt) April 12, 2017
Kara points Jana to the sales rack like she's some sort of sub human garbage person, she "forgets" to inform Canadian designer Michael Dee that Roxy is plus size making her feel awkward that there is nothing for her to try on and even pretends to like Ann's new 'hand bag' which is in the shape of a giant glove. We know you don't get the pun, Kara! OK? Because two face people don't get puns!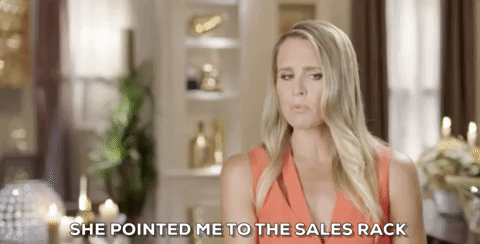 The final insult comes when Kara decides to push her AMBI gala ticket sales on the rest of the RHOT cast after we previously saw her struggling with the conflict of interest. During lunch with her mother, Kara, like all children must grow up and one day do, asks her mom if she should invite people she doesn't respect to a charity gala just for the money. Clearly the answer was yes. Yes you should. Because money! Mooooooney! WHOOOHOOO! Steam came out of Roxy's ears at that point and we're left hanging on the promise that next week, the piping hot bowl of b*tch soup will finally be served.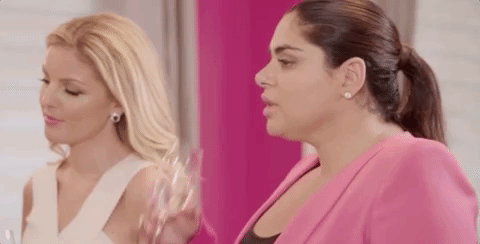 See also