You may have heard of Vancouver Canucks prospect Jack Rathbone.
The story of him deciding to stay at home and captain Dexter Academy of the Massachusetts' prep circuit for an extra season to be close to his brother who has autism was heart-warming and humanizing.
What hasn't been as publicized is just how good the 20-year-old defenceman really is.
Rathbone has been plying his trade at Harvard University for the last two seasons. As a freshman, 5-foot-10, 190-pound rearguard made a seamless transition to the college ranks. He thrived in partnership with New York Rangers defenceman Adam Fox and produced 22 points in 33 contests. That was third-most amongst all freshmen defenders. His 2.79 shots per game were second.
This season, he's been leading the charge for the Crimson.
Through 17 games, the left-handed Rathbone has four goals and 18 points. Several players sit ahead of him due to the Ivy League school playing less and studying more. However, on a point-per-game level, that mark sits fourth in the entire nation for defencemen.
2 assists for Jack Rathbone tonight. The sophomore is up to 18 points in 16 NCAA games.

His 1.06 points-per-game and 3.06 shots-per-game both sit 4th in the nation for defenders. #Canucks

— /Cam Robinson/ (@Hockey_Robinson) February 1, 2020
NHL-ready skating
The standout trait for the 2017 fourth-round selection is his effortless skating stride. Rathbone is able to generate instant speed with his acceleration and flawless mechanics. It affords him opportunities offensively and helps to clean up any messes he makes defensively.
He's an NHL-ready skater.
Watch below as Rathbone explodes up the ice while his team is shorthanded. He turns the play into a dangerous scoring chance with his wheels.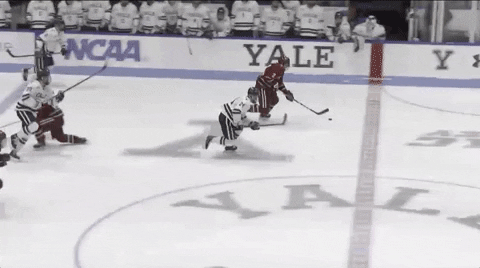 His shot
Rathbone isn't not shy about firing the puck at high volumes — a terrific sign for a future NHL career. Additionally, he has the ability to score with precision.
Here's Exhibit A:
Working on a Jack Rathbone piece and spoiler alert, he's not just a silky smooth skater… this kid is an assassin #Canucks pic.twitter.com/UQhoj8obKR

— /Cam Robinson/ (@Hockey_Robinson) February 2, 2020
Exhibit B:
Exhibit C:
Transitional play
Outside of his skating, Rathbone's most impressive skill is his transitional play. It's also a skill that will help facilitate his elevation to the professional ranks.
Rathbone already boasts NHL-level outlet passes. His awareness on the ice, coupled with a soft touch, makes him a threat to bomb lengthy passes at any moment.
Having several defenders capable of moving the puck to the forwards in a hurry and with precision — this is what drives high-end offences.
This stretch pass by Jack Rathbone from last weekend breathes life into my soul.

So saucy. #Canucks pic.twitter.com/IF79ann0kX

— /Cam Robinson/ (@Hockey_Robinson) November 14, 2019
Defensively, there are still holes in Rathbone's game, as he needs to figure out his positioning to better handle larger and physically stronger opponents.
He can get a bit lost in the defensive end, and he sometimes rushes cross-ice passes in the offensive zone that lead to dangerous turnovers.
However, as mentioned before, his speed can help mitigate those deficiencies.
His contract situation
There has been some confusion over the duration that the Canucks own Rathbone's rights. As an NCAA player, he would normally be free to explore unrestricted free-agency as of August 15 in the summer after his fourth and final college season. However, since Rathbone stayed at Dexter Academy for an additional season after being drafted, this alters things.
Rathbone will now be permitted to explore free agency in the summer of 2021 — after his third season with Harvard, but he would need to leave school. As long as he is in school, the Canucks will own his rights.
With this information, and with how well the Massachusetts native has played, I expect the Canucks will take a very healthy run at signing him at the conclusion of this season. They will not want to risk him going back for another year of NCAA hockey and walking away for nothing that in the summer of 2021.
With Rathbone's skill-set, and with future holes on the left side of the Canucks' blue line looming, don't be surprised to see Rathbone charting a direct course for the Vancouver lineup.
The Beanpot Tournament
You can catch Rathbone, as well as Tyler Madden and Aidan McDonough at the Beanpot tournament — a well-respected Massachusetts college hockey tournament. It will be broadcasted live on TSN2.
Beanpot schedule:
Mon, Feb 3: Northeastern vs Harvard @ 2 pm PT
Mon, Feb 3: Boston College vs Boston University @ 5 pm PT
Mon, Feb 10: Consolation Game @ 1:30 pm PT
Mon, Feb 10: Championship Game @ 4:30 pm PT