For a team that has played well on the road throughout the season, you can be forgiven if you thought the Canucks would somehow manage to hold on for the win on Saturday night.
It had a feeling of a game that could get things back on track after a disappointing showing at home against the Flyers. Every team needs one of those at some point during the season.
The Canucks in all honesty really didn't deserve to win this one. Just check out this heat map of even strength shots on goal courtesy of NaturalStatTrick.
That, by the way, is not good.
Matthew Tkachuk tied it with over eight minutes to go, and then eternal 18-year-old Sam Bennett got the game-winner with 1:10 left on the clock. Tkachuk would add an empty netter to make the final score 4-2 for a Flames win.
1. The winning goal
The Canucks were hanging on like Mufasa on the side of a cliff late in a tied game.
Calgary was coming in waves, and it was either a) they were going to score or b) Nilsson was going to bail them out and push it to overtime.
Unfortunately, the former happened.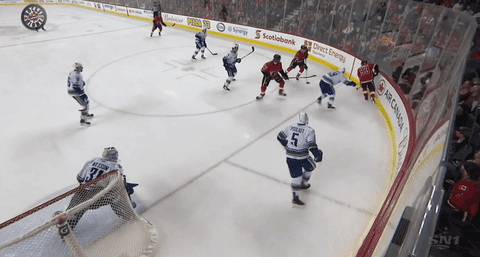 Not sure what Gagner was doing with the whole one hand on the stick bit on that goal. It looked like Travis Green had just bag skated him and then asked him to go defend Bennett.
God damn it Sam Gagner, you're making it real hard to defend you.

— Wyatt Arndt (@TheStanchion) December 10, 2017
Let's not forget Vanek's weird karate swing at Bennett right before he gets his shot off as well. It was just bad defending all around from the away team.
2. SixPack Superstar: Jake Virtanen
It was a tossup between him and Boeser, but I'm giving it to Jake Virtanen tonight because of his all-around game.
First, the goal. He finally went to the net and guess what? He got rewarded…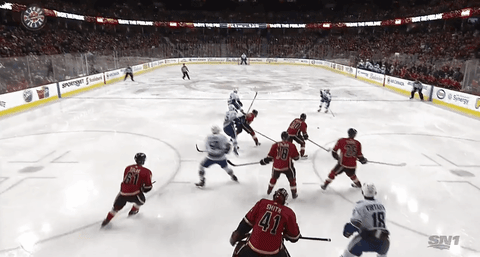 He also had this nice play with Chaput. Again, driving to the net, making things happen…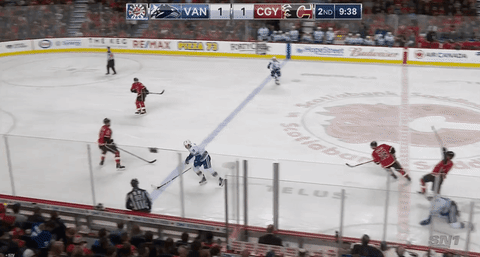 And also had a great hit behind the Calgary net…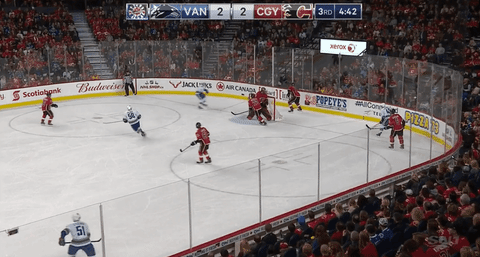 Not only that, but he played over 12 minutes, actually had shifts in the third with a lead (hey, it's progress), and had the highest even strength Corsi out of all the Canucks.
Jake's been rollin the last 10 games. Bounces will come

— John Garrett's Muzz (@JGarrettsMuzzy) December 10, 2017
He seemed to have chemistry on a line with Brendan Gaunce and Michael Chaput. Hopefully, this game gives Travis Green and the coaching staff more confidence in him.
3. The Dowd debut
Where were you when Nic Dowd made his Canucks debut?
With great anticipation and fanfare after the trade on Thursday where he was swapped for Jordan Subban, he was put on a line with Thomas Vanek and Markus Granlund.
He did not get off on the right foot with his new team, and that's putting it mildly.
His Corsi For % was 17.65. He didn't play a second on the penalty kill.
He took a penalty, had only two shifts in the third, and had a wtf moment with this pass.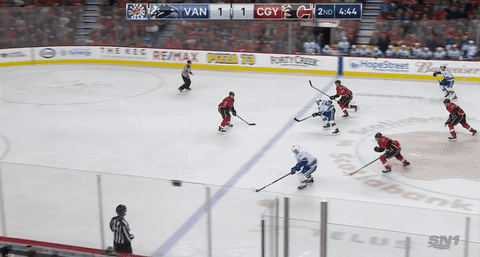 Look, Jordan Subban was never getting a chance here in Vancouver. His play, especially in his own zone, probably never convinced Canucks management that he would be more than a bottom pairing/depth defenceman.
If Travis Green, your coach for two seasons in the AHL, isn't interested in calling you up then the writing is on the wall.
4. #FreeGoldy
Nikolay Goldobin was scratched for this one, and people were not too happy about it.
Canucks going with the unique strategy of sitting a goal scorer for a career AHL guy. Tonight's game should be fun.

— Andy Cole (@AndyCole84) December 9, 2017
Chaput and Dowd in for Burmistrov and Goldobin. Did Willie Desjardins kidnap Travis Green and put on a disguise?

— Joshua (@VanCityOrca91) December 9, 2017
As a protest for Goldy being a healthy scratch, I will not watch tonight's Canucks game. Please like this tweet if you will be joining in on the protest. #freegoldy

— Taj (@taj1944) December 9, 2017
They've got a point. This game longed for someone with the flair Goldy has, and it's hard to see how you can keep him out on Monday against the Jets. Especially over a guy who hasn't scored in a millennium and does this when given a scoring chance.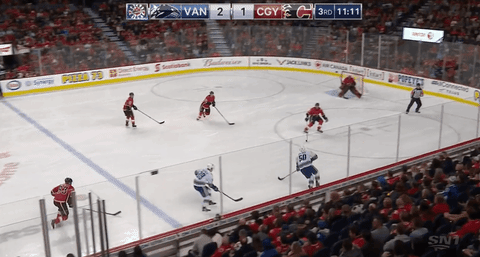 5. Del Zotto drops the beat
With Gudbransson scheduled to come back soon, there's been a lot of talk about who should come out in his place.
After tonight, maybe it should be Del Zotto.
Del Zaster in the house.

— Jason Brough (@JasonBroughTSN) December 10, 2017
The numbers don't paint a pretty picture. His Corsi For in all situations was just over 30%. His unblocked shot attempt (Fenwick) rate wasn't much better at 31.82%. He logged just 16:19 of ice time, the lowest of all Canucks defencemen.
On the Flames first goal, he slips on a banana peel which leads to a 2-on-1 and a Troy Brouwer goal.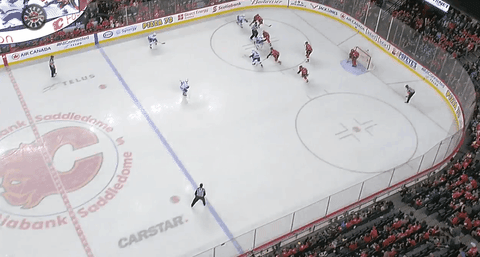 He also got sat down by the backside of Matthew Tkachuk.
That drop was so hard Del Zotto is trying to figure out a way to put that into his next pregame mix.
6. C'mon referee
There's a trend starting to emerge. Whenever I get called up to do the SixPack, a strange call seem to go against the Canucks.
Back against the Sharks, it was a phantom penalty shot that went against Vancouver in a 4-0 game with 14 seconds to go.
Tonight, Loui Eriksson got called for probably the weakest slash you'll see all season.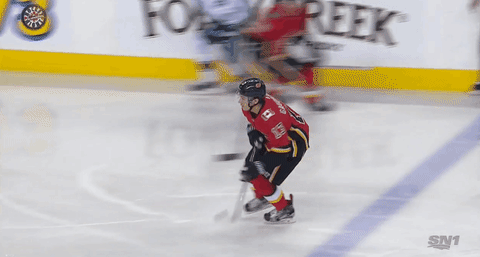 This is as close to a perfect backcheck from Loui as you can get. Thankfully, the hockey gods were on the Canucks' side as the Flames didn't score on the ensuing power play.
Next up for the Canucks is a game against the Winnipeg Jets on Monday. They might be without the services of Sven Baertschi, who left this game early in the second and did not return.
See also