SixPack: Canucks "lose" to Coyotes in Great Tank War of 2017
Dearest Elizabeth,
I fear I must head out to war today.
We had hoped it would not come to this. We thought this was but a small kerfuffle amongst neighbouring athletic ice hockey clubs. It seems like just months ago we thought the season would play out in unspectacular fashion, much like those new horse riding pants your mother in law gave me for Christmas. Do give my regards to Gertrude for me.
But it is a truth universally acknowledged, that a single hockey club in possession of a bad future, must be in want of a good draft pick. Before we knew it, our armies were side by side. Tanks lined up in a row. Tension was high on both sides. We all knew there was only one way for this to end…
It is why we must fight now. We must battle with the Coyotes of Arizona. We must show who is deserving of not dropping lower than fifth in the drafting of hockey youths. We know General Bill Foley awaits the victor in Los Las Vegas. We must prepare for him accordingly.
We must fight.
We must persevere.
We must be brave.
We must win the Tank Wars.
Regards,
Quartermaster Sergeant Blogger,
Wyatt
See also
1. Day 1, Tank Wars
Dearest Elizabeth,
I write to you with worrying news. I fear there is a divide amongst the army. A hot shot Private named Goldobin is causing quite a fervor in camp. He came riding in on a matte black horse, claiming it had 20 horse power. Absurd! How could a horse have more power than another horse. Next he'll claim the earth is round! He is a preposterous, tawdry little man.
Even worse? He is hurting the Tank Battle with his flair, and "desire to score", and wanting to "do exciting things on the ice".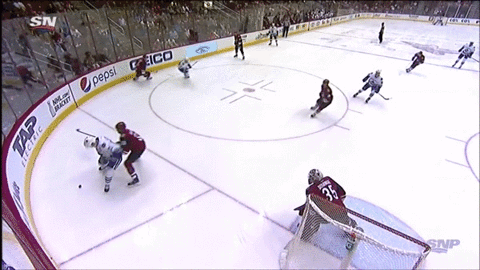 Due to his flagrant disregard to the rules of Tank Wars, he has put our army at a distinct disadvantage. He actually scored a goal playing with the Colonel Twins (rumour has it the Twins sleep in a bunk bed, but Private Benn and Seguin are often spreading rumours like that.)
You should have seen General Willie. He was torn. We've always suspected he was a "Team Winning Culture Intangibles" sympathizer, but we also know he hates hot shot rookies. His moustache was positively twitching, and he ate more  cornmeal mush than usual at dinner tonight.
This culture of "trying" seems to have spread amongst the younger members of the army. Why, Private Molino almost cost us a battle earlier in the day, but was thwarted by the cold hard iron steel of the post: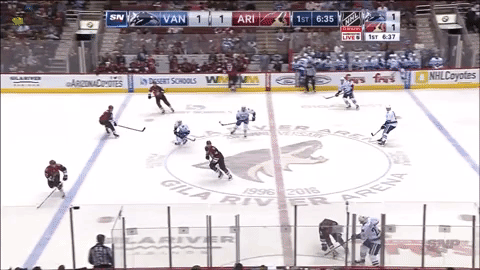 Major Miller also has us doubting his allegiances. All season long we've seen him make bold stands against letting in goals during the Tank Wars. Tonight was no different.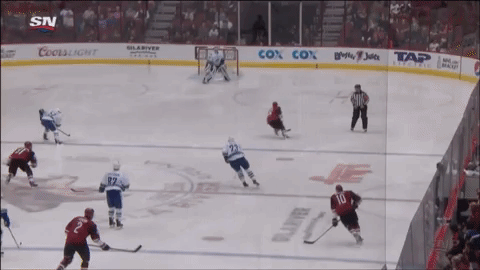 He repeatedly prevented us from making grounds on the Tank Battle.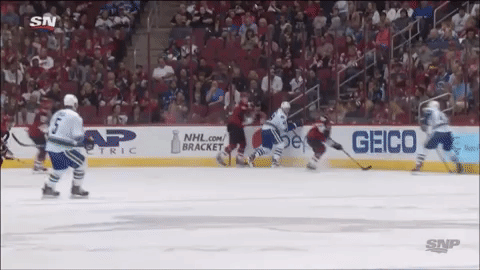 The Coyotes would come at us in swarms, yet there was Major Miller, calmly turning them aside, like he was simply writing a letter on one of those newfangled typewriters.
I fear this war will not go in our favour.
Give Gertrude my regards. We are tied 1-1 in the Wars but I hope to make progress in the morn.
2. Day 2, Tank Wars
Dearest Elizabeth,
I write to you with great news! There was a turn in the tide of battle today.
We should have know Second Lt. Big Balls Sutter would be the one to lead the charge.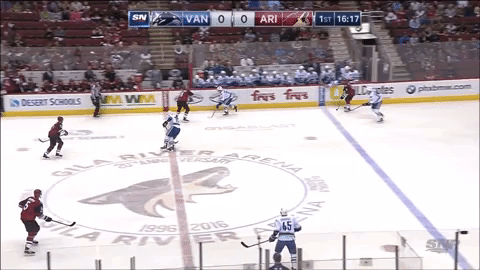 It started innocently enough. Big Balls Sutter sauntered into enemy lines, offside, without a care in the world. He even pointed his leg back at one point to pretend he was trying to stay onside.
He was not trying to stay onside.
With balls that big, they probably would have dragged on the ice behind him anyways.
Inspired by the grit of Big Balls, the enemy struck a blow…against itself.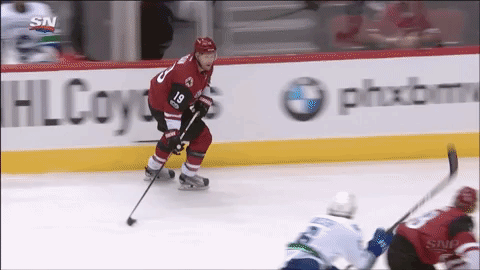 Spurred on by the gritty Balls, Alex Edler, a long time member of the Tank Army, went to work.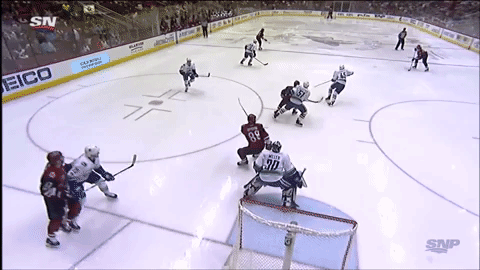 The way he is able to score on his own team is something all tankists aspire to. He makes it look so easy. We took a photograph to celebrate the moment, but unfortunately the gun cotton didn't dissolve properly and wouldn't dry to a transparent finish on the glass. Camera problems, am I right?
Give Gertrude my regards. Tell her we are down 2-1 in the Tank Wars.
3. Day 3, Tank Wars
Dearest Elizabeth,
That dew-beater fopdoodle Private Goldobin was up to his old tricks again. His fancy moves are beginning to become a problem for the Tank Wars.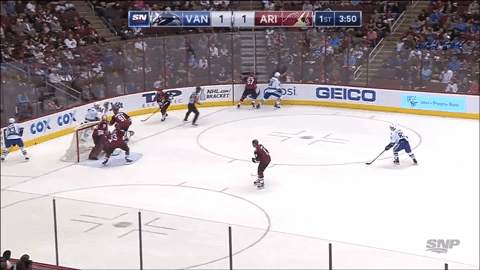 He constantly gets into position to receive prime passes and get off good shots. If he continues this, he might end up scoring many goals. It's almost like he wants to win.
We begged General Willie to put Tank Commander Specialist Megna or Black Ops Tanker Chaput back with the Colonel Twins but he refused. There are rumours that there are powers behind the scenes controlling his moves now.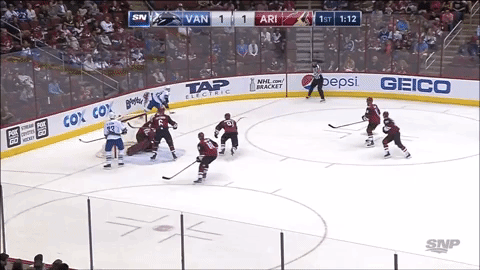 Look at the audacity of that loiter-sack! A greater quisby I have never seen! His dingles have dangles and his dangles have dingles. It's outrageous.
Luckily TCS Megna was able to lead by example.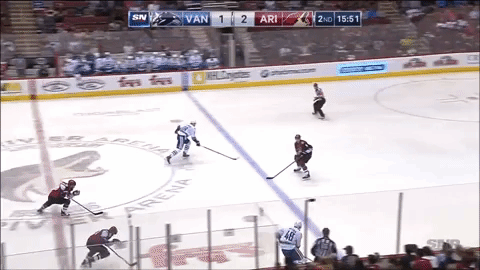 Two-on-one, and he shoots it out of the zone. That's a Tank play right there. That's a play you can grow a beard on.
Give my regards to Gertrude. We are still down 2-1 in the War.
4. Day 4, Tank Wars
Dearest Elizabeth,
Private Tony Strecher often smells of lemons. I find it unsettling.
Regards,
Wyatt
5. Day 5, Tank Wars
Dearest Elizabeth,
Big Balls Sutter has done it again
Just when we needed a boost, he dug deep, found the grit, and took a holding penalty: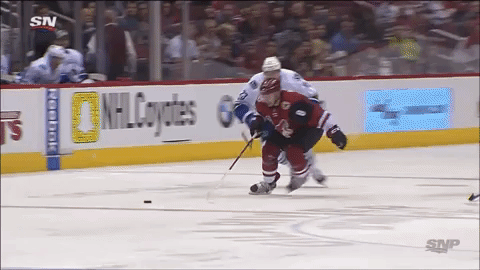 The Coyotes made quick work of things, using the opening Sutter gave them.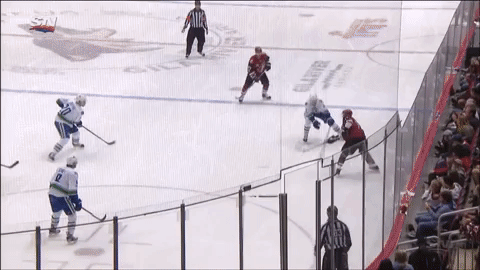 Sometimes I wonder if they realize they are playing right into Big Balls' hands. But, that's what makes Sutter so foundational to Team Tank. He thinks outside the box.
I no longer wish to give my regards to Gertrude.
6. Day 6, Tank Wars
Dearest Elizabeth,
Food sources are low. Some men have begun licking glass in an attempt to find nourishment.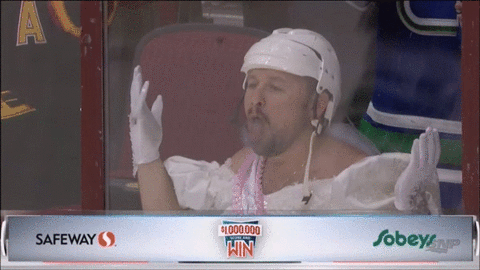 7. Day 7, Tank Wars
Dearest Elizabeth,
Big Balls Sutter's commitment to losing has paid off. The younger Privates have finally taken notice. Private Tryamkin, "The High Helmet Bear" as we call him, took a penalty for us.
It was all the opening Alex "Sniper" Edler needed.
Once again we marvel at his ability to score on his own net. This time he used his back to put the puck in.
Even better, it was assisted by an old friend we had long thought had been a turncoat… Radim Vrbata.
We were not told, but Vrbata was an undercover agent sent to the other side. Twice he worked with Alex Edler to score goals for the Coyotes.
They say you must resort to underhanded tactics to win wars. They were right.
Radim Vrbata is the hero we need right now.
As for Private Tryamkin, he appeared to be struggling with his decision.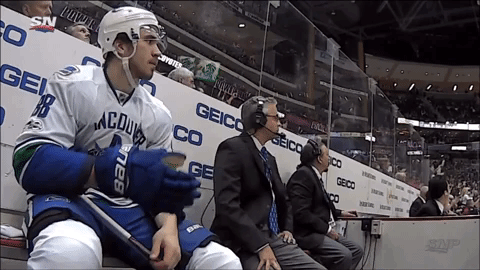 \
Sergeant Major Gudbranson assures us that after 300 battles he will "get it."
Sadly, we also lost someone today. Corporal Megna was defeated on the field of battle.
It looked harmless enough, it seemed like just a normal exchange of "Flippy Lids" but it escalated.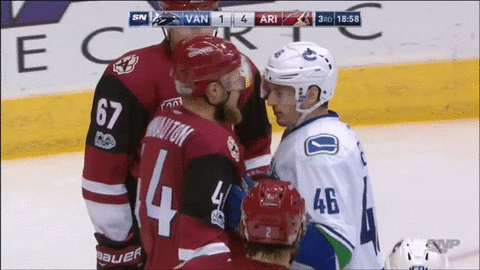 Megna's soul, and lunch money, was stolen.
Megna will be missed.
8. Day 8, Tank Wars
Dearest Elizabeth,
Brock Boeser does not understand the system.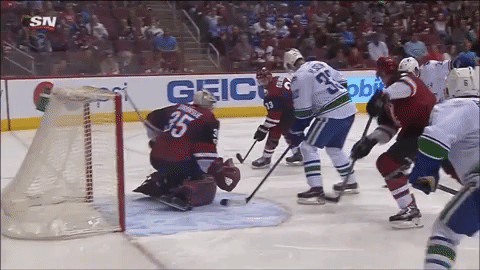 He scored a goal to make it 4-2. We pray that we can hold on, despite his youthful attempts at "being good at hockey".
9. Day 9, Tank Wars
Dearest Elizabeth,
Major Miller continues to be a thorn in our sides. He thwarted Max Domi not once, but twice, on breakaways.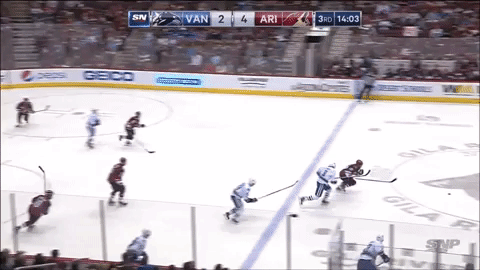 This could have put the war away for us, but alas, Major Miller is too good in net.
Even worse, one of our leaders almost hurt himself in battle:
Botholomew Horvat went hard into the boards, and appeared to hurt himself.
Sutter assured us Horvat's big balls saved him, cushioning him from the worst of the impact.
10. Day 10, Tank Wars
Dearest Elizabeth,
I fear I might not be back for Christmas.
What seemed like an assured victory has turned into chaos.
Daniel Sedin has made it 4-3. We weren't expecting it. Daniel hadn't shot a puck in years. We thought he no longer had it in him. Yet there he was, sniping a goal out of nowhere.
Even worse? We lost another player today. Ordnance Sergeant Luca Sbisa was trucked by the Coyotes. He never saw it coming. Luckily young Hutton stepped up to defend his honour. You know it's a war when Ben Hutton is laying out the big hits.
Pray for us, Elizabeth. We must win this Tank War.
11. Day 11, Tank Wars
Dearest Elizabeth,
I fear the worst. Daniel has hit the post and seems intent upon tying the game. We must dig deep. Please water my plants.
12. Day 12, Tank Wars
Dearest Elizabeth,
We have done it.
We have won the battle. The Coyotes came out on top 4-3. We have won the great Tank Battle of Arizona Ridge.
The war is not over though.
We still have two games left.
Tell Gertrude to stop slam picking Hanzo.
Regards,
Wyatt
13. Day 13, Tank Wars
@TheStanchion This would be super exciting if the league used the gold plan.

— Graham Ockley (@g_ockley) April 7, 2017
Tonight's game was weird because I actually got nervous about the Canucks tying the game up late in the third.
Look, I know there are some "CANUCKS FOREVER!" people out there who want wins no matter what. And that's fine, that's how you support the team.
But there are many cold hard logical people that just want the better draft pick. So the team can have a better chance of getting better. It's why the Canucks losing is a good thing.
This is why the NHL should honestly change how things work in regards to the draft lottery.
OK, I know the NHL is resistant to change. We still have the worst rule in all of sports with the "Goalie Trapezoid" that was made out of spite to Marty Brodeur. That rule should be removed, we all know it, yet it will probably continue to exist for 40 years until the NHL wants to pretend to be cool and hip and they'll remove it to show how forward thinking they are.
But the reality of the situation is people who want to excel in drafting will want their teams to lose. And it sucks. It's cognitive dissonance on the highest level. And it makes for a terrible atmosphere online and at the arena.
If the NHL used the Gold Plan though? You'd be cheering on wins. For the uninformed, the tl/dr version of the Gold Plan is teams accumulate points after they are eliminated from the playoffs, and that decides their final standings for the draft.
Imagine tonight's game being all about the Canucks winning? Imagine the Arizona fans actually getting to cheer during their crappy traditional end of the season? It would be glorious.
If the NHL used Gold drafting, the Jets would be heavy favourites for the first overall pick.https://t.co/LkQMEGCwtm

— Micah Blake McCurdy (@IneffectiveMath) April 7, 2017
Gold Plan drafting. Let's do it.