Jacob Markstrom's style will make him a Canucks fan favourite
Vancouver has seen its fair share of fan favourites over the years.
From superstars like Pavel Bure, to the workmanlike efforts of Trevor Linden and Stan Smyl, to the combination of strength and skill of Todd Bertuzzi, to the lovable underdog in Kyle Wellwood.
But the formula for becoming a fan favourite is a complicated one.
You usually need a heavy dose of skill, excitement, effort, or winning, and you have a solid shot of being embraced by the fans. Even during the dark years of Coach Willie, Nikita Tryamkin emerged from the rubble to capture a good portion of the fanbase's heart.
When it comes to goalies, though, that's a tough position in Vancouver.
Vancouver can be pretty rough on its starters, so the back-ups usually get the love. Cory Schneider, Eddie Lack, Johan Hedberg, and Arturs Irbe all saw good support from the fans. Bob Essensa might be the best example of a goalie fan favourite, as he even had his named chanted by the Vancouver crowd (this was before social media could help your fan favourite status out, as was the case with Mr. Lack).
This season, though, the Canucks entered with a 1B/1B situation in net. Neither goalie was anointed No. 1 status. Both guys were essentially locked in a room with a broken pool stick and told to fight it out. Whomever emerged, would be victorious.
Nilsson, for his part, has done very well to start the season. Lauded for his minimalist approach to goaltending, he seemingly wastes as little extra energy or movement as possible. He sets up his brick wall in net and uses his giant frame to block out the puck, daring you to try and exploit his technique.
When he's on top of his game, one would describe him as perfectly tepid and boring between the pipes. Nilsson at his best is room temperature water. The more boring he plays, the better he does. And there is some element of truth to that for every goalie.
But there's something magical about a goalie who plays with a bit of a swagger to his step and can back it up. A goalie who can go out there and start making five alarm saves with aggressive play, a goalie relying on his gut and reflexes instead of pure goalie mechanics. It's like watching a technically perfect fighter winning on points versus a brawler pulling out the huge TKO win.
The key to this style being embraced obviously involves winning. If you lose every game, you're going to get mocked to death.
But if you can pull it off? The crowd will eat it up.
Call it the Cechmanek-Hasek scale of effective gunslinging in net.
Monday night's game against the Dallas Stars was probably one of the most exciting games in net for Vancouver in quite a while. Full credit to Ryan Miller, he had many good games here, but Markstrom dared the Dallas Stars to beat him, and it took them overtime to finally do it. Despite the loss, Markstrom came out looking aces, with strong goaltending, and even one super aggressive play that lead to the Canucks' only goal.
It's the kind of goaltending, which if he mixes in a solid amount of wins, will have the fans chanting his name in no time.
Let's take a look at his body of work against the Stars:
The saves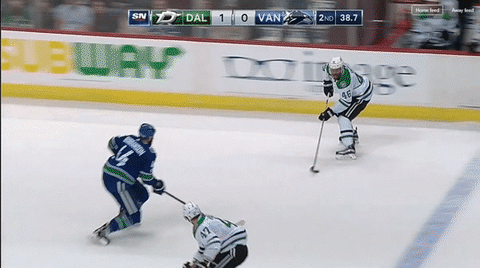 Markstrom's aggressive style has never looked better than it did in this one.
What looked like as easy tic-tac-toe goal that would have led TSN's highlight package, was instead turned into a ninja kick of a save by the man from Gavle, Sweden.
The cherry on top? Getting up and back into perfect position to stop the slap shot hammered his way mere seconds later.
That was a key factor in the game. Markstrom taking measured steps of aggression, making sure he could slide back into position after he was done with all the ninja kicking.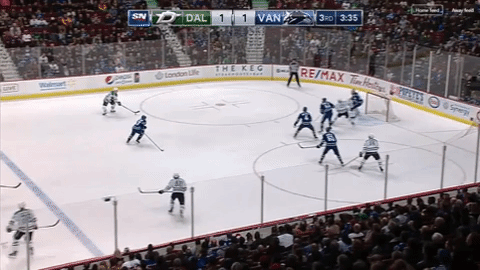 Even when Markstrom was faced with shots from high danger spots, he was able to scramble to keep the puck out. Who doesn't love a good crease scramble that doesn't end up with the puck in your net??
He ended up with 27 saves on 29 shots for the night in what was most assuredly his best game as a Vancouver Canuck.
The trip
Earlier in the game, Alex Radulov dropped his elbow into the face of Jake Virtanen.
Now, I'm not suggesting Markstrom was exacting revenge for that elbow, but it was still very fun to watch Markstrom know he was beat on the play and decide to sweep the leg to make sure there wasn't an easy tap in.
Yes, the Canucks goalie took a penalty on the play, but the man just swept a leg so good Cobra Kai would have applauded it.
The goal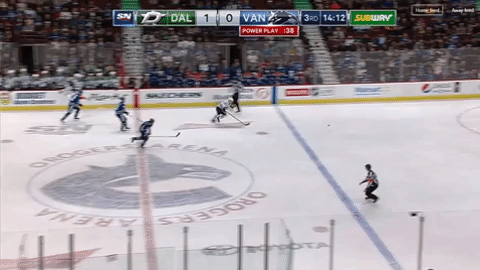 Now, this is the goal of the year for me so far. The play looks like another horrifying power play turned against the Canucks. A shorthanded break for the Stars served up on a platter.
Except Markstrom says "eff that" and charges out of his net, with I assume Hasek watching from across the globe proudly.
Not only does he prevent a good chance on net for the Stars, he turns the puck up ice and it turns into a power play goal for the Canucks.
Markstrom was the power play quarterback the Canucks needed all along.
Winning is usually the biggest factor in fans embracing a goalie (the tide turns ugly real quick on your style in net if you lose games) but Markstrom himself will tell you the risks he took, weren't risks. They were the calculated moves of a badass gunslinger.
Markstrom on race to puck that leads to Gagner goal: "It wasn't a gamble, I wouldn't have gone out if I didn't think I'd get the puck first"

— Blake Price (@BlakePriceTSN) October 31, 2017
Now, it was only one game, and Markstrom has certainly had himself a few games where he let in some god awful goals. He has a long way to go before he earns the confidence, and love, of the Vancouver crowd. But if he has more games like this? He will have the crowd eating out of the palm of his hand in no time.
In a city that has been dying for excitement in their hockey games, Markstrom might just be the man to bring some of that back to Vancouver.
See also