The Stanchies: All the best Canucks gifs from the 2018-19 season
With another Canucks season in the books, it's time for the fifth-annual Stanchies Award Ceremony, showcasing the year's best gifs.
Basically I collect gifs of some of the more exciting and weird plays of the Canucks over the course of the season, so we can look fondly back at yet another year where the team failed to make the playoffs.
One day The Stanchies will be filled with gifs of Horvat scoring Round 3 overtime winners, but until then… we work with what we got.
See also
A star is born award: Elias Pettersson
When the crowd chants your name and you know you've found your forever home.
A Star Wars is born: Elias Pettersson
Elias finds your lack of faith disturbing.
A fan is born: This little guy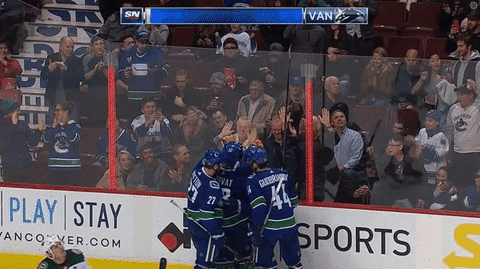 That moment you see Pettersson score and you start planning how you're going to save up money to buy your first hockey jersey, unaware that Santa already has plans in motion for you.
A best friend is born: Brock Boeser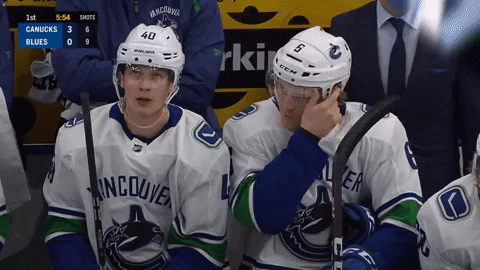 When you reassure your new young Swedish friend and he returns the emotion, setting in place a bond that will last a lifetime. Summer party at Minnesota, boys?
Best losing your hockey pool based on PIMs reaction: Elias Pettersson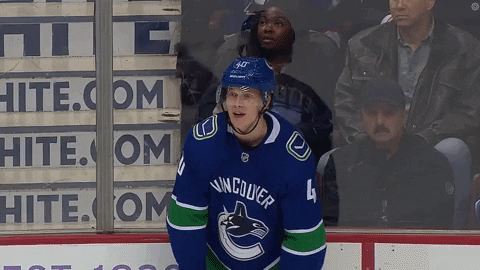 Also known as "You just landed on your friends property in Monopoly for the third straight roll" look.
Laser beam of death: Elias Pettersson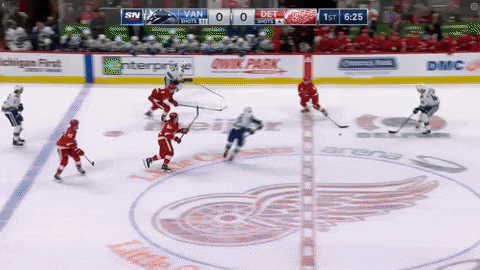 When you shoot the puck so hard by a goalie that the sonic boom caused by the shot puts the goalie on a stretcher.
Also shoutout to former Canuck Loui Eriksson for being in this gif – ok wait I'm being told he is still on the team and played out the season here? That can't be right.
Zack Kassian potty mouth award: Travis Green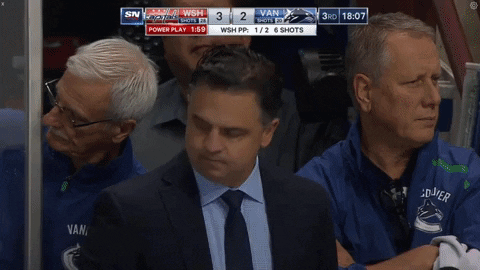 When Coach Willie was around it was hard to see when he cursed, due to a combination of shifty "I just robbed your house" nervous shuffling behind the bench, and because of his fine soup catcher.
With Travis Green, you can see his anger in all its glory. Despite the debates that Green is simply a fan of trucks or fudge, it's pretty easy to see he did not like this…trucking call.
Runner up: Brock Boeser, also a fan of fudge, trucks, ducks, and shucking corn.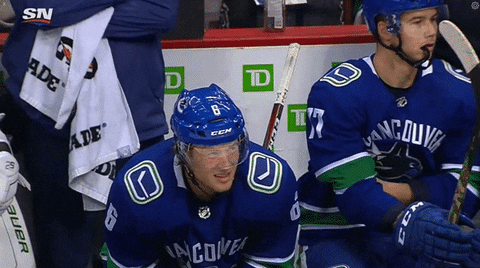 Understanding Canadians award: Sven Baertschi
Sven struggled with concussions this season and didn't play as many games as he'd have liked, but he did use that downtime to get to know and understand his new Canadian family of fans better. The only thing missing from this is him angrily getting old coffee over himself as he tries to deal with Tim Horton's annoying Roll up the Rim system.
Best veteran move: This guy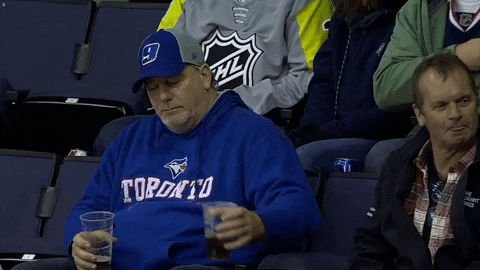 Some seasons drive you to drink more than others, and let's face it, arena beer is wildly overpriced. And if we're being honest, once you've hit your thirties, you can no longer sneak alcohol into an arena and still respect yourself if you find yourself explaining to the usher why you snuck two cans of beers into the arena in your underwear.
Which is why true veterans of the alcohol game know that why sneak beer into the building when you can just steal some from your friend when they go to the bathroom? Sure, when they get back they'll know their beer went down, and you'll know their beer went down, but neither of you will say anything about it.
Such is the nature of true friendship.
Patrik Stefan award: Loui Eriksson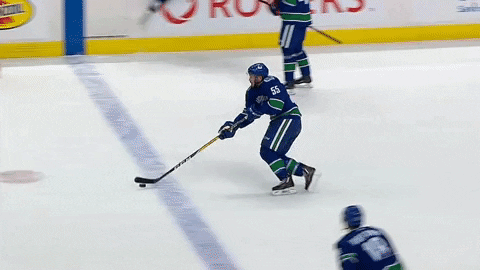 Sometimes you miss an empty net in such spectacular fashion that you become immortalized for life. And sure, there were better empty net misses from other teams this season, but when it came to the Canucks, this one was king.
Not so much for Loui putting the puck back at the goalie mind you, but for the fact that Alex Biega had just pulled off the move of his life, one that might have won him sponsorship deals, if not with Audi, but maybe a hardy company like Volvo who respects hard work.
Biega deked out all of the LA Kings. All of them. And he couldn't even get an assist.
For shame Loui, for shame.
Walking Dead award: Antoine Roussel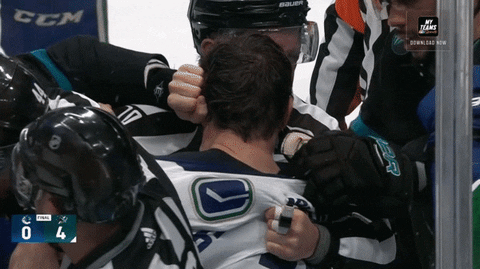 Winner of the Unsung Hero award for the Canucks, Antoine Roussel also won another award this year, when he bit San Jose Sharks defenceman Marc-Edouard Vlasic. In true Burrows fashion, Roussel finally had enough of Vlasic trying to wash his face and clean his ears, and chomped down on the offending hand.
Yes, he bit a Shark and a guy named after a pickle. Such is the circle of life.
Aw, muffin award: Sergei Bobrovsky
Hey, they don't all have to be Canucks gif! Sometimes someone does something so spectacularly bad they get a Stanchie regardless of what team they play for.
And yes, this was the biggest whiff of the season. Even Dan Cloutier thinks Bob gave up a muffin on this one.
Dress for the job you want award: Bo Horvat
Long been thought of as the next natural evolution of Canucks captains, Bo Horvat set out this season to prove he could be relied upon to score, to provide leadership, and most importantly, beat the crap out of the Boston Bruins.
You had us at "hello," Bo.
Best awkward laugh: Brock Boeser
God bless him, he's such a nice boy. He even has the polite laughter and thumbs up down to a tee.
Best supporting actor in a dramatic role: Sidney Crosby
Sidney Crosby, who got his acting chops in commercials for places like Sport Chek, wanted to be known for more than just a comedy guy. He wanted to prove he could do dramatic roles, roles that could one day land him an Oscar.
Which is why when Roussel touched him briefly on the chest, he knew he could prove that he could be the next Sean Bean, willing to die in any move in huge, over the top, fashion.
Duelling cellys award: Antoine Roussel and Vincent Trochek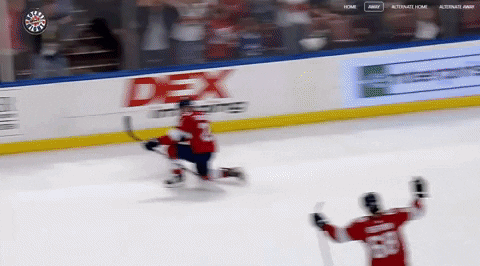 Hey, you don't get to over celebrate a goal when Antoine Roussel is on the other team. Tony made sure to give it back to the Panthers just as hard when he scored his goal, except he added a little knee thrust in for good measure. A knee thrust aimed at the ghost testicles of the Panthers.
Valar Morghulis award: Antoine Roussel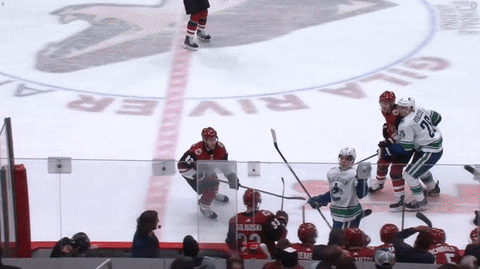 Perhaps inspired by the sheer terror he was able to inflict upon Sidney Crosby, Roussel used his powers later in the season when he turned Lawson Crouse into a fainting goat. I don't know what he whispered into his ear, but whatever it was, it haunted him to the point where he fell into the sunken place.
Best Millhousing: Anders Nilsson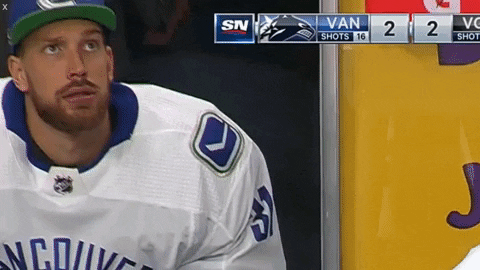 Even though Anders Nilsson is no longer with Vancouver, we'll always have that time he waggled his eyebrows then chuckled to himself.
LETS GOOOOOOOOOO pumped up award: This fan

Much like the UFC's "just bleed!" guy, sometimes you get a fan that immortalizes himself in gif reactions for life. It won't matter what sport, hell, it won't even have to be a sport, but you just know people will use this man to express excitement to everyone online.
Got an A on your paper? You're posting this guy.
Got a new job? This gif.
A puppy gives you a kiss? THIS GUY ALL DAY.
Stayed jacked, my friend.
Best goaldobin: Nikolay Goldobin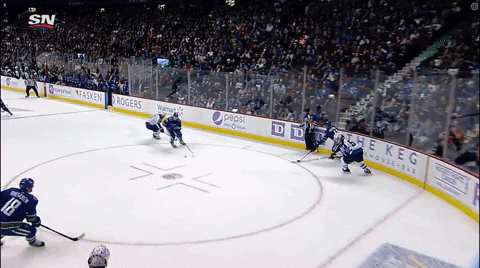 No, seriously, there was a time Nikolay Goldobin was playing really well, and was in the running to be Elias' best friend with Brock. He got an Audi commercial, and sure, maybe he didn't love speed, agility, and power as much as Pettersson, but he was living his best life. He even dressed up as Minion with Petey together for Halloween. The sky was the limit for this kid.
Then he lost all his belief in himself and now he can no longer fly or eat food in Never Land. Where did you go Peter Pan?
Trucker fan of the year: Travis Green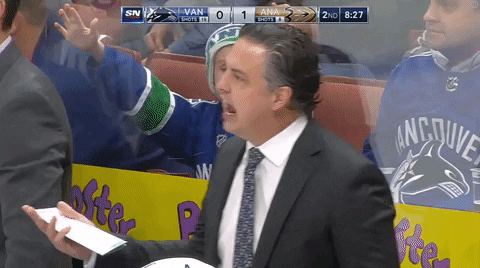 OK this one is for sure about his love of trucks.
Best triple salchow: Erik Gudbranson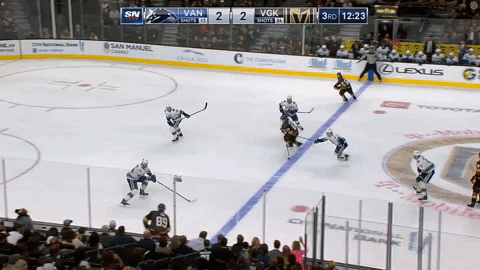 Or as I thought it was spelled for most of my childhood, the 'triple sow cow.'
Erik Gudbranson may be gone but never forget the time he twirled around the ice as he tried to nail his short program.
Flicking the bean award: Erik Gudbranson
It sounds dirtier than it is, but then again, Erik didn't leave much to the imagination on this one.
Best alpha dog manly man high five: Pettersson and Horvat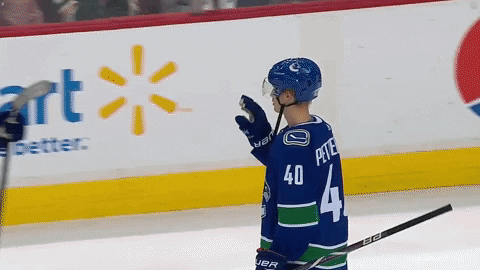 I knew I'd seen that move before…
Cheech gonna Cheech award: John Garrett
When Garrett drops the mic and Shorthouse has to contemplate life for a while before he can recover.
Best pizza: Jacob Markstrom
There was a time Markstrom wasn't the Winter Soldier we know him to be now. No, really, he used to do stuff like this and let in weak glove-side goals all the time. Now he plays so well we can't really make fun of him anymore, the big jerk.
Mama, just killed a man award: Alex Edler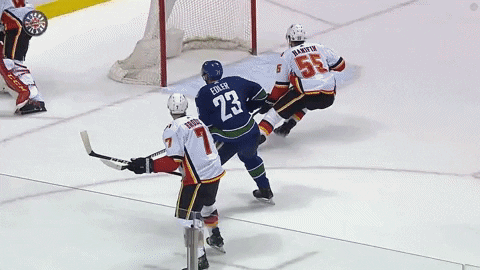 Put a hand against Smith's head, sneezed a little, now he's dead…
Best support system: Elias Pettersson's dad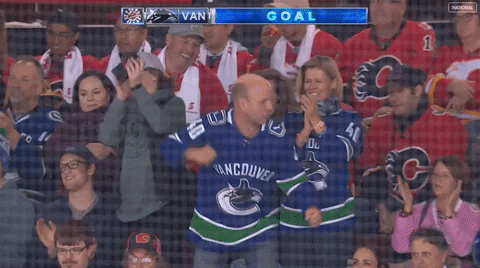 It looks on the surface like Petey's dad is getting up in the Flames fans faces and taunting them about his son's multiple points but he's just excitedly telling fellow Canucks fans about said points.
Still, Elias' dad was an early star this season with his serious demeanour and explosive goal celebrations, which leaves us praying we see him come playoff time in the near future.
Imagine this guy in Boston 2011, he'd be taking on any and all Bruins fans.
Also you can see where Pettersson gets his intensity from.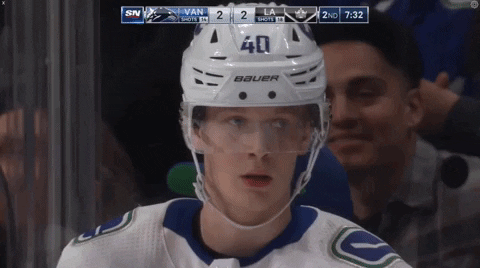 "Eat your vegetables or no dessert!"
"I DON'T WANT YOUR CARROTS AND GREEN BEANS, I'D RATHER STARVE TO DEATH."
Best mount: Antoine Roussel
Like a young Georges St-Pierre, Roussel isn't afraid to get top position in order to rain down fury from above…
Except this is Roussel, who somehow still has the ability to make people piss their pants in fear when he whispers in their ear. This guy is all about the mental games.
Moral of the story? Don't touch Markstrom. Ever.

Best summary of the Canucks and Sabres seasons: This gif

Happiness early on in the night before the sobering reality hits that you have to get up early the next day.
How to best deal with finding a spider award: Antoine Roussel
Roussel is absolutely dominating The Stanchies this year. He may be the most giffable Canuck in years.
Best 'Stech Mark': Jacob Markstrom and Troy Stecher
Who hasn't been there in beer league where you've done something incredibly stupid only to have your goalie bail you out? You gotta hand out a fist bump for that. Every time.
Relatability award: Joe Thornton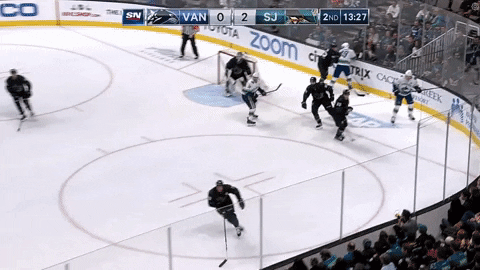 Who amongst us…
Best reaction: Troy Stecher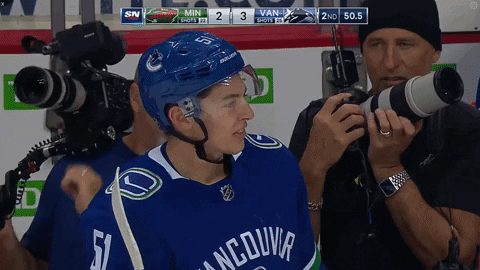 That's the look you get when your GPS tells you to take a route you absolutely do not trust but you take it anyways.
Helped Granlund get a goal award: Quinn Hughes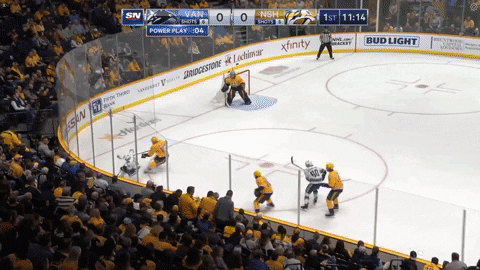 Something tells me next year's awards are going to be seeing a ton of this guy.
Helped Vancouver get aroused award: Quinn Hughes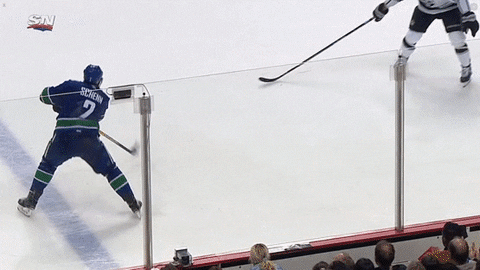 Oh. Mah. Gawd.
You wanna see me hit some dingers award: Elias Pettersson
Look, I know why you're all here. You want to see Elias Pettersson magic. Who am I to argue?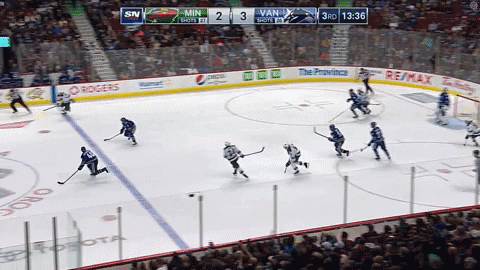 Remember when the opposition didn't know that giving the puck to Pettersson could cripple them?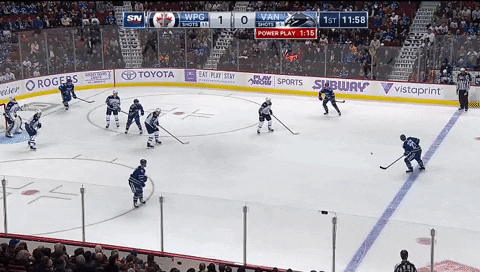 Remember when we didn't know what an absolute laser Petey had on the one timer? It's like moving into an apartment only to find out it comes with a free car. And inside that car, is another free car.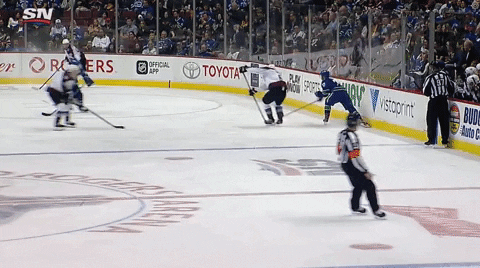 Remember when Pettersson did Sedin-like stuff on day one and made that insane bank pass to Brock Boeser?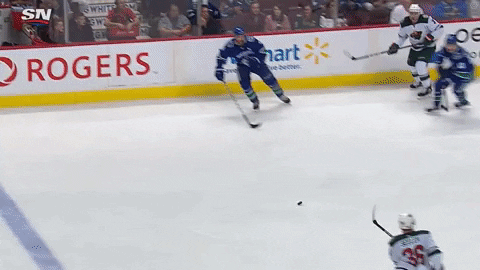 Remember when Goldobin still had his smile and helped Petey unleash a clap-bomb so thrilling that Thomas Vanek would have shed tears of joy had he seen it live in person?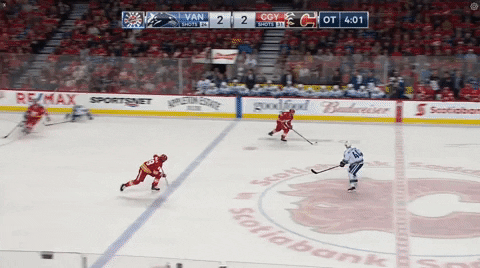 Remember when the other teams didn't realize Pettersson was also incredibly good in his own zone and could take the puck from them at will?
Remember when Pettersson used a cheat code to score a goal on a penalty shot?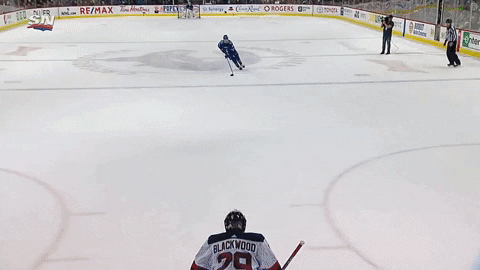 Remember when Pettersson performed a Mortal Kombat fatality on Blackwood?
They might have finished out of the playoffs, but you have to admit, the excitement level has certainly gone up the last several seasons. Here's hoping we do this article in late May next year, rather than April.