If you were looking for a bounce-back in the win department, you would have been disappointed tonight.
But the Canucks played a lot better than they did Thursday against the Ducks and what the final score indicated – especially after the first period where it was starting to feel like a whole lot of games last season. Two empty-netters and a bizarre penalty shot call against will do that to you.
In the end, they got 41 shots tonight but weren't able to beat Aaron Dell.
Tomas Hertl opened the scoring less than a minute into the game, and Logan Couture and Chris Tierney both got two as the Vancouver Canucks were shut out 5-0.
1. SixPack Superstar – Jacob Markstrom
You may be thinking "why the hell would you give the coveted SixPack Superstar to a goalie in a 5-0 loss."
Well without Markstrom, it could have been very ugly. He made a number of great saves, especially in the first period where it was looking like it was going to be a long night.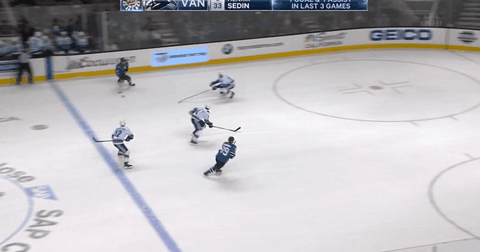 The one above was particularly impressive.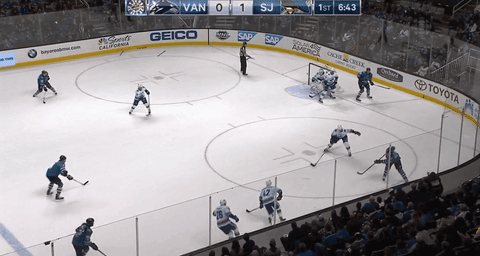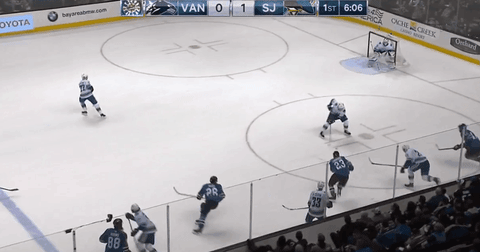 Two of the five goals tonight were empty nets, and one was on a penalty shot that should have never been given. He had a very good game despite what the final score indicated.
If it wasn't for Markstrom this game would be like 8-0.

— Andy Cole (@AndyCole84) November 12, 2017
2. Loui Eriksson's return
After coming back from injury Loui Eriksson slotted right back into the lineup, replacing Jake Virtanen on the Sedin line.
It was his first game since October 14th against the Flames and he had a good game. Not "worth six million a year good", but good nonetheless.
He had a good chance in the 1st off a Sedin cycle.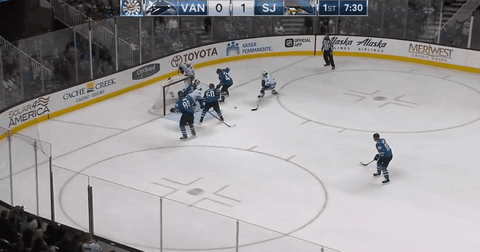 Edler and him also combined for a net-front chance early in the 3rd that would have put the game within one for the Canucks.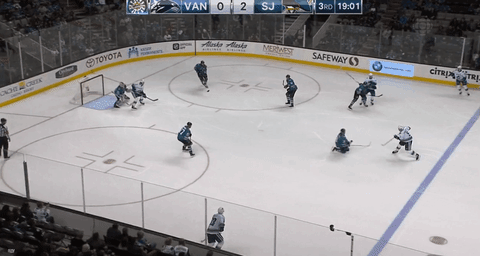 He also led all Canuck forward with six shot attempts at even strength and drew two penalties. He showed some of that chemistry with the Sedins that we saw with Sweden on a national level.
Though he likely won't ever live up to his price tag here in Vancouver, it was a good return to the lineup for Loui.
3. Phantom penalty shot
With 16 seconds to go in a 4-0 hockey game, we saw easily the most bizarre call of the season.
Sharks forward Chris Tierney sprung loose from centre on a breakaway, but couldn't beat the post.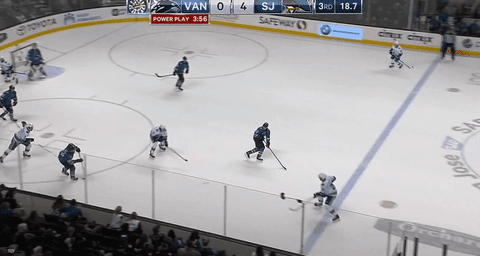 Play over right? Wrong.
The official decided to give Tierney a penalty shot because reasons.
Sure he was hooked, but that was in San Jose's half — not a single Canuck touched him after that plus he got his shot off.
He ended up putting the puck past Markstrom to make it 5-0. Unsurprisingly, a lot of people were thoroughly unimpressed.
NHL ref handing out the penalty shot in this game was like pulling a guy up from the ground after he's been knocked out, then kicking him in the junk once he's on his feet.

— Wyatt Arndt (@TheStanchion) November 12, 2017
Watch every game across the NHL the rest of the season and find another instance where that play results in a penalty shot

— Scott Rintoul (@ScottRintoul) November 12, 2017
4. The curious case of Benjamin Hutton
Ben Hutton struggled tonight. He was only one of three players on the Canucks to be below 50% in even strength shot attempts — and that was playing the 4th most minutes at even strength.
However, it was his play on the first goal less than a minute in that really stuck with me.
Although it took a lucky deflection off Hertl, Hutton really didn't do much in the way of stopping him getting better body position.
5. DJ MDZ goes down
The penalty shot gifted to San Jose wasn't the only example of late game shenanigans.
With less than a minute and a half to go, Sharks forward Timo Meier caught Michael Del Zotto with the butt end of his stick.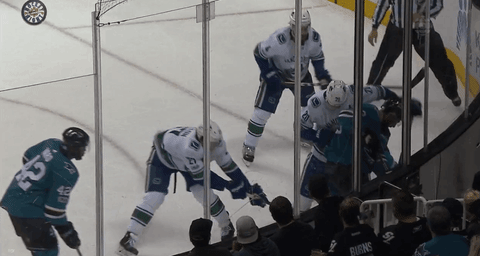 That drop was so hard DJ MDZ is trying to put that into his next remix.
But it's a clear retaliatory shot by Meier. As shown below, Del Zotto gets him with a cross check and Meier wastes no time getting him back.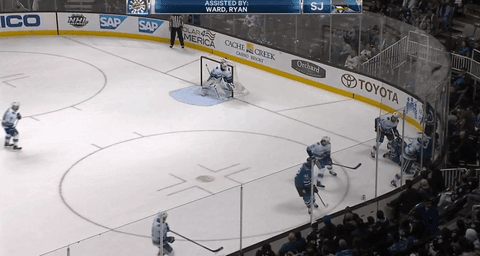 It's 100% suspendable, but with the NHL wheel of justice, who knows if he will get one.
6. Sedins PP needs work
What to do with Daniel and Henrik on the power play.
Their unit with the man advantage looked slow and lethargic. The other power play unit wasn't much better, but the Sedins stuck out like a sore thumb.
Something, anything has to be done about that Sedin PP unit. It's been brutal all season. Henrik has 0 PP pts. Get a better shot on the point (Vanek?) and put Eriksson net-front at least.

— Rob Williams (@RobTheHockeyGuy) November 12, 2017
Not only was nothing done offensively tonight, they were leaking shorthanded chances.
Henrik gets beaten on the wall with the man advantage, with Logan Couture getting a glorious scoring chance.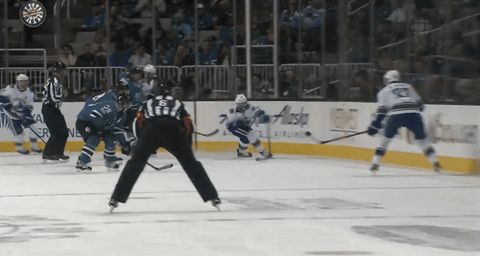 Then less than a minute later, he gets beaten on the opposite side and gets tangled up in a 12 car pile up.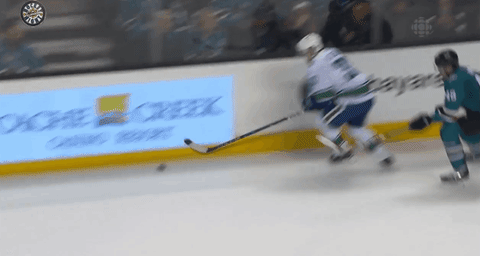 Logan Couture would get a goal on the eventual breakaway scoring chance to make it 2-0.
It doesn't get any easier for the Canucks. Next up is another tough test against the Pacific Division-leading LA Kings on Tuesday.
See also