SixPack: Canucks goalie Nilsson smashes stick during ugly 7-1 loss
If there was one moment to sum up how it felt watching Wednesday's Canucks game, would it be this?
Or this?
The Vancouver Canucks allowed seven goals in a game for the first time in – oddly enough – exactly one year, dating back to an 8-6 loss to the Carolina Hurricanes on December 13 of last year.
This is the same Nashville team the Canucks beat 5-3 just two weeks ago.
Problem is, this isn't the same Canucks team.
There were some unlucky bounces yes, but the Canucks pretty much gave up. That's something we haven't seen too many times this season.
The offence was non-existent, the defence was atrocious, and the goaltending didn't do them any favours.
This game was so bad, Omar was getting chirped by Preds fans he doesn't even remember.
Just got a trash talking text from a fan who lives in Nashville… and I have no recollection of meeting this person

— Omar A (@omarcanuck) December 14, 2017
1. Henrik's 800th assist
Let's start with the little bit of good news. Another Sedin milestone.
This time it was Henrik Sedin reaching a milestone – he picked up his 800th career assist on Alex Burmistrov's goal.
An official scoring change to this goal gives Henrik Sedin his 8️⃣0️⃣0️⃣th @NHL assist. Congratulations, Captain! pic.twitter.com/hc2sbRX3yZ

— Vancouver Canucks (@Canucks) December 14, 2017
It puts the Canucks captain in some exclusive territory. Henrik is the 31st player in NHL history to hit 800 assists, and he joins Nicklas Lidstrom as the only two Swedish-born players to ever do it.
In a game where Canucks fans left disappointed, they can at least go home saying they saw Henrik's 800th assist. That's not nothing.
2. A new car!
The 'play of the game' in-house was this goal, scored by a fan:
THIS GUY JUST WON A BRAND NEW @TOYOTABC CAR!!!!! pic.twitter.com/SLOE55bim4

— Vancouver Canucks (@Canucks) December 14, 2017
Nice Ohlund jersey too.
3. SixPack Superstar: Nobody (fine, Roman Josi)
Seriously, it was that bad.
There wasn't a single Canuck that deserved Superstar status after Wednesday's performance.
But picking nobody is no fun, so we'll give it to Roman Josi for this incredible pass to spring a shorthanded 2-on-0 breakaway.
4. Not all on Nilsson
It's hard to assess the goaltending performance of Anders Nilsson on Wednesday.
On one hand, you had this.
And, quite frankly, he allowed seven goals. That's never good.
On the other hand, he didn't have much of a chance on many of these goals.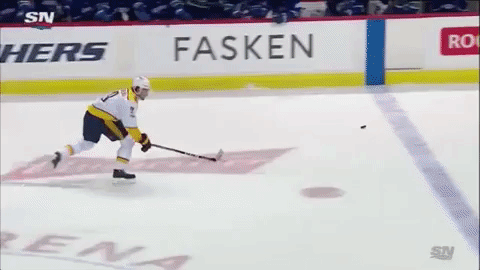 Nilsson got pelted with 48 shots. A lot of those were off odd-man rushes or passing plays that left little chance for the Canucks netminder.
Aside from the two weird goals by P.K. Subban, there wasn't much Nilsson could do on Wednesday.
I mean, besides this.
#WeAreAllNilsson pic.twitter.com/fpwHXjXemC

— Wyatt Arndt (@TheStanchion) December 14, 2017
We'll give Nilsson a pass for this game.
 5. What's next for Goldobin?
After being a healthy scratch the previous two games, Goldobin got back into the lineup on Wednesday.
Seeing how the game went, I wonder if he comes back out of the lineup. Although plus-minus doesn't hold a lot of weight as a stat, his -4 on the night looks ugly, and Burmistrov scoring doesn't help his chances.
If Green wants to make a change and get Nic Dowd back in the lineup, Goldobin appears to be the odd man out.
6. Ending on a positive note
On even the darkest of nights, Brock Boeser is here. He picked up an assist on the only Canucks goal.
Doesn't matter who he plays with, he puts up points.
Canucks new marketing slogan: "At least Boeser got a point."

— Wyatt Arndt (@TheStanchion) December 14, 2017
Now 29 points in 29 games for the kid.
See also