SixPack: Refs can't count Kings in last Canucks game of 2017
Too many Kings.
LA had too many shots and too many goals, but it was missed too many men penalty by the referees that allowed the Kings to secure victory on Saturday.
Coming off arguably one of their best games of the season against Chicago on Thursday, the Canucks returned to form. Albeit, in an entertaining game.
There were defensive miscues, they were badly out shot-attempted, and yet they found a way to keep it close.
Troy Stecher, Nikolay Goldobin, and Nic Dowd all scored for Vancouver but it was not enough as the Canucks fell to the Kings 4-3.
Here's what happened.
1. The winning goal
After Drew Doughty was embarrassed by Goldobin earlier in the game (we'll get to that later), he answered right back in the third with a solo effort of his own.
Drew Doughty continues to do Drew Doughty things, gives the LA Kings a 4-3 lead over the Vancouver Canucks 😎 pic.twitter.com/JqLNSZEXNQ

— LA Kings (@LAKings) December 31, 2017
That was the eventual game-winner, but it shouldn't have counted.
As Doughty entered the Canucks zone, the Kings obviously had too many men on the ice.
That's six LA players by the looks of it. It was a missed call and it's not reviewable, but my question is why shouldn't it be? If we can go back 2 minutes and reverse a goal because someone was offside, why can't the NHL do the same in regards to a black and white penalty such as too many men?
Needless to say, fans were not pleased.
He invited two extra Kings out on to the ice as well and said "watch this!" https://t.co/Mdk7tNNx0d

— Justin Morissette (@JustinMoris) December 31, 2017
You should be able to challenge that

— DK (@khatinthekar) December 31, 2017
Then after the game, Hockey Night in Canada attempted to pull the "well actually" on everyone.
Hockey Night in Canada ran this nonsense in the post-game show tonight. Trying to say #Canucks had 7 players on the ice so Kings too many men was a wash. VAN players were right at the bench doing a line change though. LA had too many for a while, not in front of their own bench. pic.twitter.com/iiO2JxBd7O

— Rob Williams (@RobTheHockeyGuy) December 31, 2017
There's a difference between a line change at your own bench and refusing to leave the ice to skate over to the other team's bench.
2. The rise of Troy
It was an eventful game tonight from Stecher. First, the Richmond native managed to score his first of the year from a tough angle.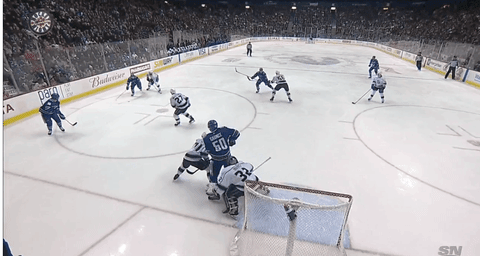 Then, he channeled his inner Erik Karlsson on this near end to end rush.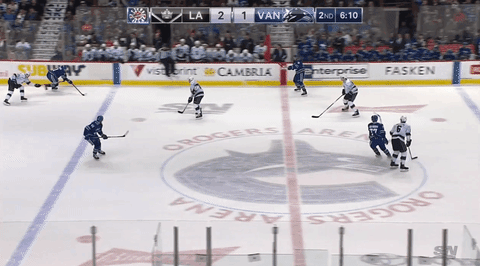 And to cap it all off, he nearly joined the likes of Tanev and Horvat on the IR.
Stecher appears to hurt his hand after a heavy hit into the boards pic.twitter.com/9tGsq2Tc4p

— Wyatt Arndt (@TheStanchion) December 31, 2017
Thankfully, he managed to return to the game because I can't imagine how much worse the defence would look without someone as solid as Stecher out. He finished with 18:16 of ice time and was the only Canucks defenceman with a positive Corsi percentage.
3. Goldy's goal
Since getting called up from Utica, Goldobin has been in and out of the lineup, unable really to become a constant player for the Canucks. He's shown flashes of his offensive upside but hasn't earned the trust of Travis Green yet.
Maybe that changes after this game because he scored a brilliant goal that tied it at two.
Nikolay Goldobin with a great effort to tie the game at 2#Canucks pic.twitter.com/DilvkgmSoi

— Ryan Biech (@ryanbiech) December 31, 2017
That's none other than Norris trophy winner Drew Doughty he embarrassed. Despite this, however, he had less than 10 minutes of ice time. Only Michael Chaput played less.
4. Changing of the guard
Guess who led the Canucks in ice time tonight?
It wasn't a Sedin, it wasn't a defenceman. It was Brock Boeser.
He had a whopping 23:46 of total ice time during the game, a career high.
When Travis Green double shifts Brock Boeser. #Canucks pic.twitter.com/H7SmrQ0vb5

— /Cam Robinson/ (@CrazyJoeDavola3) December 31, 2017
He also led the team with four shots on net. After being scratched his first two games, it's great to see Travis Green giving Boeser the ice time he definitely deserves, though he admitted after the game he may have overplayed him.
5. Free fallin' for Dahlin
Lost amongst all the hype for Boeser is the fact that the Canucks are once again in the hunt for the first overall pick. Here are the standings after this game, much to the delight of the #TeamTank faithful.
It will be hard for Arizona to catch up, and maybe even Buffalo at this point, but it's possible that Vancouver could be 29th by season's end.
If they could get their hands on Rasmus Dahlin, that would be a game changer. For all the exciting forward prospects the Canucks have, outside of Olli Juolevi they don't have a defenceman that can really move the needle for them.
Button on Dahlin: "There is no better player available for the 2018 draft. He is going no.1" 🇸🇪 #WJC18 pic.twitter.com/cp9fMvXEz2

— NHL Prospects Watch (@Prospects_Watch) December 28, 2017
As brilliantly illustrated by Janik Beichler, the Canucks have potentially the makings of a lethal power play unit with Boeser and Elias Pettersson on opposite sides. Add Dahlin to the mix, and you could have something special.
Plus, it would be fun to make Dahlin/Dahlen jokes.
6. SixPack Superstar: Jacob Markstrom
He let in four goals but it could have been worse without Markstrom between the pipes.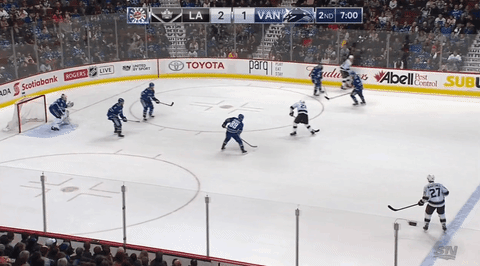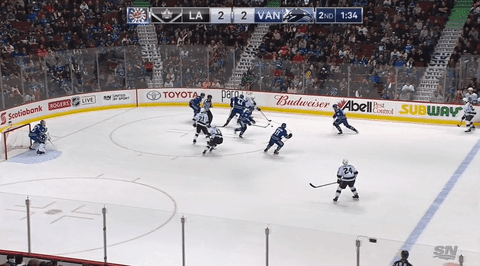 When you're badly out possessed like the Canucks were in this one, to keep the score within one is impressive.
Next up for the Canucks is a home game against the Anaheim Ducks on January 2nd, the last before seven-game road trip.
See also