The new year did not translate into a new style of play for the Vancouver Canucks.
In fact, this game felt a lot like the ones in 2017.
How the Canucks game is going right now pic.twitter.com/3GqsCayArq

— Wyatt Arndt (@TheStanchion) January 3, 2018
There was the now near-traditional bad goal to start off. Head scratching defensive coverage.
We didn't even get a Brock Boeser goal to at least have something to hold on to.
Adam Henrique scored less than a minute in as the Anaheim Ducks ran over the Vancouver Canucks 5-0.
1. Canucks new backup — Anders Nilsson
Don't think there's any other thing we could start off this SixPack with.
Remember this exchange between Travis Green and Anders Nilsson at practice?
Travis Green gives Anders Nilsson some excellent advice at Canucks practice. pic.twitter.com/NUfP9hQg3d

— Squire Barnes (@sbarnesglobal) December 28, 2017
Yeah, I don't want to imagine what Travis Green is going to say behind closed doors after this one.
The first goal he let in is already in contention for the worst goal conceded by the Canucks in 2018 — and we're one game in.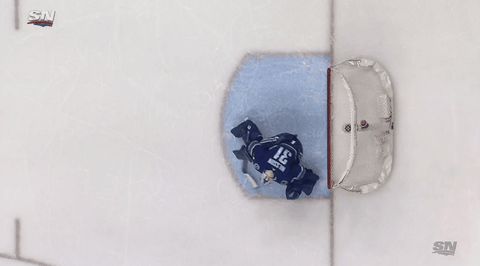 The fourth goal wasn't much better.
Nilsson should have covered that puck, but the defensive coverage afterward was shocking.
He was pulled after that, giving up four goals on 16 shots.
When they said Nilsson and Markstrom would be challenging each other for position, I didn't think it was "backup".

— Andy Cole (@AndyCole84) January 3, 2018
2. The OC Vancouver
When Anaheim makes their way to Rogers Arena, you know we have to talk about the ex Canucks on the team.
Kevin Bieksa actually had this really nice toe-drag in the first period.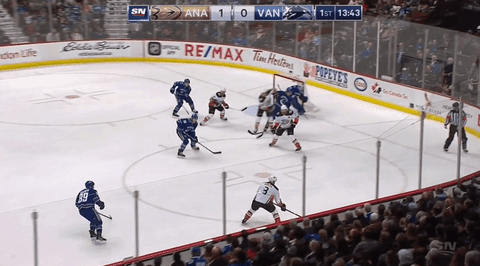 Ryan Kesler, of course, was booed every time he touched the puck, and almost scored a highlight reel coast-to-coast goal.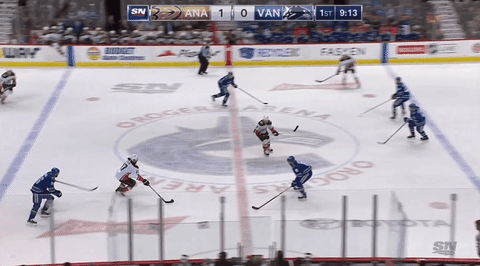 But the real star was, of course Ryan Miller, who was presented with a brief video tribute prior to the game:
Ryan Miller responding to the warm welcome back to Vancouver!#Canucks pic.twitter.com/RxABwGVNQU

— PUCKS ON NET (@Pucksonnetca) January 3, 2018
You know he was motivated on his return to Vancouver, and he pitched a 31-save shutout which included this great point-blank save on Boeser.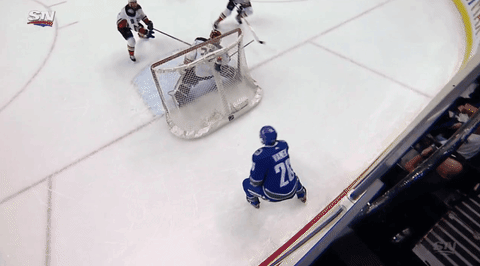 Named the No. 1 star after the game, he shared this moment with the Vancouver fans:
Ryan Miller with a hell of a classy move as tonight's first star. #Canucks #Ducks pic.twitter.com/9SMz8jvrkd

— PUCKS ON NET (@Pucksonnetca) January 3, 2018
3.DJ MDZ getting dropped?
Tonight was Michael Del Zotto's worst game as a Canuck. No doubt about it.
He gets caught wandering on the third goal, leaving Derek Grant was wide open.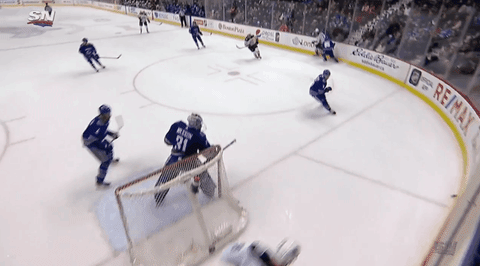 The fifth goal looks like a carbon copy of the third one.
He actually ended with a positive Corsi percentage at 5-on-5 (score effects are a wonderful thing) but his defensive zone coverage was so bad you have to consider letting him sit for at least a game.
Would Ben Hutton be any worse than what we saw from DJ MDZ tonight?
I mean, you can probably sit Del Zotto a game and not make Hutton take all the scratches

— Wyatt Arndt (@TheStanchion) January 3, 2018
These games Ben Hutton has been scratched for are really going great for those weirdos who think Ben Hutton is the problem on Vancouver's defense.

— Justin Morissette (@JustinMoris) January 3, 2018
4. Goldy's getting his chance (for now)
Nikolay Goldobin was put in a very nice position tonight.
Skating with the twins, he managed 17:24 minutes of ice time, nearly two and half minutes on the power play alone. That was his highest amount of ice time all season.
He had two shots and seemed to have good chemistry with the Sedins (as most players do) but this play stood out to me.
I don't blame him really for this (the backpass from Pouliot was kind of awkward) but considering how short the leash has been for Goldy this season I wonder if the coaching staff feels differently.
5. Free-fallin' for Dahlin (Part 2)
The race for potential franchise defenceman Rasmus Dahlin is on, and the Vancouver Canucks are right in the thick of things.
The Canucks' defensive prospect pool is like a black hole of uncertainty. Maybe Jaden Chatfield or Guillaume Brisebois pans out, but even if they do they will likely be not much more than solid bottom pairing guys.
That's why someone like Dahlin is so enticing. If you're able to draft him, you're almost certainly getting a guy who can play on your top pairing and quarterback your power play for years to come.
The Canucks tough upcoming seven-game road trip will include games against Montreal and Edmonton. This table could look very different by the time Vancouver comes home on January 23rd.
6. SixPack Superstar: Brock Boeser
He went back-to-back. 👊 pic.twitter.com/cqBkaqiBP7

— Vancouver Canucks (@Canucks) January 3, 2018
Coming off his second straight Rookie of the Month award, Boeser had three shots on goal. He didn't score, but had a glorious chance that was thwarted by Ryan Miller.
So why is he getting the coveted SixPack Superstar award tonight?
Simple: he's the reason why fans are still tuning in.
Quick question for everyone — how many of you would have turned off the game and go do something else when this game was clearly over.
Maybe rewatch BoJack Horseman? Play some NHL 18?
Boeser is the reason why people are still watching these games. Over this poor stretch that we've seen, fans are sticking around because they want to see him score goals. I know I am.
His battle to win the Calder is the story this year. I'm pretty sure that a draft lottery win plus a Calder for Boeser would induce a parade through downtown Vancouver.
See also