12 things that happened around the world this week that you should know about
This week, we see new studies unearthing everything ranging from nature fighting to protect itself from climate change to ancient art reshaping the way we see ourselves and our history of migration and skills. At the same time, modern science continues to stun whilst older scientists are rewarded for their inventions that are paving a brighter path for our future. Despite all the political storms that continue to brew and grow, it's good to know that we're still forging positive progress in countless spheres around the world.
Each Friday, we bring you a roundup of some of the biggest stories making headlines around the world. Here's 12 things that happened outside of Vancouver over the past week that you should know about (in no particular order):
October 3 to 9, 2014
1. Islamic State closes in on Kobane, beheads British aid worker
2. First baby born from womb transplant in Sweden
[youtube id="Y7DUTVJ_R88″]
A Swedish woman born without a uterus was able to give birth to a baby boy by womb transplant in late September, reports revealed last week. This is the first time birth by a womb transplant has ever been successful, after two previous efforts in both Saudi Arabia and Turkey had failed.
3. Estonia passes historic same-sex marriage bill
Yesterday, Estonia's parliament passed a bill recognizing the union of same-sex couples, the first Soviet republic to do so. The new law will be able to provide legal protection for unmarried couples living together, including same-sex partners. The bill will come into effect in January 2016, where same-sex couples will be granted the same rights as married couples with regards to inheritance, property and adopting the other partner's children.
4. NASA funds deep sleep research for transporting astronauts
Travelling to space isn't easy – it takes up to 180 days to reach Mars, and that's a long time for expenses such as food, water and energy to accumulate for an entire crew. To hopefully reduce this cost, NASA is funding research into suspended animation, or deep sleep, to be able to transport astronauts to Mars – they would just be placed in deep sleep at the beginning, and woken up when they arrived back to their destination.
5. Canada joins anti-IS efforts in Iraq
This week, the House of Commons voted in favour of joining an international coalition to fight the Islamic State in Iraq. Canada will be undertaking a six-month air-based combat mission, in addition to extending the 26 military advisors on the ground already. Canada joins an international coalition comprising of a dozen more countries, including the United States, Denmark, Belgium and more.
6. IMF projects slower global growth; optimistic about Canada and USA
On Tuesday, the International Monetary Fund (IMF) lowered its outlook from it's forecast of 3.4 per cent in July to 3.3 per cent, stating weaknesses in Latin America, Japan and Europe as its reason. However, it cites "firming momentum" for the U.S. and Canada, expecting to see the Canadian GDP grow by 2.3 per cent this year. Canadian growth will be driven by demand from the U.S., while surges in the U.S. come as a result of strong growth in residential investment.
7. Earthquake strikes China's Yunnan province
A strong and shallow earthquake hit southwestern China's Yunnan province overnight, killing at least one person and injuring 324 others. The 6.0 earthquake hit at 9.49pm local time, when most people would have been in their homes. It was followed by eight aftershocks, with the strongest one registering at a magnitude of 4.2.
8. Mangroves have been protecting corals from climate change
In a recent study published in the journal Biogeosciences, it appears that over 30 species of reef corals have been growing within a large mangrove habitat, known as the Hurricane Hole in St. John, on the Virgin Islands. The mangroves are able to provide them with shade, which is significant as unshaded corals outside the mangrove were bleached. Essentially, corals appear to be flourishing in the mangrove habitat due to a combination of chemical, biological and physical conditions that keeps the acidity in the water below dangerous levels.
9. Nobel Prize in Physics awarded to inventors of blue LED lights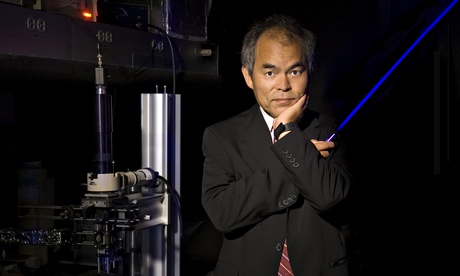 With their invention being just 20 years old, Japanese scientist Isamu Akasaki and American scientist Shuji Nakamura will be awarded the Nobel Prize in Physics for creating blue LED lights. Their work transformed the path of lighting technology, creating a space for more energy-efficient light sources of light. The Nobel committee stated that they had "succeeded where others had failed," and that while "incandescent light bulbs lit the 20th century, the 21st century will be lit by LED lamps."
10. Mass grave in Mexico uncovered
After 43 students went missing in Iguala, Mexico last month, 28 burnt bodies were discovered in six shallow graves last week, and four more were found this week. This comes after a massive operation to find the students, who were last seen being bundled into cars. No substantial theory pointing to why the students were taken or killed has been made yet, although some believe it could be due to the fact that the college the students attended has a history of left-wing activism.
11. Indonesian cave drawings found to be as old as Europe's
A new study published in the journal Nature this week concluded that the strange outcroppings around cave drawings in Indonesia – known as 'cave popcorn' – dates back to 40,000 years ago. This means that it rests in the same time period as famous European prehistoric art in both France and Spain, and provides insight into the relationship between early humans and art – it could mean that when humans left Africa 65,000 years ago, they were already highly evolved in their capacity to produce art.
12. Nobel Peace Prize awarded to Malala Yousafzai and Kailash Satyarthi
Image: Christopher Furlong
It was announced today that children's rights activists Malala Yousafzai of Pakistan and Kailash Satyarthi of India will be the joint recipients of the Nobel Peace Prize "for their struggle against the suppression of children and young people and for the right of all children to education." Malala, 17, becomes the youngest winner of the prize.
Missed last week's roundup? Read it here.
Feature image: United Nations