The Stanchies: Handing out 2016-17 Canucks season awards
Welcome to the second annual Stanchies Awards Show!
For those who don't remember last year (and who could forget what a wonderful season we had last year), here's a quick recap of the First Annual Stanchies.
Now, once again we find ourselves having experienced a bit of a garbage fire season. But that's ok. We can still hand out some awards and make people happy and have a good time, right? Right!
So without further ado, here are the second annual Stanchies!
NHL 17 DEKE AWARD – SVEN BAERTSCHI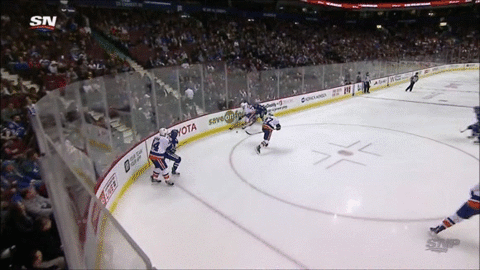 Yes, using a move many of us have utilized during our time playing EA's NHL games, Sven made solid use of the ol' "Oh I'm going this way, just kidding, I'm going the other way" deke that has befuddled video game goalies since the dawn of time.
Not pictured here is Sven Baertschi receiving a 99 OV HUT card for "Playing really well in a 2nd period of hockey?" pack EA released, right after their "99OV HUT cards for players with red hair" pack.
See also
SEND THIS TO THE MINORS AWARD – BEN HUTTON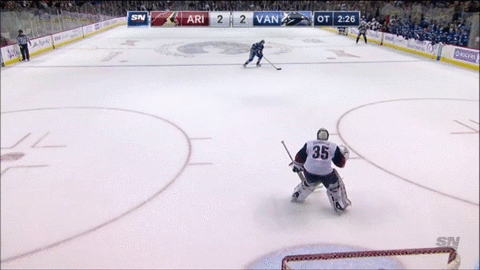 After some in the media speculated that Hutton might be better served playing in the minors early into the season, Ben Hutton responded as he often does: With anger, passion, and variety of violence.
Ah who are we kidding, Ben Hutton literally can't hate anything, it's been proven with science.
But he did bounce back to have a great game followed up with a slick overtime penalty shot goal.
Which he then promptly apologized to the goaltender for scoring on him.
SOMEONE SPOILED YOUR FAVOURITE TV SHOW REACTION AWARD – BO HORVAT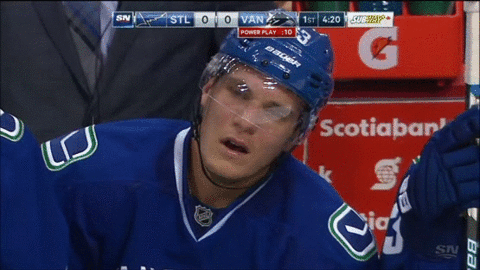 I believe he is saying "Are you fudging kidding me….candy bars."
Bo Horvat. Loves chocolate.
HANK SEDIN SPIN CYCLE AWARD – BO HORVAT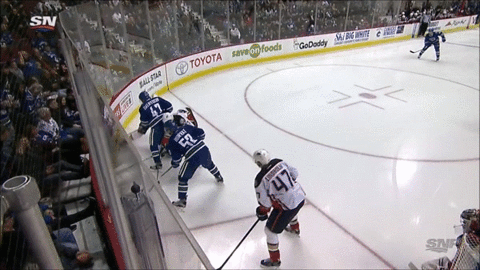 Usually Henrik Sedin wins the award named after himself, but this year? This year young Mr. Horvat wins it.
How many times have we seen Henrik Sedin pull this bank move off the back of the net?
How many times have we looked to our buddies after he does that and gone "Duuuuuuude…."
How many times have we tried this in beer league, only to fail at it, then laughing it off and mumbling "Henrik does it, I thought I could too."
Well Bo Horvat can do it, damn it, and it was pretty spiffy.
Even better it ends with a Jack Skille goal, who oddly enough, we'd all dearly miss once Megna-Mania set in.
NINJA TURTLE WATCHING A HOCKEY GAME ON HIS OFF DAY AWARD – FAN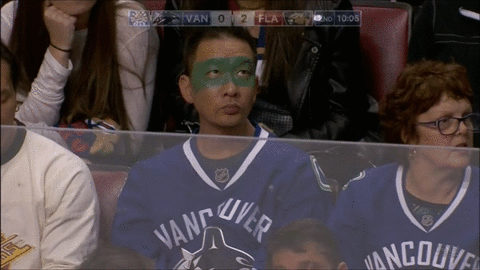 Sometimes you just want to take a break from eating pizza and listening to Raphael bitch about his job all day.
BANG BANG BARTKOWSKI WTF AWARD – MICHAEL CHAPUT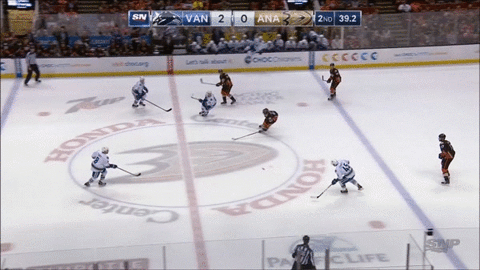 So uhhhhh WTF Chaput? WTF.
DRY HEAVE TURNING TO VOMIT AWARD – GLEN GULUTZAN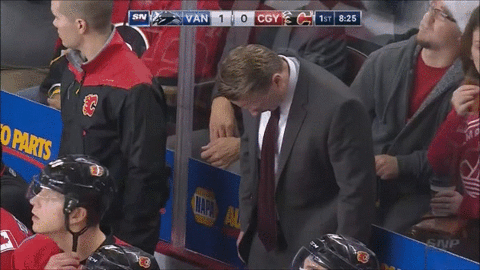 "No no, I swear, I'm fine guys. WAIT – HRNNNNG"
WALKING TO THE CHAIR WALK – COACH WILLIE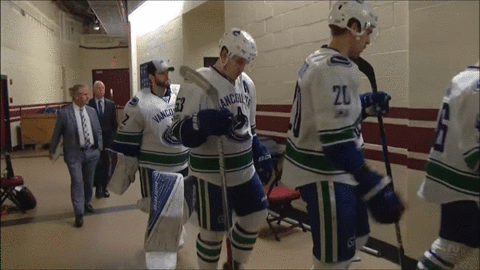 Bravely accepting his fate. Walking down that Green Mile. Tom Hanks watching from afar.
God speed Coach Willie. God speed.
DENNIS WIDEMAN AWARD – DEREK DORSETT
Sometimes you just have to send a message, you know? Even if it's the ref. Maybe whisper to him how you know where he lives while he's on the ice. Then make a throat slashing gesture. Perhaps urinate slightly on his leg to show your alpha maleness.
Really let them know you mean business after they made that weak hooking call on Sutter.
DRINKING ON THE JOB AWARD – SPORTSNET CAMERA MAN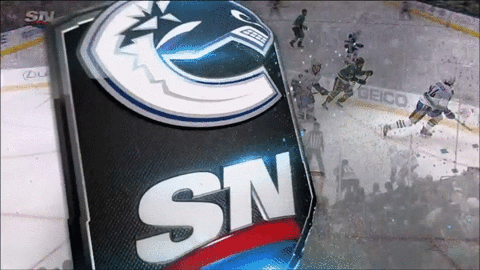 To be fair, Vancouver and Dallas were very hard hockey clubs to watch this year without a little help from Uncle Jack.
EXCITED BUT NOT TOO EXCITED GOAL REACTION AWARD – DUCKS FANS
When you're happy your team scored but you don't want to get your ass kicked by the hometown fans.
EDLER STICK BREAK AWARD – ALEX EDLER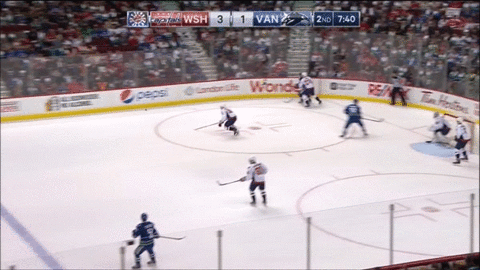 Alex Edler is really good at winning his own award.
He's perfected stick-breaking to an art form. Look, he manages to turn it into a breakaway, then gets a new stick, then goes to make a defensive play, and for all we know, breaks his stick again there.
Name me one player better at breaking their stick than Edler? I'll wait.
LOUI ERIKSSON EXISTS AWARD – LOUI ERIKSSON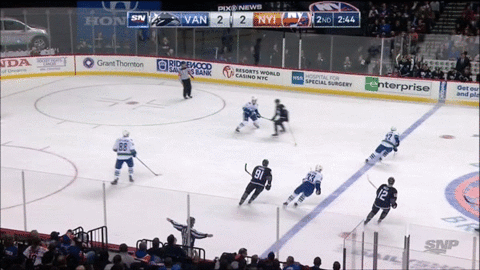 Confirmed.
OWNING UP TO YOUR LOST BETS AWARD – THIS GUY
This guy lost a bet. He is not a Canucks fan. He paid his dues.
Well done sir, well done.
SHAVE YOUR SIDEBURNS, HIPPY AWARD – NIKOLAY GOLDOBIN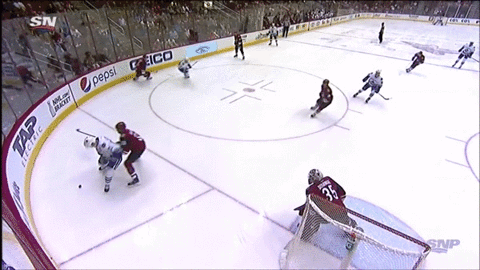 Goldobin, despite being benched for scoring goals that were too flashy, continued to try and score goals.
Disgusting.
Hopefully they teach him the right way to play hockey.
Off the glass and out. Line change.
Breakaway? Perfect time to dump it in. Line change.
Two-on-one? Pull up, pass to nobody, dump it in the corner.
Line change.
That's how real men play hockey, son.
TODD BERTUZZI PUNCHING THINGS AWARD – ZACK KASSIAN AND ERIK GUDBRANSON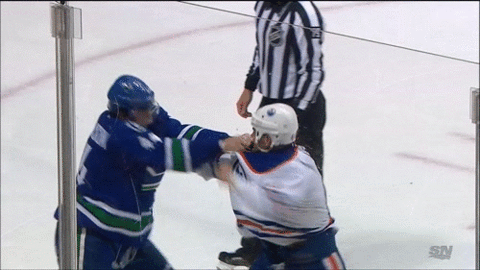 The Battle For Fourty Four was an intense one.
Lots of punches thrown. Give the nod to Erik for the take-down at the end and the "**** you" punches to the back of the head as they went down.
HANDSOMEST SHERIFF IN TOWN AWARD – ERIK GUDBRANSON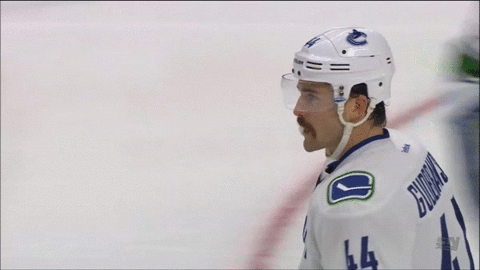 The man can pull off one mean moustache.
Also picture in this video is Gudbranson attempting to reattach the ligaments in his busted wrist.
LEGEND AWARD – HANK SEDIN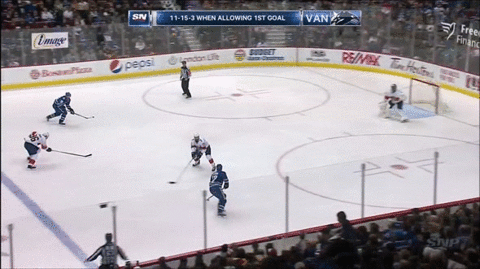 Fun fact about Henrik Sedin's 1000th point: That was the first shot he had taken in seven years.
Joe Thornton's beard was still a baby the last time Hank shot the puck.
Logan Couture hadn't even seen a porn video the last time Hank shot the puck.
Jaromir Jagr was only on mullet five the last time Hank shot the puck.
Crazy.
BEST FACEOFF WIN – HANK SEDIN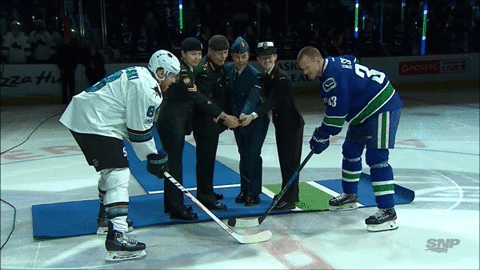 Pavelski got burned so bad. Hank wins the puck before Joe even knows what hit him.
BEST FACEOFF WIN RUNNER UP – HANK SEDIN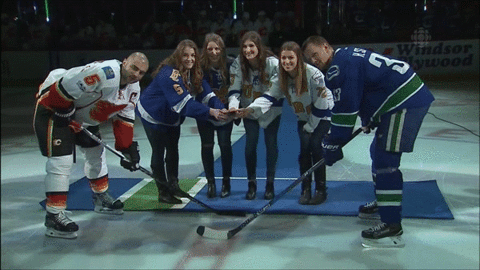 Giordano looking at the camera like an idiot, and Hank uses that lapse in judgement to win another draw. Henrik Sedin, ceremonial faceoff killer.
BEST FATHER-SON MOMENT – RYAN MILLER AND TROY STECHER
Ryan Miller entered in the shadow of Eddie Lack, Roberto Luongo, and Cory Schneider. He had the reputation of being an aloof goalie, with people wondering how long he would last in this market.
Well three years later and people pretty much, well, love Ryan Miller. Not in the over the top way they did of the previous goalies, but in a "Man, I respect the shit out of you" way.
Like, you know you could call Ryan Miller up to help you move last minute, and he'd be there. Sure, he'd lecture you on being more responsible, but he'd still show up and help out. Not like that jerk Daniel Sedin who shows up after the move is done and still eats the pizza.
That respect was never higher than when Ryan Miller ran to the defence of Troy Stecher, who was being attacked by Matt Martin, because Stecher dared to make a defensive play on Martin.
You the man, Ryan.
SWEEP THE LEG AWARD – JANNIK HANSEN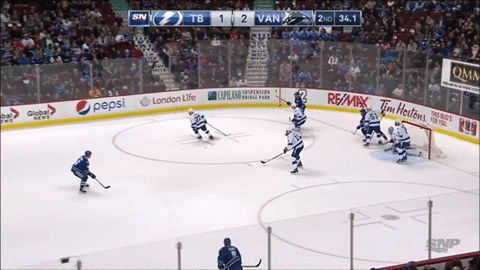 You know who ninja slide kicks the puck to keep it in?
Jannik Hansen. That's who.
BEST WINK AWARD – BEN HUTTON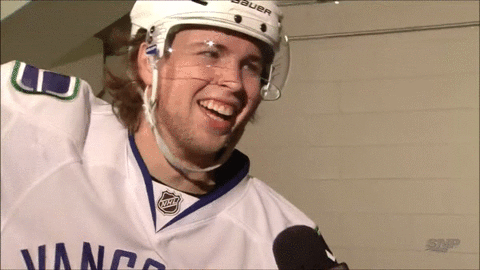 There was a real fear at one point that nobody would live up to the glorious winking abilities of Tom Sestito.
Lo and behold, just a few years later, Ben Hutton arrives on the scene.
Not only is he busting out winks, he's doing hockey helmet hair flips, then throwing winks like he just asked you out to the prom and you both know it's because he's actually really into you.
Of course, Hutton has set the bar high with this one. What will he do to top it next year?
HOLDING A CAT AWARD – BEN HUTTON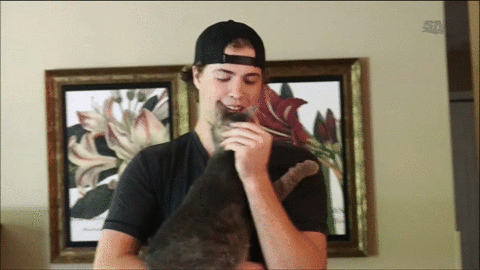 We've seen Henrik Sedin and Luca Sbisa hold a cat, but look at Ben. This is no photo op. He loves that cat. That is his favourite cat. How can he not win this award.
BEST STICK POINT – OLLI JUOLEVI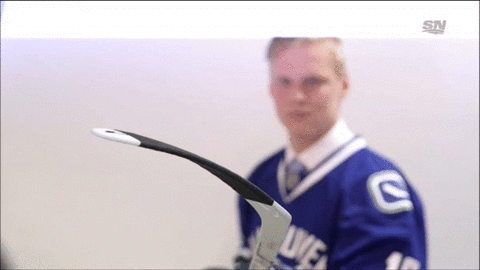 First the stick is in focus.
Then Juolevi's face comes into focus.
Then just when you think it's done, BAM, the photographer is being videotaped, in some Inception like twist.
I know Matt Tkachuk had a pretty great season, but does he have a stick point video like this? I think not.
AT LEAST YOU TRIED AWARD – PHILIP LARSEN
SUMMARY OF THE CANUCKS SEASON AWARD – TREVOR LINDEN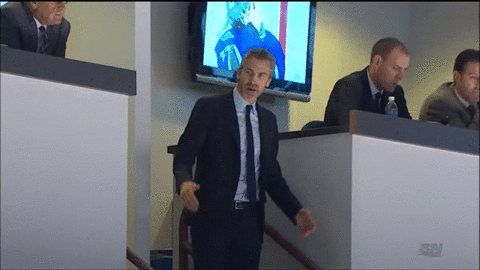 Yup.
BEST PIZZA DELIVERY – LUCA SBISA
Do they deliver to Vegas?
WHY IS THIS OUR LIVES AWARD – JAYSON MEGNA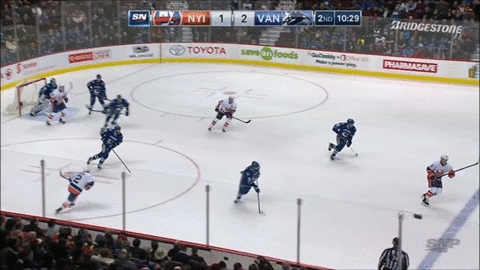 Why.
**** THIS AWARD – RYAN MILLER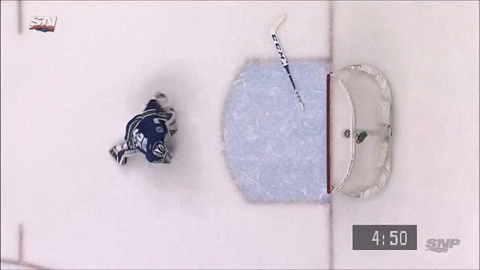 A proud hockey tradition, throwing crap on the ice goes way back. From Pat Quinn tossing gum onto the ice, to Jeremy Roenick throwing water bottles, it's fun to watch guys throw things in anger.
Especially pucks. When goalies start tossing pucks you know they mean business. That goes against every instinct they have.
SAVE OF THE YEAR AWARD – RYAN MILLER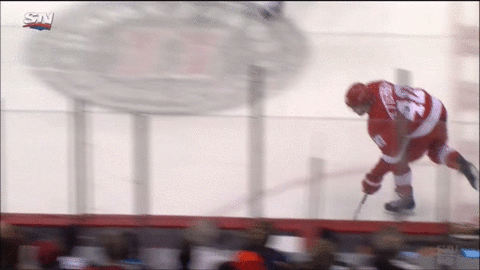 Sometimes you like to do things that butterflies can't, you know?
"WTF ARE WE DOING HERE, BOYS" AWARD – RYAN MILLER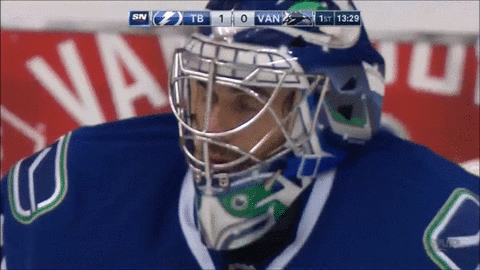 Digging through the footage of Ryan Miller shaking his head took around three weeks and took the help of 18 interns, but we finally got through it all, and chose a winner.
This one ended up winning because it's almost like he can see the TV graphic of the score overlay and is shaking his head at it.
ANNOYING DAN MURPHY AWARD – KEVIN BIEKSA
Will there ever be a day Kevin Bieksa doesn't win this award?
BEST MURPHING AWARD – HENRIK AND DANIEL SEDIN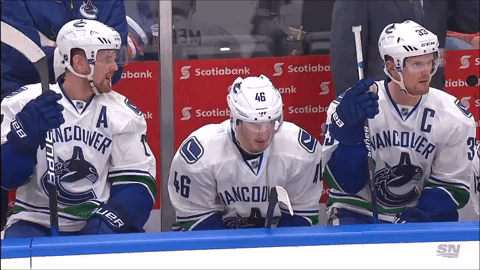 Made famous when Dan Murphy famously shut out Jon Jennings by leaning over him to talk to Travis Lulay, "Murphing" has fast become a fan favourite Stanchie award.
This year, Henrik and Daniel showed their Twin Magic works just as well off the ice, as well as on it, as they Murphed Jayson Megna real bad on the bench, talking over him like he wasn't even there.
I'VE BEEN SHOT AWARD – JACK SKILLE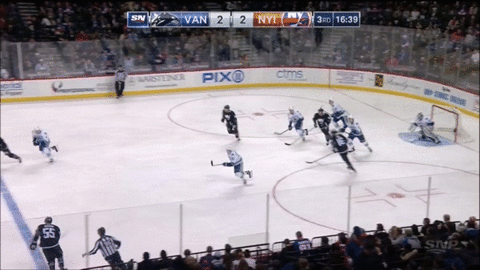 Jack.
BEST METAPHOR FOR HOW THE DRAFT LOTTERY WILL PROBABLY GO FOR VANCOUVER AWARD – STAR WARS PEOPLE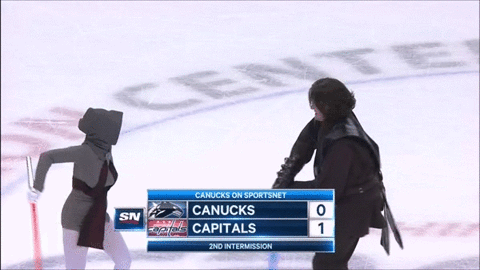 Wait for it…
HOPEFULLY OPTIMISTIC AWARD – TROY STECHER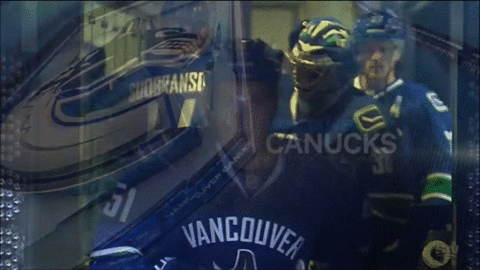 Tonight, we are young
So let's set the world on fire
We can burn brighter than the suuuuuuuuuuuuuuuuuuun
1980'S NOSE CANDY AWARD – TROY STECHER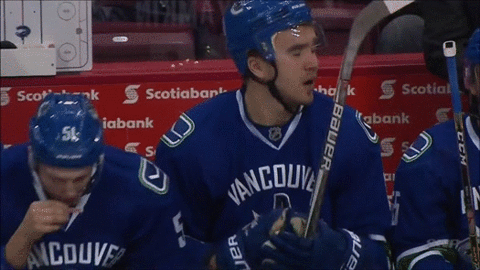 "YOU READY TRYAMKIN? YOU READY? LET'S ****ING DO THIS!"
BEST TOWEL PLACEMENT – SPORTSNET
Mighty fine toweling.
NICE GUY AWARD – NIKITA TRYAMKIN
Whether he hurt you: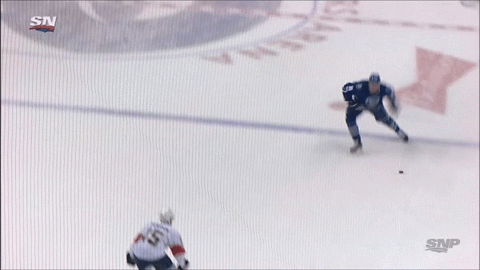 Or you hurt yourself: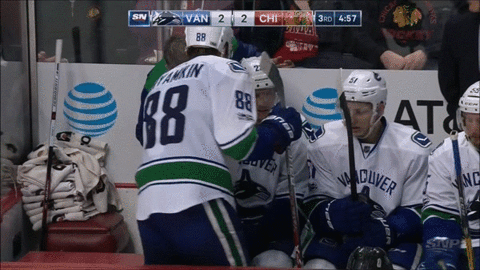 Or needed a helpful push to the bench:
@omarcanuck @TheStanchion @natejstirling pic.twitter.com/2vbWbzZr9Y

— Jovan Heer (@DJHeerMusic) January 7, 2017
Tryamkin was there for you.
Unless you angered him.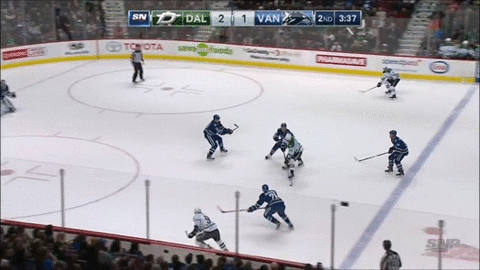 TRYAMKIN CRUSH.