Yes, you read that right, the long awaited, long debated, long…cremated?…annual Stanchies awards show is here!
For those who forget or for the three people who haven't heard of the Stanchies, you can check out last year's award show HERE.
Sadly, I can re-use last year's intro almost word for word, and since that saves Rob money (he pays me per original word), here it is:
Now, once again we find ourselves having experienced a bit of a garbage fire season. But that's ok. We can still hand out some awards and make people happy and have a good time, right? Right!
So yes, basically we will be going over some of the more amusing and entertaining gifs of the previous season, for posterity sake, while also handing out some arbitrary awards.
Fair warning, a lot of the gifs are of the "laugh so we don't cry" variety, and I too dream of a day when the Canucks are a top team so the gifs are mostly "Did you just see Brock Boeser deke out the entire team before making the goalie literally poop his pants in fear? Here's a gif zoom in of the poop." But alas, this is what we have for now.
So without further ado, sit back, relax, and enjoy the show!
OUT FOR A RIP AT WORK AWARD – SPORTSNET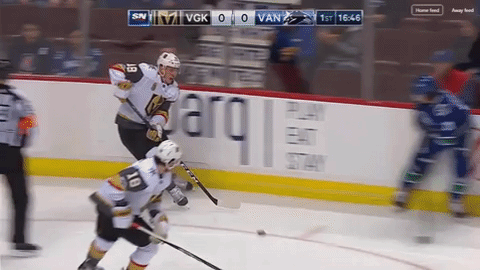 From the same company that brought you "randomly zooming in on ice sliding down the glass during a hockey play" comes "What's going on with that Vegas team, let's zoom in and find out, during a hockey play."
Little did we know at the time that Sportsnet was most likely recording documentary footage for 2019's release of "Vegas, how the **** did that happen?"
I WANT TO BE THOMAS VANEK WHEN I GROW UP AWARD – SVEN BAERTSCHI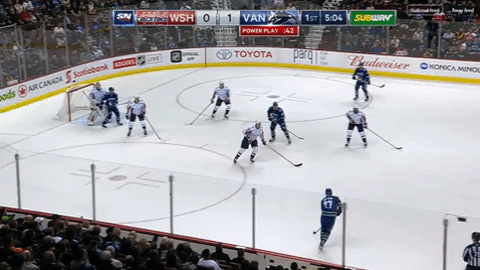 Although his time with us was short, Vanek became known for a couple of things early on in Vancouver.
No look passes between the legs, and god man, wrath of god fuelled clappers on breakaways.
It apparently rubbed off on Sven Baertschi who did his best Vanek impersonation with a goal set up for Bo Horvat so easy even Yanni Gourde could have put it in.
Oh Yanni. That's still rough to watch.
I WANT TO BE JANNIK HANSEN WHEN I GROW UP AWARD – SVEN BAERTSCHI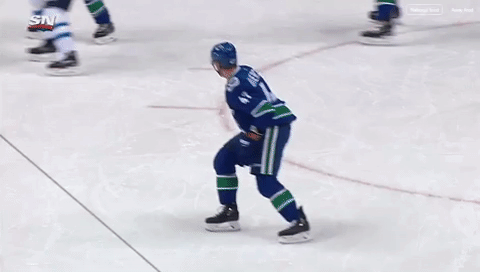 Apparently Sven Baertschi is a cyborg made up of different parts of former Canucks. Who will he turn into next? Can we program him to know kung fu and fly a helicopter? So many questions.
Still, you have to admit, when Hansen won the Sweep the Leg award last year, I did not see someone gunning after that title the very next year.
Fear does not exist in this locker room.
Pain does not exist in this locker room.
Defeat does not exist-
Wait, nope, defeat totally exists in this locker room.
WORKING THE PHONES AWARD – BEN HUTTON
Ben Hutton had a rough year, but you have to give him credit, he didn't pout or complain publicly. Hell, this off-season he even said "bring on the haters, haters, because hate is my fuel and hate fuel is going to make me workout and be better than ever, because I use hate fuel to power my hate fuelled engine. Did I mention the hate fuel?"
OK, maybe not an exact quote, but the point is, Hutton always showed up to work with a smile on his face, off or on the ice, even if he didn't see eye to eye with Coach Green.
Case in point, the Canucks telethon, where they have the Canucks in the background, helping add star power to the lineup. Scratched players on the night were called upon to do some on air duty.
On the left, Nik Dowd holds the phone casually like he's listening to a caller donate money, Don Draper confidence oozing all over him. He starts with his head down, and moves his head up as the scene plays out, inviting you, but not demanding, to come on this journey with him. Man alive, this guy knows how to work a camera.
To the right, Alex Biega is working hard, it's all he knows after all. He adjusts the phone to his off hand, showcasing his versatility, smiles and casually utters a fake line at the end, completing the scene. Sure, it wasn't pretty, but damn it, he got the job done.
Then there's sweet Benjamin Hutton. Ben starts off by dialing three numbers randomly, perhaps frozen between thinking he needs to dial out, or hit a button to take a call. Once the phone interaction is done, he can't help but notice the camera is on him, and he begins to panic. He smiles shyly at the camera before frantically looking for a way out of this situation. His smile becomes forced, he forgets his fake lines, and eventually he just looks off into the distance, perhaps in the hopes of finding the sweet embrace of death to escape this phone calamity.
But again, full credit to Ben Hutton, that smile, although it bent, did not break.
THE WHO DO I PLAY FOR AWARD – KEVIN BIEKSA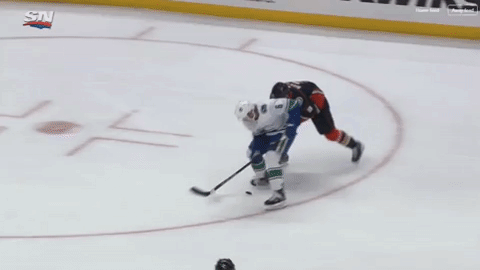 The Canucks struggled to score this year, so it was nice when old friend Kevin Bieksa would show up and pass an apple or two the Canucks way.
You have to admit, that is a clinical tape to tape pass to Sven Baertschi.
THE CAMERA SAVVY FAN AWARD – CBJ GUY

This was technically from last season, but it missed the cut off for the 2nd Stanchies, but it deserves recognition.
If your camera game is so on point that you've got moves from every time the cannon is fired, you deserve a damn award.
This guy is a collar popping, fist pumping, finger pointing, towel kissing monster.
I know the Green Men were pretty popular, but give me a guy posing by a cannon any day of the week.
Not that the Canucks have a cool cannon. We could have someone popping collars by an Orca giving birth or eating penguins? No?
THE BO DANGLES AWARD – BO HORVAT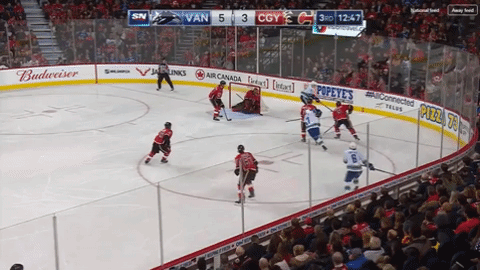 Sure, the award was named after him so maybe there is favouritism at play, but don't let Boeser's giant shadow make you forget the joys of Bo Horvat going all out, embarrassing other men and making them question if they belong in the NHL.
SUMMARY GIF OF THE 2017-2018 SEASON AWARD – BROCK BOESER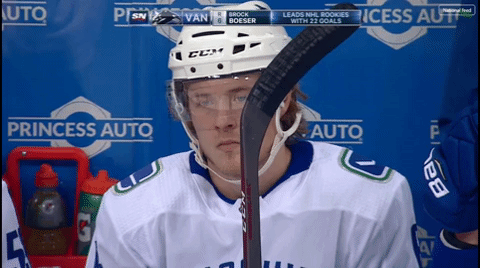 Hello darkness my old friend…
WHEN YOU KNOW THE FLOW IS HOT AWARD – BROCK BOESER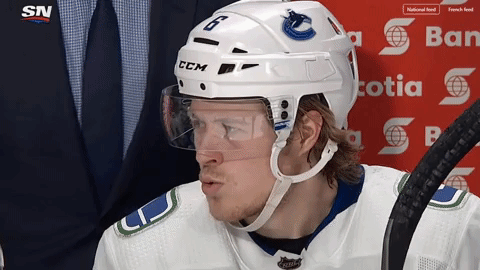 I've gone on record saying giving the title of "The Flow" is like giving the ring to Frodo.
It's a huge ask for someone to complete the journey, and in this case, it's asking Boeser to never lose his hair before his NHL career is over. Never forget, Ryan Getzlaf once had frosted tipped hair and Patrick Kane is slowly turning into Emperor Palpatine.
That being said, he does have one bad ass flow, and you can tell he knows it.
Look at him purse his lips as he tucks the flow back into his helmet.
This is a man oozing with hair confidence.
BAD ASS BREAKAWAY OF THE YEAR AWARD – THOMAS VANEK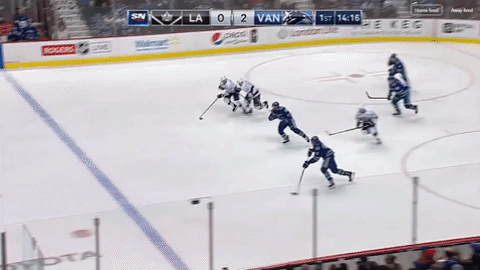 WAS THERE EVER ANY DOUBT??
How do you get more bad ass then overpowering your opponent and blasting a clap bomb right by/through them?
Answer, you don't.
PLEASE LET THIS HAPPEN MORE BABY HOCKEY JESUS AWARD – JAKE VIRTANEN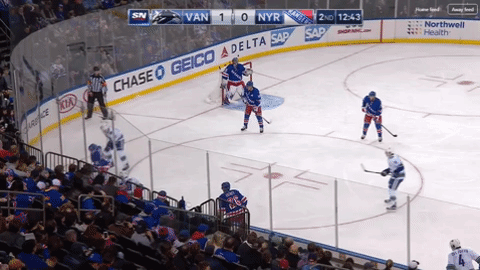 Please.
Pretty please.
NOT MY BEAUTIFUL FACE AWARD – TYLER SEGUIN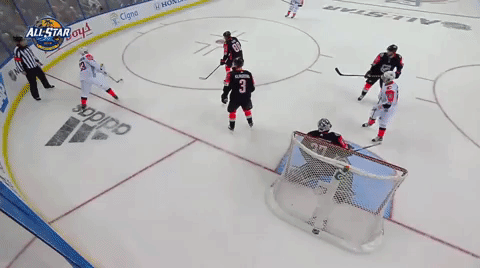 To be fair, Brock Boeser is good at breaking things at All Star games so Tyler was probably in the right here.
BORN ON THE ROUGH STREETS OF RICHMOND AWARD – TROY STECHER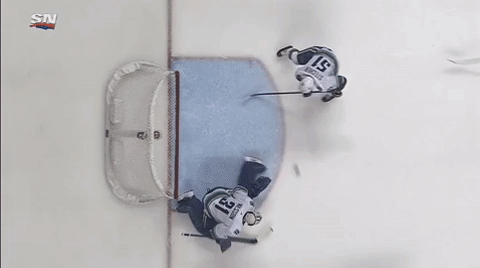 You don't grow up in Richmond without learning how to get yourself out of some messy situations, ie parking at Aberdeen Centre.
Sure, maybe he backed himself into a tight spot, but his three point turn to get himself out of it so cleanly is something you can only learn from Trinity Driving School Ltd.
YOU DON'T KNOW ME LIKE THAT AWARD – TROY STECHER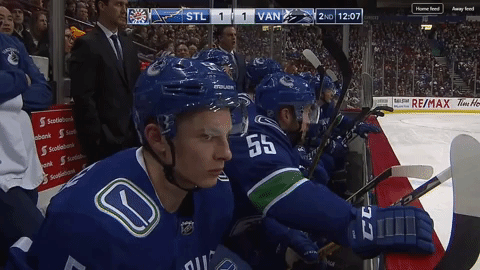 GIVE THE MAN SOME GOD DAMN SPACE.
Would you walk up to a guy like this if he's waiting in line for Bourbon St Grill chicken at Richmond Centre??
No, you let the man have some room so he can decide if he's going blackened chicken or bourbon chicken.
Obviously he's going bourbon chicken, but at least let him decide on his own time.
CAN'T STOP THINKING OF THAT BOURBON CHICKEN AWARD – JEFF BLASHILL
TROY STECHER GETS THE LAST ORDER OF BOURBON CHICKEN JUST BEFORE YOU AWARD – TREVOR LINDEN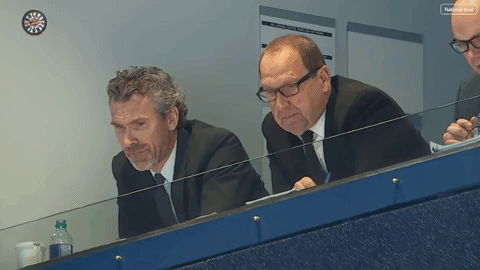 HOW TO TAKE CONTROL OF BEING MURPHED AWARD – THIS LADY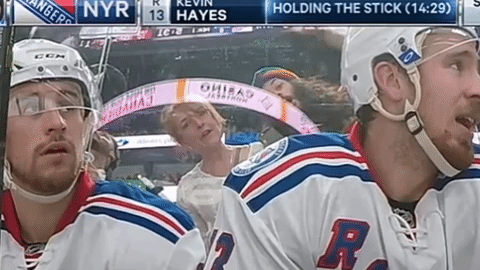 The Dan Murphy sandwich, aka Murphing, was made famous when Dan Murphy shut down Jon Jennings so he could talk to Travis Lulay.
Look at Jon. Look how his soul has been crushed. There is nothing worse than being stuck in the middle of an interview that Dan Murphy clearly wants no part of you to be in.
So what happens when you get stuck like that? You take control.
Or lose control, like that lady did. Make the interview about you.
Don't let Dan Murphy ruin your life. Own that camera.
WHEN YOU GET ANOTHER YEAR TO RUN THE TEAM AWARD – TREVOR LINDEN AND COACH GREEN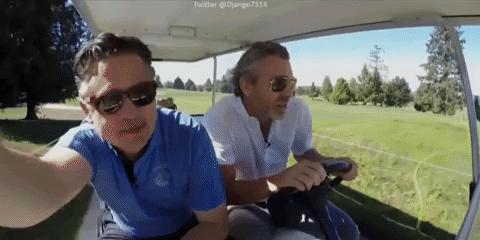 "Oh shit, we get another year?? RUN!"
BEST FLAUNT IT IF YOU'VE GOT IT AWARD – BROCK BOESER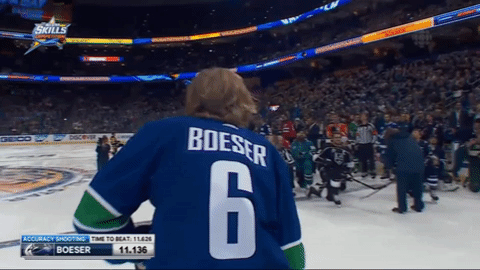 Again, if he goes full Alex Auld, he might end up weeping as he looks at these gifs in the middle of the night, but for now, let's sit back and revel in the glory of the flow.
Look at him peak back at the camera, you sly little minx you.
"Oh hey there…." before flipping the hair.
RUNNER UP FOR SECOND BACKUP BACKUP GOALIE AWARD – ALEX EDLER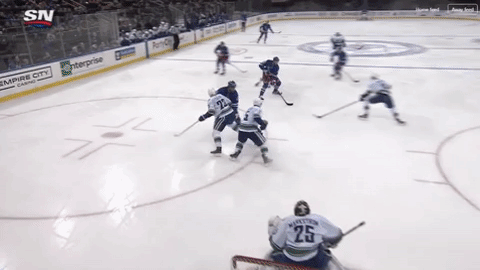 The contest between Edler and Tanev about who is the better backup backup goalie has become legendary in Vancouver.
Like Boromir and Legolas counting kills, or Bird and Jordan upping the shot difficulty in their eternal quest for a Big Mac, there is just something riveting about seeing which guy can be the better goalie.
And this year, Alex Edler comes in second. Which is crazy, because that's a great save, right?  Edler reads the play, moves over, and kicks out an old school leg save.
That's the sort of thing that should have wrapped this award up tight.
Except what if I told you Chris Tanev…
FIRST PLACE BACKUP BACKUP GOALIE AWARD – CHRIS TANEV
… made a god damn backwards kick save???
Not only is this against the soon-to-be Stanley Cup Champs (please baby hockey jesus don't let the Knights win a Cup so easily), but it's also a save he does without even freaking looking at the puck.
He just knows where the puck is going to be.
Has there ever been a man so in tune with knowing how to get hit by a puck then Chris Tanev?
Maybe Craig Ludwig's shinpads give him the edge. But it's real close.
NO ONE MAKES ME BLEED MY OWN BLOOD AWARD – TROY STECHER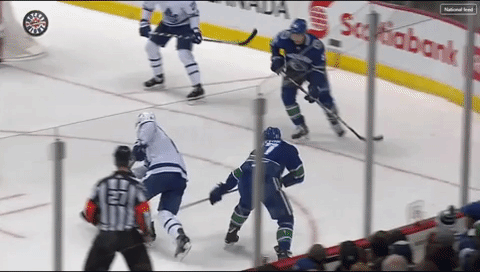 Stecher would later come back into the game.
Tanev and Edler would later be seen giving him tips on how to be a safer backup backup goalie.
"Rule number one, never use your face. We don't get full masks."
I DIDN'T KNOW YOU LIKE TO GET WET AWARD – ERIK GUDBRANSON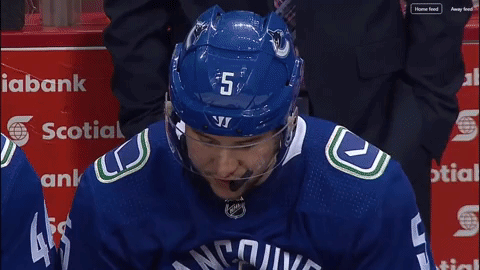 Guddy is ALL IN on these smelling salts.
Like, he even pre preps his nostrils to get them as wide open as possible for the incoming salts.
That's a man who loves his salts.
CHECK YOUR STICK AWARD – TROY STECHER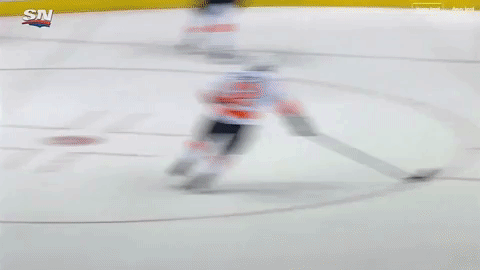 What's rule number one in hockey if you flub a shot wide?
Check your stick and pretend you're checking for cracks.
For bonus points, mutter under your breath about your stick.
You know damn well Troy checked his stick on the bench to save face.
TROY SKETCHER AWARD – TONY STRETCHER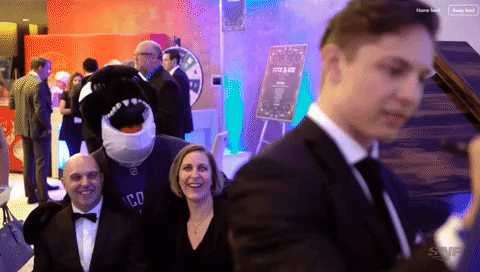 Obviously Troy From Richmond has won enough awards that you're questioning my biases, but let me get ahead of you and say damn straight I have a bias. The guy is just so damn good on camera, I can't help but award him all of the gold.
Plus his artistic talent is right around my level. We call that "Drunk Pictionary" level, so I feel I can relate to him.
Plus he's from Richmond. Don't you want someone who's had lemon pepper corn at a Richmond night market winning most of the awards??
BEST GHOSTING AWARD – DANIEL SEDIN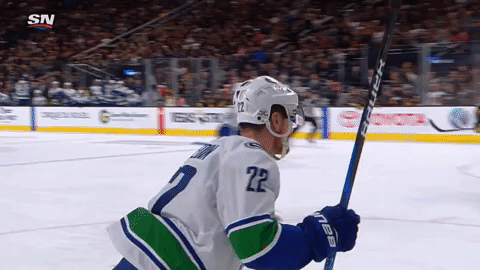 Daniel doesn't have time for the Stecher hype train, and will not be handing out any fist bumps to Troy.
We haven't seen a ghosting this bad since Oreskovich desperately wanted a hug at the end of game 7 against Chicago in 2011.
BEST SELF PROMOTION AWARD – OFF THE STANCHION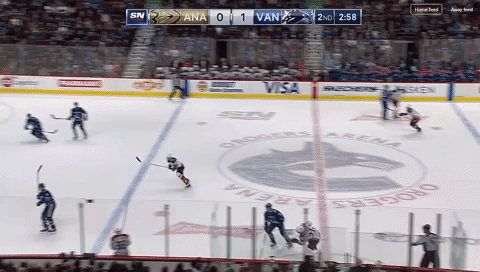 What can I say, I still got it.
I'VE MADE A HUGE MISTAKE AWARD – ANDERS NILSSON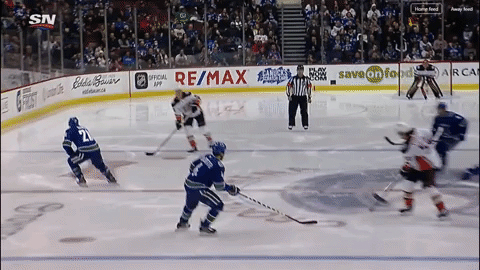 "I should play for Team Sweden all of the time. All of it."
BEST LINE IN HOCKEY FOR A DAY AWARD – VANEK, BOESER, GAGNER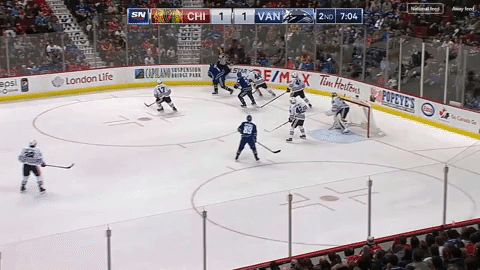 Remember when Gags, Vanek and Boeser combined for 12 points against the Blackhawks?
Remember how short that lasted?
Remember when the Twins would do this sort of thing regularly?
Remember when the Canucks lost in 2011?
Remember when you realized that Hockey Gods DO exist, except the only exist to torture and hurt you?
Ah, memories.
WHEN THE MUSIC TAKES OVER AWARD
We could have had it allllllllllllllllllllllllllllllll.
Ah, sorry, still stuck in that 2011 loop.
BEST MESSIER SHADE AWARD – SPORTSNET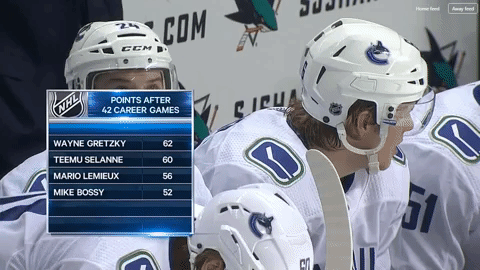 Taking Messier down a peg, a whole peg, is an annual tradition in Vancouver.
So when Messier isn't spending his time suing the Canucks, or laughing about chips, we try and spread the word about his legacy in Vancouver.
It's not that we don't enjoy watching an annual Mark Messier leadership award being handed out, it's just that we can't ******* stand watching an annual Mark Messier leadership award being handed out.
Kudos to Sportsnet for taking the lead this year, by slowly revealing Messier's name in points to start a career. Double points for leaving a blank space between him and the rest of the field.
Triple points to Granlund for appearing to either by dry humping the bench, or dry heaving.
SAVE OF THE YEAR AWARD – JACOB MARKSTROM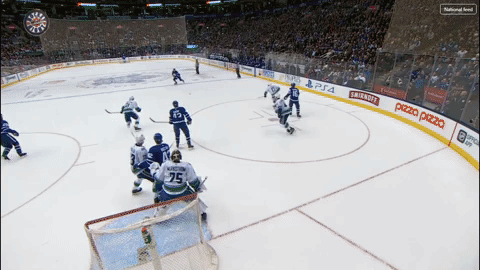 Jacob Markstrom, so withholding.
OPPOSITE OF SAVE OF THE YEAR AWARD – JACOB MARKSTROM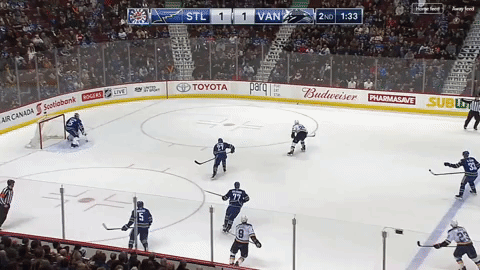 Oh no.
BEST VISUAL REPRESENTATION OF A SPANKING AWARD – LUCHA FLAMES FAN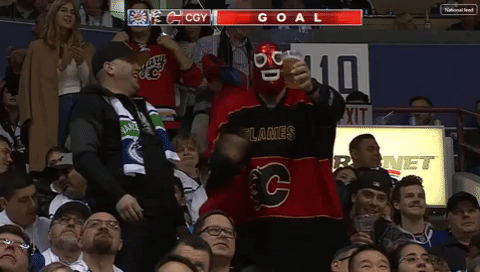 Adidas guy has had ENOUGH.
PROOF THAT LOUI ERIKSSON EXISTS AWARD – LOUI ERIKSSON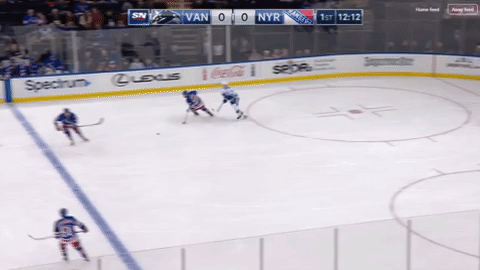 GOTTA GET TO WORK AWARD – FLAMES MASCOT
Sure, you just had the best OT playoff Luongo bowel movement of your life, but that doesn't mean you can sit back and relax. You've got work to do, even if it means cutting through Irf's interview.
Look at him clap his paws as he gets ready to get back to work. Amazing.
WHEN YOU'RE HAVING LUNCH BUT IT'S NOT BOURBON CHICKEN AWARD – LINDEN, BENNING AND WEISBROD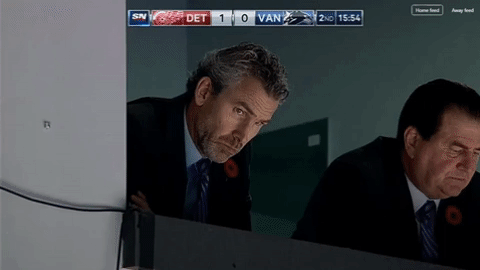 SHOT OF THE YEAR AWARD – THIS GUY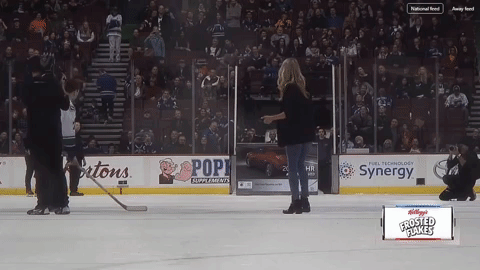 Can he run the point on the powerplay next season?
KYLE WELLWOOD DANGLE OF THE YEAR AWARD – GOLDOBIN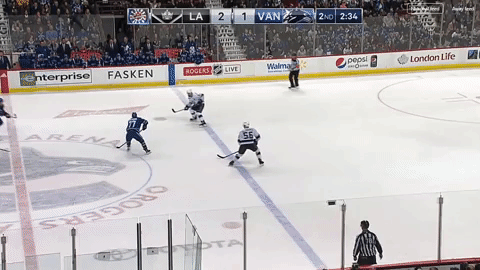 "Drew Doughty, who dat?"
HAPPY TO JUST BE IN THE LINEUP DANCE AWARD – BEN HUTTON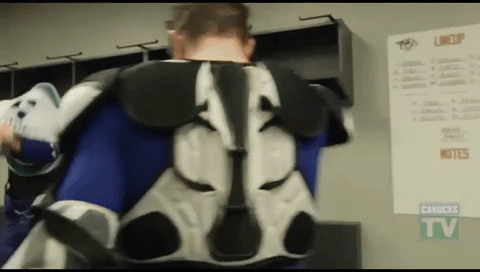 "Hahah I'm never gonna be a healthy scratch!"
EXCUSE TO POST MORE BREAKAWAY CLAP BOMBS AWARD – THOMAS VANEK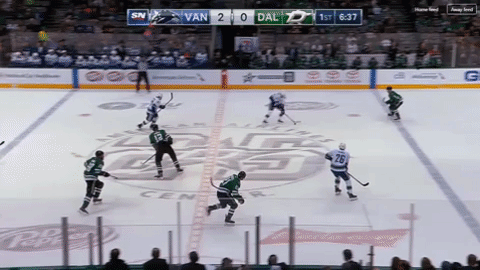 Do you want to know the terrifying truth? Or do you just wanna watch Thomas Vanek hit some dingers??
HIT SOME DINGERS!
KOBE! AWARD – KEVIN CONNAUTON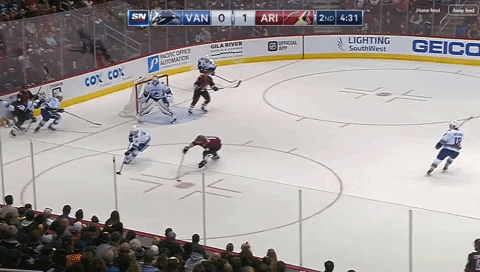 THINKING UP THE PERFECT JOKE TWEET – THIS GIRL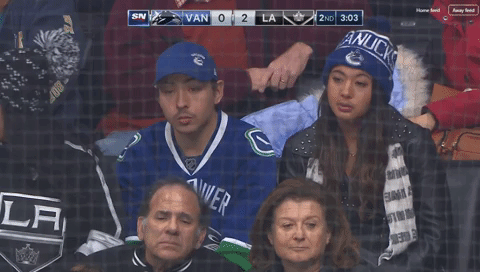 "Wait………yep, got it."
SEX ON ICE AWARD – BROCK BOESER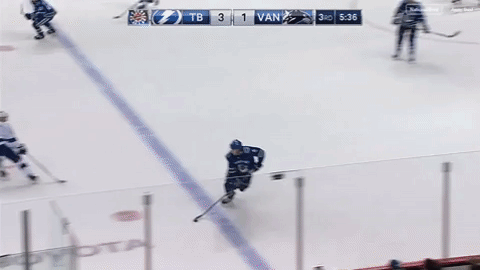 Unnnnnnnngh.
SHOTGUN OF THE YEAR AWARD – FAN ON THE LEFT
Only way to get through some of the games last season was to shotgun some beer.
WHEN BOURBON ST GRILL SAYS THEY'RE CLOSING EARLY AWARD – DJ MDZ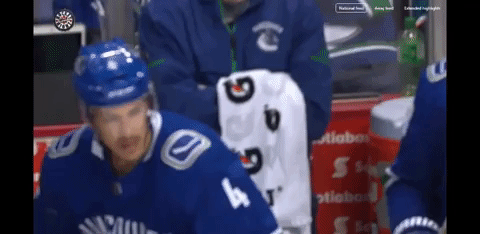 TRIPPING ON A GHOST AWARD – DION PHANEUF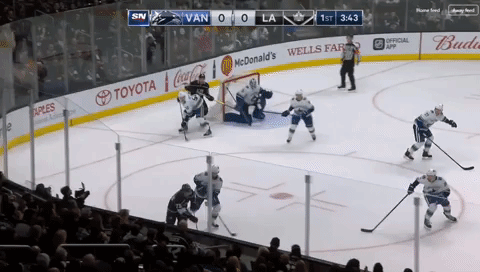 Jarko Ruutu was watching from the rafters, cackling into the night.
LUCA SBISA PIZZA DELIVERY OF THE YEAR AWARD – DEREK POULIOT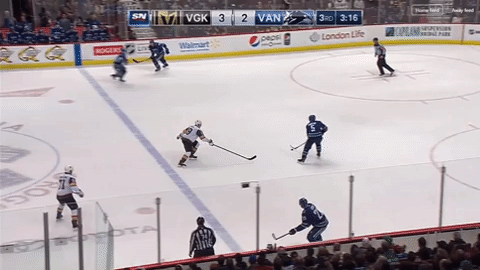 Two pizzas for the price of one!
Derek really really wanted Vegas to have that puck.
REVENGE IS A DISH SERVED PIPING HOT AWARD – BROCK BOESER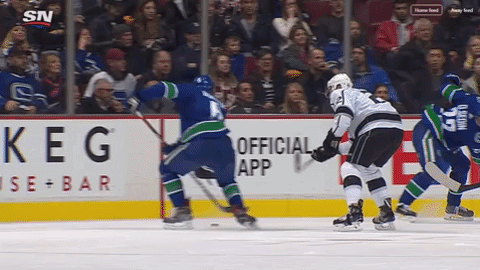 Screw waiting around for revenge, why not go out there and blow one by the team that just ran you from behind?
Boeser had a lot of iconic moments this season, but none stood out to me more than this one. Guy gets run over, pulls himself up, and decides "Hell, I'll get revenge right now, thank you very much" and scores on the powerplay a minute in.
That's both ice cold and hot fire.
DOG FEUD OF THE YEAR AWARD – SHERLOCK AND PEACH
Woah this changes things. Floofs/60 off the charts

— Zeke (@ccommandomando) February 17, 2018
Ok. Agreed. I'm in Vegas. peach in whistler. But she sure looks like a dog of the people. Blessing everyone. pic.twitter.com/ObLPvyDzgC

— Dan Murphy (@sportsnetmurph) February 17, 2018
This isn't over Murph.
BEST WAY TO END THE SEASON AWARD – THE SEDINS
Thank you Daniel and Henrik. Thank you.