SixPack: Tryamkin fight highlights Canucks' night
As a losing season winds down, you tend to experience games that feel more like a night with your soon to be divorced parents.
Lots of moments of silence.
People staring listlessly into space, wondering where they went wrong in life.
A complete lack of energy from everyone in the room.
Occasionally a giant runs into the room and beats up a guy from Victoria.
You know, the usual sort of broken home family stuff.
The only real joy you can get out of these games is playing the Of Mice and Men game.
You know the one. The one where you envision a better future despite the depression surrounding you. Where Benning finds Willie at their special meeting spot and tells him their dream one more time…
Yeah Willie, you're gonna live off the fat of the land.
This is why when Benning announced that Willie had finally accepted reality that the playoffs were no longer attainable and that youth would be served, it was a bright spot for Canucks Nation.
It meant we might get to see some of the young guys showcase their stuff, and give us all a reason to look forward to next season. Thirteen games for some of the young lads to step up and show the fans that the best is yet to come, and to get a bit excited about the future.
Enter Nikita Tryamkin tonight. Despite the Canucks losing 4-2 to the Dallas Stars, Tryamkin gave Canucks fans something to cheer about. What did he do?
Well, I'm glad you asked.
See also
1. Tryamkin steals the show
Tryamkin the sneakiest 6-foot-8 guy in the league

— Rob Williams (@RobTheHockeyGuy) March 17, 2017
Nikita Tryamkin, number 88 in your programs, number one in your hearts.
We've seen Tryamkin get better and better over the course of his two-ish seasons in Vancouver, and we're starting to get an idea of what he can bring to the table.
One, he can surprise you with his offensive forays.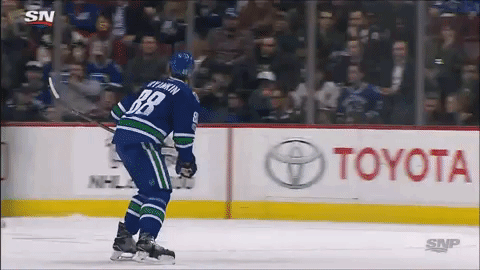 The Canucks first goal showcased Nikita keeping the puck in, before driving to the net and getting two shots at the puck before Baertschi swooped in to finish the job.
We were that close to finding out Tryamkin's goal song, but alas, that is one last treasure we can look forward to I suppose.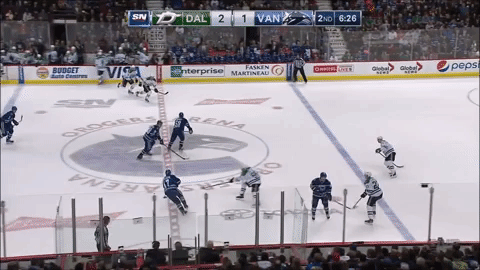 Later in the game Tryamkin again showed his beguiling speed, as he darts as well as a 6-foot-8 man can dart, trying to break through three Dallas Stars players before finally being taken down by tranq darts and roped down in a scene straight out of Gulliver's Travels.
For a team that struggles to produce offence of any kind, there is something kind of magical about watching the biggest guy on the team produce some of the best chances. It's part of what draws people into Tryamkin, the fact that we can dream that we are just seeing the tip of his offensive potential.
The second part of Tryamkin's game, is the pain he brings. The cold, dispassionate violence he can bring without seemingly trying.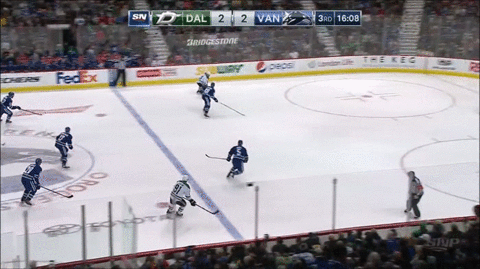 Here's Tryamkin chasing down a puck, and casually taking a Star out in the corner.
Pretty neat, and something Tryamkin does on the regular. Tossing people with a couple of fingers and going about his day.
Want something better?
How about Tryamkin tossing Jamie Benn to the ground like a failed Roll Up the Rim Tim Horton's coffee cup.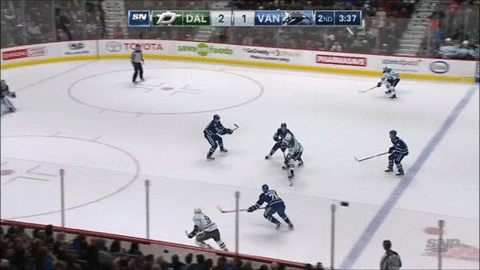 How about Tryamkin fighting Benn after Benn had his feelings hurt by being literally shoved to the ground.
How about Tryamkin adorably trying to fight when it's not really his thing, but getting by on his Colossus-like strength. At one point he just holds Benn away by putting his hand on his head like a big brother trying to save his younger brother some embarrassment. It felt like any minute Tryamkin might take Benn's hand and make him punch himself.
How strong is Tryamkin? Jamie Benn didn't return to the game after the fight due to an upper body injury. An injury that happened despite Tryamkin landing a punch, and probably happening when they wrestled at the end.
Why would Jamie Benn wrestle a Russian Bear? Why?
We haven't seen a decision that bad since Cameron demanded the ref make the count.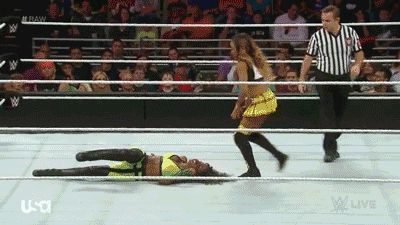 But as Ryan Biech adroitly pointed out, Benn and Tryamkin have a bit of history together.
From November.

Tryamkin with the big hit on Benn on repeat.#Canucks pic.twitter.com/0yLAWWnXvn

— Ryan Biech (@ryanbiech) March 17, 2017
The history is Tryamkin crushes Benn, Benn gets super mad about it.
Again, I have a theory that the city of Vancouver falls asleep at night and sees an image of Brad Marchand punching Daniel Sedin in the face in 2011 that hasn't gone away.
People are dying for a team that can handle its business, which is why Tryamkin is beloved when he goes out and makes it look so easy to dominate people.
So you're still telling me Tryamkin can't get a freaking shirsey this season?
2. Dallas Starz
Let's just go over the goals for posterity.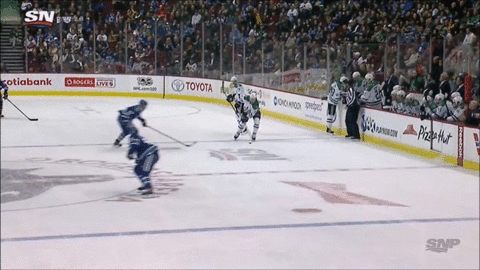 The first goal saw Ben Hutton make a bad read, and Ales Hemsky banking the puck in off his own skate, and somehow not injuring himself on the play.
Ryan Miller's jockstrap tumbled out of his pants, but he found it and put it back on before too many people noticed.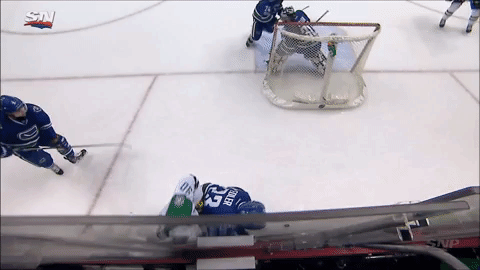 The second goal saw Alex Edler make a poor life decision with his pass off the boards, which led to Bystander Sbisa bystanding as a puck went by him and through Ryan Miller.
Boucher might have tipped the puck here, to be honest, but if he did, it's amazing Miller didn't melt him with his laser beams of death.
Instead Miller looks at his blocker almost too casually, like a villain in a movie who checks himself for a bullet hole and finds one, only to dramatically fall down and die.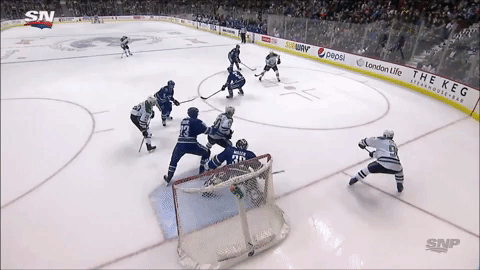 The 3-2 goal once again sees Backup Goalie Edler and Bystander Sbisa kind of watching the action. It's good passing from the Stars, and a good shot from Seguin.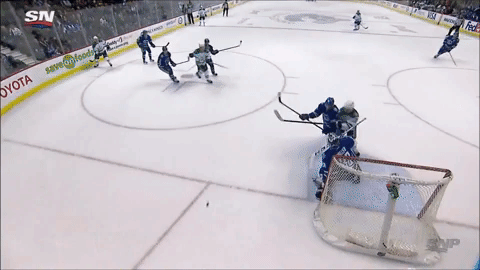 The final goal saw Stecher trying to do too much, and in Bartkowski-like fashion tries to skate his way out of trouble only to lose the puck.
Sbisa, who at this point has completely lost the ability to make contact with the puck, just waves his stick and mutters "Wingardium Leviosa" under his breath.
"It's Wingardium LevioSA" chided Horvat from the bench.
3. Grandmaster Bae and the Funky Bunch
Again, there weren't a lot of highlights in this game, but Bae/Horvat/Boucher was fun to watch.
You ready for this? Boucher got 17 minutes of ice time.
Weird, right?
Baertchi had almost 18 minutes, and Horvat finished with 19 minutes. Granlund had 19 as well.
They actually played the kids.
Granlund looked dangerous too, as he chased down his 20th goal, but couldn't find a way to beat Lehtonen.
All the points from the forwards came from these four.
The journeyman Shore, Sutter, and Cramarossa on the other hand just tanked in Corsi, none of them getting higher than 30%.
6 for, 14 against
5 for, 13 against
5 for, 14 against
It was ugly. It's almost as if Sutter isn't that good at elevating his linemates.
One game into "Operation Youth" and yeah, the Canucks lost, but there were some definite silver linings on this one.
Baertschi as a rapper #cosplay @TheStanchion pic.twitter.com/BiDFCtnAVd

— Ryan (@Oscillian) March 17, 2017
On point.
4. Benjamin Hutton
Not much analysis on this one except to say that's a pretty dope goal.
Hutton played almost 22 minutes and has continued to look much better offensively after having a pretty rough season. His confidence looks better as he is making more of the plays we saw from him in the first season.
5. Megna was good? Megna was good!
This will long be remembered as the season Coach Willie fell in love with Megna, much to the chagrin of the eye test, the traditional stats, and the advanced stats.
We will forever be trying to rub the spot out of our clothes that was the "Megna on the PP" experiment that was used this season.
All along, though, many of us had a sneaking suspicion that Megna might be ok in what looked to be his suited role, that of the fourth liner.
In more limited minutes, and against easier matchups, Megna actually had himself a good game. He led the team in Corsi, and he had several noticeable defensive plays where he either stopped a rush or forced a turnover.
In short, Megna on the fourth line might actually be a good thing for this team to look at for the next 12 games. Give the kid a chance to succeed at his proper level and see what he can do.
6. Connor McJesus is coming
so Miller or Bachman in EDM? Oilers coming off back to back 7 goal games

— Jeff Paterson (@patersonjeff) March 17, 2017
Uh oh.
Despite goals from @svenbaertschi and @BHutt10 the #Canucks drop the final game of their homestand in this @BudCanada Game In Five. pic.twitter.com/aFoRNOuFDx

— Vancouver Canucks (@Canucks) March 17, 2017