Rent for unfurnished one-bedrooms in Metro Vancouver shoots up
After rental prices have been in a relative lull since November 2022, the cost of rent appears to be going up more sharply once more. In liv.rent's latest report, Metro Vancouver rent prices for unfurnished, one-bedroom units increased in April by $55.
Average rent in Metro Vancouver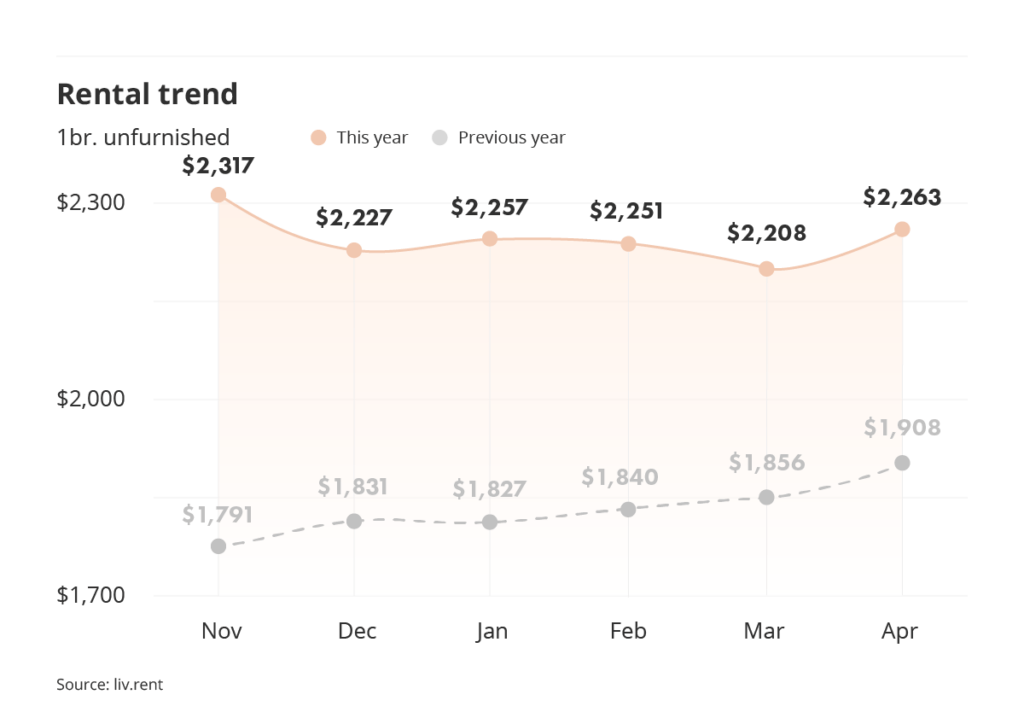 According to liv.rent data, rent dipped in December and hasn't been as high as November on average since.
"This month, the average rent for a one-bedroom, unfurnished unit has risen by $55 – bringing the region's average cost to $2,263. Since April 2022, the average rent for an unfurnished, one-bedroom unit in Metro Vancouver has increased by $355, or 18.61%."
Most popular rentals
According to liv.rent data, apartments make up most of the rental market at 77%.
Overall, most units for rent are two-bedrooms followed by one-bedrooms. Three-bedroom units are much rarer.
Metro Vancouver rent by city
Breaking down the data by city, rent has gone down slightly in Vancouver and New Westminster since last month, but in every other Metro Vancouver municipality it seems to have gone up.
Right now, the most affordable place to find a one-bedroom is Langley followed by Surrey. The most expensive place to rent a one-bedroom is West Vancouver.
Will rent keep going up?
In April, the Bank of Canada announced that it would hold the interest rate at 4.5%. But since demand is still incredibly high in Canada's major rental markets, it's not liv.rent says it's uncertain whether prices will continue to rise throughout 2023 or return to previous levels.
You can learn more and see the full April rent report from liv.rent.