Leaked 'The Interview' clip shows Kim Jong-un death scene (VIDEO)
With Sony Pictures maintaining that The Interview will not be released for distribution, a leaked final scene might be the only additional glimpse the public will be able to see outside of the trailers.
A 28-second clip, in slow motion, shows North Korean dictator Kim Jong-un (played by American actor Randall Park) leaning outside a helicopter door, watching his aircraft being hit and exploding into a great fireball.
The Dear Leader's mouth is wide open as this happens. His clothes are engulfed in flames and big flames obscure the explosion of his head during the final seconds.
Throughout the entire leaked scene, a dramatic version of Katy Perry's "Firework" is played. It's apparently a song that James Franco's character Dave Skylark and Kim Jong-un bonded over earlier in the plot.
In a leaked email, co-director and star Seth Rogen described the early changes to the death scene in the following way: "We took out three out of four face embers, reduced the hair burning by 50%, and significantly darkened the chunks of Kim's head."
However, those were far from the final changes that Sony CEO Kazuo Hirai required, such as obscuring the head explosion. This was likely the final edited version approved by Hirai: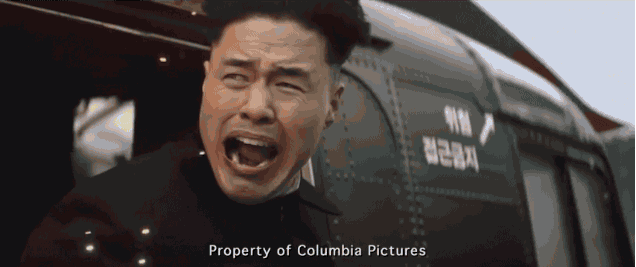 On Wednesday, the studio decided to cancel the movie's delayed release on December 25 after a majority of the theatre chains in Canada and the United States, including Cineplex, decided not to screen the film due to safety and liability reasons.
The cancellation was in reaction to threats of terrorist attacks by the hackers who also leaked sensitive Sony emails and five of its upcoming movies, including Brad Pitt's Fury and the remake of Annie starring Jamie Foxx. These damages do not include the costs incurred from the production, marketing and cancellation of The Interview, which will likely cost Sony about US$100-million.
In a rare statement earlier today, the FBI confirms and shames North Korea for being responsible for the cyber attacks and threats.
"As a result of our investigation, and in close collaboration with other U.S. government departments and agencies, the FBI now has enough information to conclude that the North Korean government is responsible for these actions," said the FBI in a statement.
"North Korea's actions were intended to inflict significant harm on a U.S. business and suppress the right of American citizens to express themselves. Such acts of intimidation fall outside the bounds of acceptable state behaviour."
Part 1 of clip
Part 2 of clip
Feature Image: Sony/Columbia Pictures