Christmas Gift Guide 2013: Tech Toys
We're down to the last few weeks before Christmas, and if you are still looking for something for the tech lover on your list (or yourself!), we're here to help!
Here's a rundown of the coolest (and therefore hottest) tech toys that the nerd on your list will be hoping to unwrap on Christmas morning. As a bonus, everything here is less than $200.
Logiix ChatterMitts Bluetooth Gloves
Owning a pair of gloves that allow you to operate your smartphone in Vancouver is a must for any tech-savvy individual. However, these take it one step further. They have a built-in Bluetooth, and you can use them to take calls. You listen through your thumb and talk into your little finger. Go-go Gadget phone!
London Drugs, $49.99
Sony QX10 Optical Zoom Digital Camera
Although it's technically called a "camera," the QX10 is actually a lens that uses Bluetooth to pair with your smartphone. You can either mount it to your phone, or you can hold it in your hand (there's a shutter button on the actual lens). Your phone works as a monitor, and you get 10 times the zoom on your phone's camera. It's a great alternative to take with you in a situation where your DSLR is too bulky, or too heavy. The bonus? Any photos you take can be immediately uploaded to Flickr, Tweeted, Facebooked, or Instagrammed.
London Drugs $199.99
Olloclip 3-in-1
A less-expensive version for iPhone. It features both Telephoto and Circular Polarizing Lenses, which help to bring you closer to your subject, cut down on glare, and makes colours pop.
London Drugs $49.99
The Pocket Spotlight
Any foodie will tell you: the bane of their existence is taking bad photos in low-light conditions at restaurants. You don't want to use your flash, because it seldom makes the photo look good. This little gizmo is the answer. It mounts on your phone's headphone jack, and provides extra light for those food porn capturing moments.
Photojojo.com $30
Speaking of Inspector Gadget, one thing that will be on many a tech-lovers' list this Christmas is a smart watch. These pair with your phone, and allow you to read your text messages and use apps. This one is for the runner in your life. This little beauty tracks your run, monitors your heart rate, reminds you to run, and rewards you when you do with a virtual high-five. It even comes with its own social network, NikePlus.com.
Best Buy or Amazon (link above) $169.99
The Pebble Smartwatch
There's so much to love about this little gadget. It pairs with both iPhone and Android, and its price point is much more moderate compared to many smartwatches out there. It's waterproof, has an e-paper display that makes it readable even in direct sunlight, has customizable faces and straps, and runs tons of apps. It's the result of a highly successful Kickstarter campaign, and is shaping up to be the tech toy of the season.
Best Buy $149.99
Mophie Juice Pack
How often have you been out and your phone battery dies? No one likes that. This little gizmo will give you power for days, and it can even charge your tablet. There are two USB ports, so you can charge two gadgets at the same time.
Future Shop $79.99 or Amazon $84.99
Beats by Dr. Dre Headphones
Future Shop has the largest selection of these insanely popular headphones, from in-ear to on-ear, and at every price point. They come in a rainbow of colours, as well.
Future Shop $199.99 or Wireless at Amazon $279.99
Breaking Bad: The Complete Series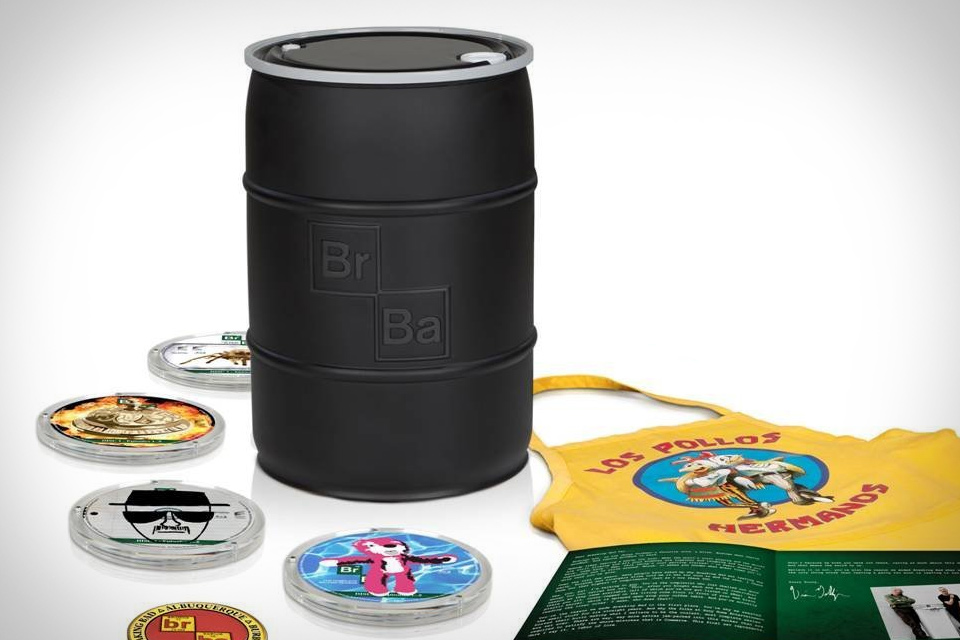 If you, like me, are still in mourning over the end of what was known as "the best show on television," then you're in luck. You can relive every edge-of-your-seat, heart pounding moment of Walter White's transformation from a high school Chemistry teacher to a meth druglord named Heisenberg. Includes tons of bonuses, like a feature-length documentary on the making of the final season.
Future Shop $169.99 or w/ extra features at Amazon $429.99
 Geek Dad
For those of you raising the next generation of geeks, or perhaps as a gift from your jedi-in-training to their dad, this book features tons of great projects that dads can do together with their kids. There's also The Geek Dad's Guide to Weekend Fun, and The Geek Dad Book for Aspiring Mad Scientists.
Amazon.ca $15.99
What's your Christmas lust list?