On a night when most of North Amercia was nervous about the results of the US Presidential election, there was one thing people knew they could rely on; the warm blanket of futility of the Vancouver Canucks.
You knew you could sit back, have a beer, and watch the Canucks get a goal (or maybe not even that), run around for a bit, maybe get a random moral victory (they don't lose by double digits? Sbisa pushes someone super hard?), before settling in nicely for another loss.
Wait, what?
On a night full of surprises, the Canucks threw their hat in the ring by shocking the world by not only scoring more than a goal, but by also WINNING A HOCKEY GAME!
That's right folks, your Vancouver Canucks beat the New York Rangers 5-3.
Most of the world predicted the Rangers would crush the Canucks, and it was only a matter of how many goals they'd unleash on Vancouver. So if you enjoy asking people about apples, now is your moment to shine.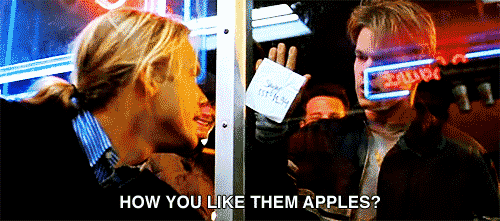 YEAH NEW YORK, APPLES. WE JUST STOLE YOUR THING AND FED IT BACK TO YOU.
Now, will this win be viewed at the end of the season as one of those "oh dear God, we fell to fifth in the draft because of those stupid wins" moments?
Should we even get excited about wins at this point?
Who knows. But let's do our due diligence and break this one down, shall we?
1. Canucks are THAT team now
Teams circle the Canucks on their calendar and go "oh sweet, time to rest our starter."
It's fine, the Canucks used to do it to teams too, back in the Sedins' prime. We'd all have a good laugh as they threw in Sabourin, Sanford, Raycroft, whichever UBC goalie happened to have dry pads, in the net.
Now the Canucks have to face the reality that now they're the team that is considered the good tester for their back-up goalie.
Luckily the Canucks had a plan, and it was "Hey, **** you New York, we want Lundqvist" as they took out Raanta by charging hard to the net.
Yes, that's Markus "Mjolnir" Granlund taking out the Rangers back-up goalie. He'd stay in the game but would later leave for concussion testing.
In came King Henrik, entering a tied game, to a heroes welcome.
People chanted his name. Babies were thrown on the ice in celebration.
Their Goalie God had arrived!
And was quickly met with two Canucks goals.
Two goals. From the Canucks.
Then Lundqvist was pulled as Raanta went back in net, after he passed his tests.
Lundqvist was then seen on TV swearing, because he has a potty mouth.
Again: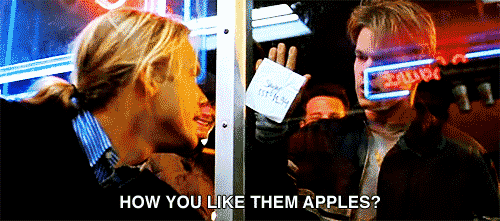 HOW DO THEY TASTE NEW YORK?
2. Derek Dorsett, number one in your heart
If Willie is going down, he's going down with his boys.
Virtanen was healthy scratched again, which caused the inevitable twitter gossip of "OH MY GOD, HOW IS HE IN THE ROOM??" to start up. At this point, once injuries clear up, how can you not put him in the AHL so he can at least play some minutes.
And as decidedly average as Dorsett can be, it wasn't actually that bad of a game for him. No soulless fights. No bad penalties. He hit a guy once pretty hard.
He did a really awkward shot block attempt:
At one point he took out a ref so he could keep his street cred high:
Lays him out, but then LIKE A GOOD CANADIAN BOY, HE MADE SURE DA REF WAS OK, LETS GOOOOOOOOOOOOOOOOOO.
He even got an assist on the night!
Most importantly, he didn't have a soulless fight.
3. Turnover City
Early on the Canucks did their best to give the game to the Rangers.
First you had a classic Sbisa giveaway to the Rangers in his own zone:
If this was a sitcom, the laugh track would have gone off there.
Then you had Edler getting into the mix:
Who was he passing to? Was he passing? Was he shooting? I don't know. At this point my eyes kind of just glaze over for most of the defensive breakdowns. My therapist says that's avoidance, but I stopped seeing him.
Then you had young Michael Chaput, playing in his second game, copying what he was seeing, with a bad giveaway of his own.
Double points for making it a drop pass! Triple points for passing it right onto the tape of a Ranger?
I mean, give credit to Chaput for fitting so seamlessly into the Canucks defensive system I guess?
4. Milford Man Eriksson
Eriksson, who has struggled more than Florida trying to count votes (topical joke, nailed it), finally got the monkey off of his back against the Rangers.
Despite his slow transformation into Matthew Mcconaughey gunning for an Oscar, Eriksson finally found his form and absolutely buried the puck past Raanta.
You just know he wasn't going to let that one get away. Not only does he score, but he roofs it with authority.
He did break the Milford rules (he was both seen and heard) but Canucks fans should be happy he might be scoring now?
Again, I don't know if we're happy for wins or not. It's a confusing time for us all.
5. Dragon Slayer Returns
Alex Burrows has had a wonderful career. He has had many fantastic moments with the Vancouver Canucks.
No one will ever forget his slaying of the dragon against Chicago in 2011.
But much like Trevor Linden before him, we are seeing the last couple of years of his career play out in the mentor role. Which means not very many goals.
So when he does score? Drink it in, maaaaaaaaaaan.
Enjoy every Burrows goal you can. This is a guy who fought for every inch in the NHL, and managed to carve out a very solid career for himself. He's killed dragons, bitten some fingers, made us believe being up 2-0, and…
Wait, that son of a bitch made us believe we were going to win in 2011….
DAMN YOU BURROOOOOOOOOOOOOOOOOOOOOOOOOOOWS.
Sigh.
Anyhow, as cheesy as the "Forever a Canuck" line is, Burrows is indeed just that. There is no other jersey you can picture him in, so sit back and enjoy the ugliest goal of the year, but one that reminds us of that kinds of goals he got breaking into the league.
Look at him picking up the trash. That's the kind of goal we've all gotten in beer league and then tell the bench "They don't remember how you score them, just THAT you scored them!" before driving home to sit alone in your apartment, wondering where your life went.
To top it off, Burrows even got the empty netter! In front of his old coach Vigneault!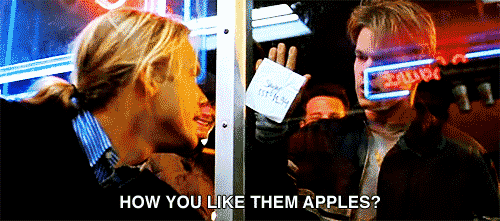 6. Skille'd assist
Skille has been hot garbage this season, and it's really bothered me because his name is just begging to be used in bad puns. So imagine my happiness when he dished out a nice….apple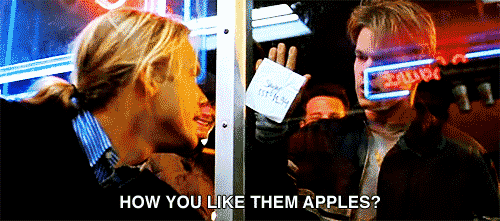 …to Sven Baertschi!
What a pass! What a goal!
Who knows how long Skille will be with the team. A lot of guys in this current era have that "Jan Hlavac" vibe about them, here for a year or two, then gone and forgotten.
But we'll always have New York, Jack.
We'll never let go.
Jack?
JACK?!?!??!