Vancouver Canucks prospect Aatu Räty has lived with rather high expectations his entire hockey career. Considered a top-five prospect for his draft year, the Finnish centreman's shaky draft season in 2020-21 left many wondering what happened with the much-hyped product. 
With a resurgence draft-plus-one season playing pro hockey in Finland and subsequent strong play at the NHL level the year after, Räty looked like a steal when looking back at his 52nd overall draft placement.
Räty has a mountain of expectations on his back given he was part of the Bo Horvat trade. 
The good news is that with a trend of improvement, it's quite clear that Räty's game has significantly developed over the past few years, and we saw some of that during the 2023 Young Stars tournament. Perhaps the best playmaker in the entire tournament, Räty set up numerous high-danger chances across all three games of the tournament, proving to be one of the more polished entities taking part. 
But this is a different Räty compared to his draft year. Sometimes, you have to look into the past to inform the future. 
Räty had work to do
In Räty's draft year he was known as a shoot-first, net-front activator who used his frame well along the boards but lacked skating and handling ability. 
Referenced in Elite Prospects' 2021 NHL Draft Guide, Lassi Alanen, who has the pulse of all things Finnish hockey, broke down some of his issues with the former second-round pick.
"There were sequences that left me wondering about Räty's adaptability and problem-solving," Alanen remarked in a September game report. "He tried to brute-force his way through the middle a couple of times and simply didn't have the speed to do so when he instead could have gone for a drop pass play or tried to get his linemates involved in other ways."
The guide goes on to explain tunnel-vision issues in Räty's game — not an ideal habit for any top prospect, let alone a centreman.
It was clear a lot of work had to be done. 
What has changed
Flash forward to 2023 and Räty has flipped those early concerns on their head. Over the past two seasons, the tunnel vision has almost entirely dissipated, playmaking becoming a relative strength rather than a weakness. 
Always looking for a give-and-go or one-touch pass, Räty has learned to layer more nuance off his puck touches. Changes in pace help offset stride concerns by disrupting defender's gaps, allowing for more open passing lanes. Where the Finnish product would force plays in the past, he now pre-scans and identifies the next passing option before he takes receptions, and he plays a more magnetic game, working inside rush patterns, dragging defenders with him, only to execute a pass into open space. 
The skill flashes are even more pronounced. He's incorporating layered, tape-to-tape feeds off the backhand and even slipping pucks through defender's triangles. Protection elements, like holding the puck in his hip pocket, are common across his game, leading to less inefficient touches. 
Even off-puck concerns are slowly dissipating. A better pass supporter who floats into soft-ice, stick set to take the reception, he hurries to become a pass option. 
While there are still north-south shooting habits across his game, Räty is a more proactive player, incorporating more large-ice weight shifts to offset a lack of speed.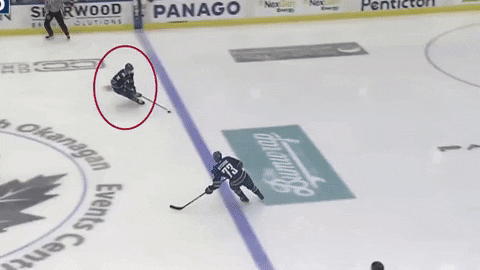 While prospect tournament sequences aren't the greatest barometer to evaluate a player, it does represent as a first look to see what prospects have worked on over the offseason. This level of growth on the development side is immensely positive for a player like Räty — even if it has been a multi-year endeavour. While development isn't always linear, there's clear evidence of Räty stacking more nuance onto his game, and shows that there is at least the will to improve areas that may be lacking. 
What is Räty's potential?
Räty must continue to take steps to improve his stride. He still possesses heavy feet and fails to land under his body, creating shorter and shorter subsequent strides. It's still very much a limiter to his game, albeit a slightly smaller one than before. 
That being said, he looked faster across his Young Stars appearances; he was more conditioned, less inefficient, and slightly more power generated off his push-offs. 
With a beefed-up development team across the Canucks' structure, it's obvious that this will be a future focus. 
Factors such as more organisational stability playing for one singular team and its affiliate will also go a long way for the Finn. Only averaging around 13 minutes of time-on-ice with Abbotsford — simply because of how late he jumped into the roster last year, the expectation is that Räty will play a more significant role in the offence this upcoming season –especially considering his usage during the prospect tournament.
While Räty may project more as a third-line quantity in the NHL, the development over the past seasons leaves hope that he could be more than that, maybe even a top-six player on the wing if his mobility takes another step. Regardless, with a system devoid of centre prospects, he seems earmarked to support Elias Pettersson and J.T. Miller down the middle in the future. That's not a bad outcome for any player, even one with incredible expectations years before he was drafted.