Pettersson and Boeser could soon be a dangerous power play combination for Canucks
Whether it's merely the addition of rookie sensation Brock Boeser or an improved strategy, the Vancouver Canucks are finally enjoying success on the power play this season. After ranking 30th in power-play percentage over the past five years combined, the team currently sits ninth overall, with a success rate of 21.9 percent.
Since putting Boeser on the first unit on November 14, the Canucks have had the most lethal power play in the NHL (31.6%).
And it's about to get better.
Elias Pettersson, the Canucks prospect taken fifth overall at the NHL Draft in June, is leading the Swedish Hockey League with 1.35 points per game – as a 19-year-old. Considered mostly a playmaker going into the season, he is consistently proving he can be a threat in multiple ways.
The centre combines speed, skill, and hockey sense, making him a prospect with elite potential.
Pettersson does what he wants with his opponents. #Canucks #worldjuniors pic.twitter.com/devLRwXkEF

— Janik Beichler (@JanikBeichler) December 26, 2017
Now representing Team Sweden at the World Junior Championships in Buffalo, North American hockey fans finally get to see what makes Pettersson so special on a shift-by-shift basis.
Perhaps the most exciting aspect of his game, especially considering recent developments in Vancouver, is his ability to create chances on the power play.
He's been doing it all season with Vaxjo in Sweden, and it looks like he has the same thing planned for the World Juniors. Pettersson, a left shot, likes to plant himself at the top of the right circle (to the opposing goalie's left), from where he can set up chances for his teammates, or fire pucks at the net himself.
Lias Andersson puts #SWE up 5-1. Elias Pettersson with an assist. #Canucks #NYR pic.twitter.com/RjN4seL8PQ

— Janik Beichler (@JanikBeichler) December 26, 2017
That's the opposite side to the right-shooting Boeser's position on Vancouver's power play. Both have a highly dangerous shot – Pettersson an excellent one-timer, Boeser a deadly wrist shot – and both possess excellent vision and passing skill.
Despite Pettersson's slender frame and the fact he's playing on an international-sized rink in Sweden, there is no reason to believe he can't transfer his game to the NHL level. And when he does, the Canucks will be absolutely lethal on the man advantage.
Perhaps one day they could do for the Canucks, what Steven Stamkos and Nikita Kucherov have done for the Tampa Bay Lightning.
Tampa Bay currently has the most successful power-play team in the NHL, with a 26.2 percent success rate. The main reason why is the duo of Stamkos and Kucherov, as they pose a threat to opposing penalty kills from different sides of the ice.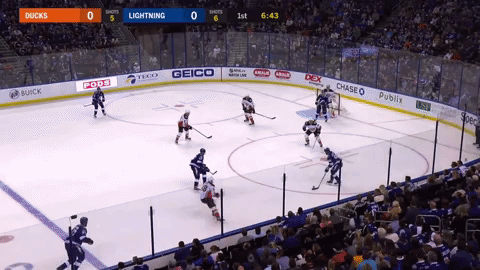 With Kucherov on the right side and Stamkos on the left, PK-units frequently struggle to decide whom to focus on, unable to figure out how to cover both at the same time. Since both Stamkos and Kucherov are known as dangerous shooters, this is a major issue – or a major advantage, if you look at it from a Lightning point of view.
As seen in the clip above, the duo has the ability to pass the puck back and forth through the Anaheim Ducks' defenders, even though the Ducks are attempting to play a tight box. With legs and sticks everywhere in their way, the two still manage to close in on the goaltender without ever passing the puck to a third teammate.
If the first half of the 2017-18 season is any indication, the duo of Elias Pettersson and Brock Boeser has exactly that kind of upside.
The two are just 19 and 20 years old, respectively, and one isn't in the NHL yet, so they still have a long way to go before they reach Stamkos/Kucherov level. But with Boeser's 20 goals in 34 games and Pettersson's 1.35 points per game this season, they are well on their way.
Pettersson told NEWS 1130's Rick Dhaliwal that a decision on his future has yet to be made, and he just wants to focus on winning a championship in Sweden. Considering his outstanding performance in the SHL, however, it looks like an NHL contract and his Canucks debut are on the horizon.
Now all that's missing is a PP quarterback.
See also