SixPack: Boeser scores 20th goal before Christmas
Look, let's be honest with each other.
The Canucks? They were a long shot to make the playoffs.
And sure, maybe they catch fire after the Christmas break. Maybe Brock Boeser returns from the holidays in Gandalf-ian fashion and is even stronger. Maybe Brock the White summons up so many goals that he leads the Canucks into the playoffs, Bonnie Tyler wailing in the background.
But realistically, the playoffs were, and are, a long-shot for this team. The injuries have hampered them, other teams are gaining in the standings, and the Canucks just aren't at the level needed to be a strong Cup contender.
Which is fine. This is a rebuilding team (re-tool, re-jigging, whatever "re" word floats your boat), and at this point, you just want to see forward progress from the Canucks.
A "step in the right direction" as they have been so fond of saying as of late.
So yes, losing 3-1 to the St. Louis Blues was not an exercise in fun hockey watching. It's never great to see your hometown team lose, especially when Bob Cole is narrating it. Disappointing Grandpa Cole always hurts.
But Brock Boeser continues to be the truth.
Jake Virtanen is playing with way more confidence.
Bo Horvat and his Bae are going to be coming back.
Elias Pettersson is about to whoop some candy asses in the World Juniors tourney.
Jacob Markstrom has finally turned into the number one goa-
OK, well maybe not that, but the point is, this years team has far more going for it than last year.
Which is all you can ask for at this point.
See also
1. The Truth
Hard to imagine a better first half for the Canucks season. Lots of promise from the kids and bottom 5 in the league.

— W. Ron Sweeney (@wronsweeney) December 24, 2017
Take the #TeamTank stuff and toss it in the garbage for now. No one is saying this team should be actively trying to lose games.
But last year, if you said would you want a season in which more goals were scored and the Canucks had a rookie of the year candidate in the lineup, you would have leapt at that.
Which is what you're seeing right now.
Brock Boeser continues to score no matter who he plays with. He netted his 20th goal of the season, and it's not even Christmas yet.
He's already equalled the team lead in goals for all of last season (Bo Horvat). He's also reached the 20-goal mark faster than any other player in Canucks history.
It didn't take many games for Brock Boeser to become the fastest rookie in #Canucks history to score 20 goals in a single season pic.twitter.com/aWFqOfq5qJ

— Sportsnet Stats (@SNstats) December 24, 2017
Jake Virtanen continues to play great hockey, and even though he didn't score tonight, the confidence he is playing with right now is the highest its ever been. He was one of the best players on the ice for the Canucks tonight.
The team continues to have games where they get more than one goal on the night (obviously not tonight, but you get my point).
Pouliot has shown promise. Young guys are starting to make an impact for this club.
But the team currently sits tied with Florida with 35 points for fifth last in the league.
Vancouver would have to pass Calgary, Edmonton Anaheim, and San Jose to get to third in the Pacific. Chicago, Dallas, Anaheim and Minnesota stand in their way of a wild card spot. It's tough to imagine the Canucks making up that ground.
This may be a losing season, but there has been some actual silver linings to rest your hopes on.
Last year was basically a Russian giant and a Troy Stecher stretch pass. This year? So many more things to be excited about.
2. Brock Boeser is our new overlord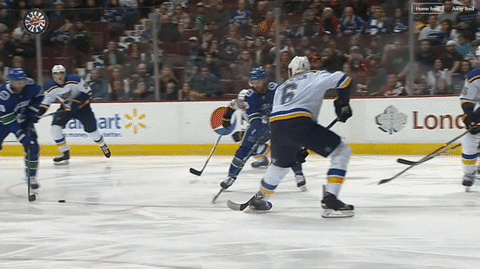 CBC, who you may remember from such films as "Sam Bennett, the greatest 18-year-old of all-time?" and "Auston Matthews, what do you think he's doing right now? Do you think he's thinking of us?" was actually all in on Brock Boeser on tonight's broadcast.
Now maybe you can chalk that up to Elliotte Friedman, who is always very tuned into the Vancouver market (He even owns a "The Flow" hoody), but it's not often a Canucks player gets as much national attention as Brock has been getting.
Which is part of what makes Brock so special. Bo Horvat, who is a delightful player, and could have plenty of stories written about him, never saw the attention Brock has been getting. There is just something about Brock that is so intriguing that he manages to capture the Eastern market's attention, which is no small feat.
Brock's status as a rock star in the NHL is so high right now that when Brock had this chance: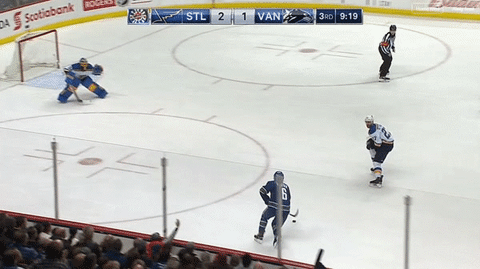 It felt really weird that he didn't score. The cognitive dissonance caused by this gif is extremely high. It's like walking in on your parents having sex, you just kind of have to force it out of your mind and pretend it never happened. Like, you know it happens on occasion, but you'd rather pretend it didn't.
That being said, despite the 3-1 loss, Brock Boeser continues to be an absolute stud for the Vancouver Canucks. It now becomes a "when does Brock Boeser come on the ice next?" when watching Canucks games.
3. Slashing
Hey, remember when Loui Eriksson got a penalty for back checking?
Holy shit, we have a new contender for the worst penalty call of the year pic.twitter.com/bBn3Glgxj1

— Wyatt Arndt (@TheStanchion) December 10, 2017
Remember when the Canucks went to China and the NHL randomly used them as an example of what the new slashing rules were going to be like?
Basically any attempt to use the stick as a handheld device on another player was deemed a slash, which was seen as a response to the bones being broken in hands from slashes in the playoffs.
Which yes, in theory, is great. After any lengthy playoff run you can make a solid bet that half the players had broken hands, usually caused by a slash. Injuries occur enough as it is in the playoffs that yeah, you wouldn't hold it against the NHL for trying to stop the avoidable ones.
But consistency remains the elusive space leprechaun of the NHL, which is why when you see Loui get busted for back checking, then see this not get called: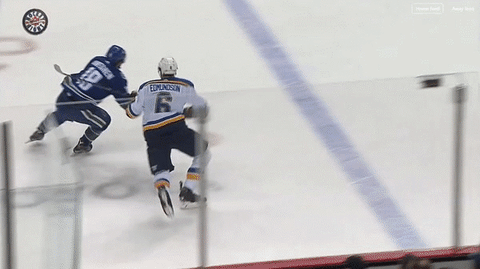 It's kind of maddening.
If the goal is to crack down on stick work with bad intentions, then it's not hard to argue that Joel Edmundson had far worse intentions.
Loui, wanted to get the puck.
Joel, wanted to punish Jack for speeding by him and making him look foolish. If you've ever played beer league hockey, you've handed out this slash many a time in your life, before telling the guy when he gets mad "Hey we all have to work in the morning, relax."
Consistency. The more the NHL handles penalties like Will Smith's movie choices as of late, the harder it is to take.
4. I love Gooooooooooooooooldobin
Ok, so Goldy didn't have a huge night.
He only got 10 minutes of ice time, but his Corsi was solid at evens, hitting 60%.
And while he didn't show much in the offensive zone, there were a few moments where he stood out.
Moments where he teased you with his offensive potential.
So it's small plays, but not many players have the stickhandling to weave in and out of traffic like Goldobin has. Exhibit A: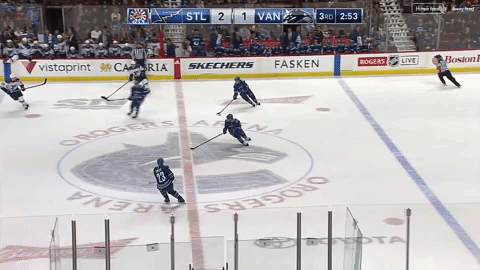 Not only did Goldy dangle through the zone, but he got off a decent shot.
It was also tantalizing to see him and Virtanen to combine on the play, giving you a big ol' case of "What if…" these young guys can find their groove together. Goldy's agility and playmaking with Virtanen's speed and strength? That's some fun stuff right there.
There was also a play later in the game where Goldy turned a scrum into a nice set up for Granlund: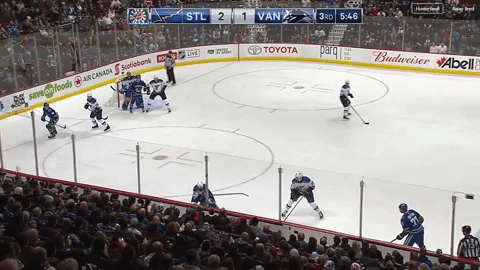 That's the sort of stuff that makes you want to see more games from Goldobin. He can make something out of nothing in the offensive zone.
But in order for him to do that, he needs to gain the trust of Travis Green, by being better in his own zone.
Trust that Green apparently has in spades for…
5. From Dowd-town!
Nic Dowd has not had a strong start to his Canucks career.
He by all rights had a solid year last year in LA, putting up 60% Corsi at evens, while also putting up 22 points.
But for whatever reason (still adjusting to the new team, he's playing for a worse team now, etc.), Dowd has had a brutal start here. He constantly loses the possession game, and his faceoff win percentage has been negative for every game except one. This is sort of the example we have seen from Nic Dowd. Dangerous reads and losing puck battles, the exact opposite of how he was billed. He is supposed to be a rough and tumble guy who grinds down the opponent and wins puck battles. Which is why it's a bit surprising when Dowd gets all the trust in the world from Green:
Trailing by a goal in the third period, Nic Dowd has more than double the ice time of Nikolay Goldobin #canucks

— Tyler Shipley (@le_shipster) December 24, 2017
Now, Dowd did end up having a decent game after the first period, and like I said, you always want to give a guy time to find his feet on a new team. And to be fair to Dowd, Coach Green has been tasking Gaunce, Dowd and Virtanen with shutting down the top lines of other teams, which is a hard ask for those guys.
But it will always be a "why is Goldy's leash so short" situation when you compare the defensive gaffs other players are committing. If Goldy makes that same play as Dowd does on that shift, does he get benched? Can't help but feel like he would.
6. Oh no. No no no no. Marky. No.
Canucks with another goaltending controversy for alll the wrong reasons

— Wave the White Towel (@wavewhitetowel) December 24, 2017
It was another poor outing for Canucks goaltending, which has reared it's ugly head for the team this year.
Perhaps spoiled by the years of Luongo, Schneider, one stretch of Eddie Lack, and Ryan Miller, it's been a return to the average or below average goaltending for the Vancouver club. Something they haven't seen in many years.
Markstrom, who initially had a rep this season as someone who could give up a soft one, then rebound strongly from it, almost went that route tonight.
First, the softie: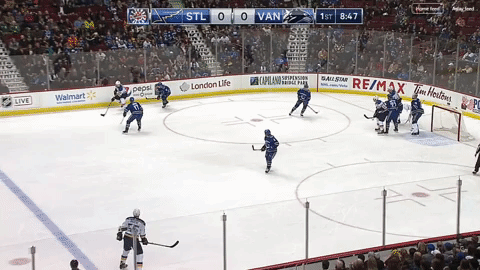 You have to hope your goalie can stop that one, but sure, maybe it was tipped in off a skate/stick/sneeze in front of the net.
And Markstrom, he bounced back from that. He made some good saves, maybe none better than this one: It was looking like it might be a solid night for Markstrom after all.
But then… Yikes.
You can't be letting in goals like that.
The Canucks can barely survive allowing one bad goal in a game.
Two bad goals? Call it a night.
The bad part is you can't even jump to Nilsson and expect a hot start, because he's been struggling as well.
And again, the context of this season always needs to be taken into account. Injuries, young team, etc.
But what this season is showing is that they might not have a goalie who can steal games they shouldn't win, which leads to a very average outlook in net for the Canucks for the next couple of seasons.
HOLIDAY WARNING
Please do not buy one of these for your children/hockey friends.
Tried to find the sweet-deal Booth jerseys in the team store but only found a bunch of game-worn Utica Comets jerseys. But nothing's as compelling or terrifying or creepy as these dudes. @TheStanchion pic.twitter.com/Z978JTpL1N

— Jonathan McDonald (@jonnymac68) December 24, 2017
I don't know what they are, but they must be stopped. Burn them. Burn them all.