Lots of Canadian organizations have plans to substantially increase salaries this year, new research from business consultation firm Normandin Beaudry has found.
A survey about salary increase plans was held late last year, in which 440 organizations across Canada participated. The survey's purpose was to establish how earlier market predictions fared against businesses' real plans.
The results have revealed that the average salary budget is higher than Normandin Beaudry experts initially expected.
"Nearly half of participating organizations mentioned revising their budget upward for 2023," the firm's report reads. "In Canada, the average budget is higher than initial forecasts — which have already surpassed historical trends — rising from 3.8% before the summer to 4.2% last fall, excluding wage freezes."
But that's not all — 43% of the businesses who responded to the survey said they had earmarked additional budgets for salaries, averaging about 1.4%.
Their top reason for this move was market adjustments (76%). Other reasons include focusing on retaining strategic/critical roles (60%) and retaining employees at risk of leaving (51%).
"These results show that, despite a volatile economy, organizations will be using their annual pay increase budgets as a key element of their talent management strategy to stand out in a highly competitive job market," Normandin Beaudry noted.
All Canadian provinces have shown an upward trend in terms of salary increases, but if you live in Quebec, expect the best deal.
Quebec companies are projected to raise their budgets for non-unionized employees by a total of 5.1%, with an additional budget increase of 1.5%.
Non-unionized employees in Ontario have the second-best chance of getting a salary increase this year, with a revised budget of 4.2% and an added budget of 1.4%.
Things are also looking up in BC and Alberta; organizations in the provinces have increased their total budget for salaries to 4.5%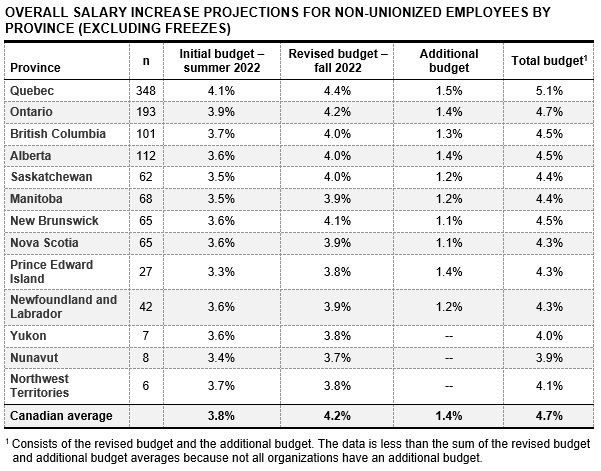 Normandin Beaudry's experts say that while these salary increase budgets are at "record-high levels," there are also other measures that can help weather the current economic landscape — ones that do not necessarily involve fixed payroll cost increases.
Structural increases are also projected for Canada's non-unionized employees.
"The average salary structure increases forecast for 2023 in Canada now sits at 3.2%, excluding organizations that decided to freeze their salary structure, compared to an initial forecast of 3.0% last summer," the report reads.
Once again, Quebec (3.4%) and Ontario (3.2%) are ahead of everyone, followed by BC and Alberta, who are twinning with revised budgets of 3%, as projected last fall.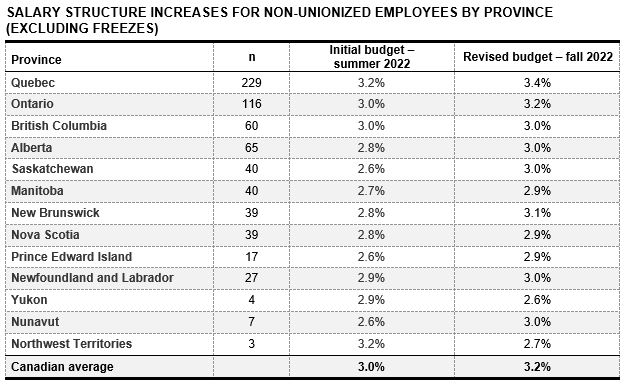 This might be a good time to ask your boss for some extra dough in your paycheque. If sky-high inflation isn't enough reason for them to give you a raise, maybe staying on trend with the rest of Canada's businesses will be.