2013 Year in Review: Vegetarian and vegan restaurants
The last few years have been great for the vegetarian and vegan restaurant scene in Vancouver. 2013 was no different. Restaurants have started to realize that having a quality and creative vegetarian option is important. Vancouver was also the first city to ever endorse Meatless Monday, which occurred on June 10, 2013. This is the perfect complement to go with the cities quest to be the greenest city in the world. Eating meatless one day a week is not only sustainable but also good for your health.
Graze Restaurant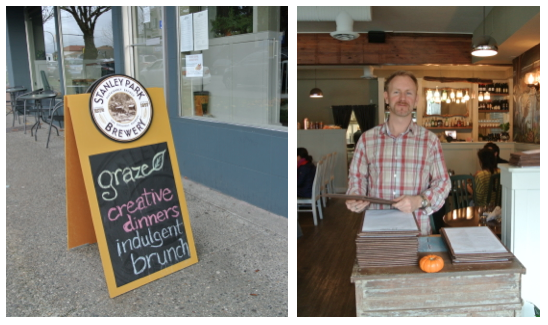 Image: Modern Mix Vancouver
Graze Restaurant opened it's doors on Fraser Street in May. They offer a completely plant-based menu in a casual space that is elegant yet comfortable.   The ingredients are organic and locally sourced whenever possible. Committed to sustainability they grow some of their herbs and vegetables, compost and and so much more. The plant-based menu is comfort food at it's finest with plenty of gluten free options. There's even a few raw items. The cocktail list is impressive with many classics and even a vegan caesar!
Dish to order: Perogies (5 Yam & eggplant perogies, sautéed oyster mushrooms, crispy shollots, pickled beet shred, crisp smoky eggplant & mushroom strips, smoky coconut cheddar sauce, sour coconut cream, spicy tomato jam)
Golden Aura
Image: Yogi Advisor
Golden Aura opened in March in the Kitsilano neighbourhood. It is an organic eatery that serves raw, vegan cuisine with some cooked dishes that will nourish your body and mind. The menu changes seasonally but is ALL organic, vegan, gluten-free, soy-free, corn-free, dairy Free, non-GMO, alkaline and ayurvedic. Check out my review here.
Dish to order: Symbiotic Greens (greens, Cabbage, Zucchini, Carrot, Basil, Mint, Cilantro, Chives & Teriyaki Almonds, dressed in Curry, Garlic, Coco Aminos, Apple Cider Vinegar, Olive oil, Agave and spices.
VeggieBowl
Image: Stephen Hui, VegCoast
VeggieBowl opened at the end of May. It's a small vegetarian Vietnamese spot that has a small menu but it will not disappoint. Great spot to get a bowl of veggie pho with all the items clearly marked so vegans fear not. Check out my review and a few other veggie Vietnamese spots here.
Dish to order: Phnom Penh Vegetarian Noodle Bowl
Black Lodge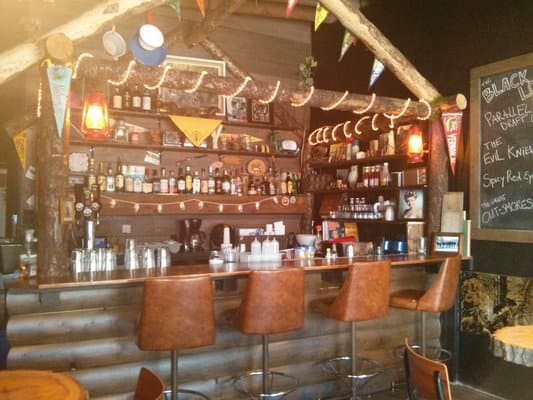 Image: Lucy Q. / Yelp      
Black Lodge is a Twin Peaks themed vegetarian restaurant that opened it's doors in June. If you watched the the Twin Peaks show that has a cult following then you will thoroughly enjoy the decor. They serve a menu full of casual, pub food that is normally classified as artery clogging but it's all plant-based so you don't have to feel too bad, right? There are also vegan and gluten free options.
Dish to order: The Poutine Dog (packed with fries, cheese curds, veggie gravy and fresh green onions)
Not only did Vancouver see vegetarian and vegan restaurants open in 2013 but it also saw some closures. The most notable was the closure of Organic Lives. A fire in 2012 closed the doors of their original location on Quebec Street. They were still operating the location in the Chopra Yoga Centre on Granville Street and the online and distribution side of the business. With a heavy heart but a positive outlook, Preet closed the doors of the cafe at the Chopra Yoga Centre and the online store. The city, the vegan community and Preet look forward to future of Organic Lives. The products can still be found in stores like Whole Foods.
It will be interesting to see what 2014 has in store for the vegetarian and vegan restaurant scene.
Feature image: Graze Restaurant