10 things that happened around the world this week you should know about
Ebola. Famine scares. Climate change. ISIS. Political negotiations in the Middle East. The course of this week has been a little rough around the edges, but thankfully the world is also making significant and positive developments across the board to change and enlighten – and you need to know it all, from the shocking to the (pleasantly) surprising.
Each Friday, we bring you a roundup of some of the biggest stories making headlines around the world. Here's 10 things that happened outside of Vancouver over the past week that you should know about (in no particular order):
September 19 to 25, 2014
1. India's probe reaches Mars on their first attempt
After launching their rocket in November, India's Mangalyaan has finally entered the orbit of Mars – making them the first Asian nation to do so. Moreover, their mission has been the cheapest and most successful one yet (as explained in the diagram above). In the next six months, the mission will "study the mineral composition of Mars and also look for the presence of methane" and hopes to continue to push their boundaries, following this historic development for the country.
2. ISIS threats continue; 'Jihadi John' identified by FBI
3. Ebola crisis in Sierra Leone worsens, two million quarantined
More than a quarter of the country has officially been sealed off, with almost all 14 of Sierra Leone's districts now under partial or total quarantine. Late Wednesday night, Sierra Leone's president Ernest Bai Koroma said that the new quarantine orders would not be easy for everyone, but that there was little choice left. The government has acknowledged that the severity of the situation is far worse than reports indicate, and that a need to "step up our response" is essential.
4. Thousands of Kurds flee from Syria into Turkey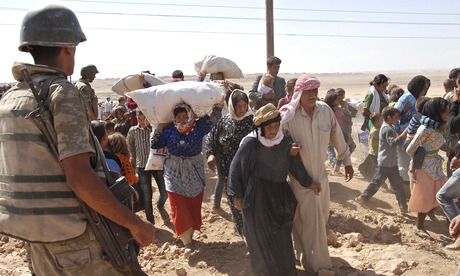 After an intensified assault on a Kurdish safe haven by ISIS, 70,000 Kurds fled into Turkey while thousands more are still attempting to cross the border. UNHCR, the UN's refugee agency, has announced their support of Syrian refugees and are preparing to accommodate up to hundreds of thousands of refugees as well as assist them with their immediate needs. UNHCR has also called on Ankara to provide space to shelter Kurds.
5. Hunger crisis in South Sudan "eases", but still leaves many affected
Sudan's seasonal rains and "green harvest" have had a positive effect on food production, however the country's nine months of civil unrest have still left millions of people facing the possibility of a famine next year. The number of people facing a food crisis has decreased by 2.2 million since May, however, it is projected that "around 2.5 million will be living in severe hunger by early 2015."
6. Hamas and Fatah reach partial agreement on unity cabinet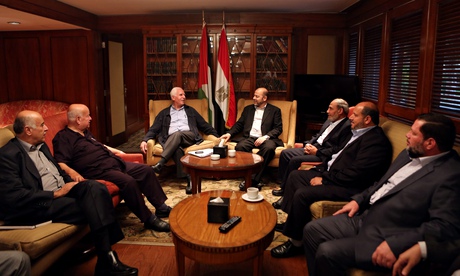 Representatives from both the rival groups have been in reconciliation talks in Cairo this week in an effort to end their differences. As a result, they have agreed to allow the Palestinian government to take control of the Gaza Strip. The agreement hopes to ease the long blockade of Gaza by Egypt and Israel, and pave the way for reconstruction. Such work is estimated to cost $7.8 billion, including $2.8 billion for the reconstruction of homes and $250 million for energy.
7. UN Climate Summit makes history
In stark contrast to previous climate talks, this year's UN Climate Summit saw a solid acknowledgement from world leaders that action needs to be taken to combat climate change. Highlights from the conference include China's pledge to slow the rise of its emissions (and reach a peak soon), a cumulative $1.3 billion pledge for the Green Climate Fund and a marked interest in eliminating deforestation entirely by 2030.
8. Iran's judiciary gives government 30 days to block social media
Iran's chief prosecutor Gholam-Hossein Mohseni-Ejei has accused the country's Communications Minister Vaezi of not taking "effective action… to filter out immoral and un-Islamic offences." Vaezi had previously pledged in May to implement 'smart filtering' to restrict obscene material from being viewed or shared on social media. However, after the "three month grace period" Mohseni-Ejei has given the government, the judiciary is mounting pressure on reformist President Hassan Rouhani by announcing a 30 day ultimatum to block Whatsapp and other social media messaging services.
9. Obama to create the world's largest protected marine reserve in the Pacific Ocean
US President Obama has advanced a conservation agenda by broadening the Pacific Remote Islands National Marine Monument from almost 87,000 square miles to over 490,000 square miles. This particular area is off limits to fishing as well as other marine resources development, and this latest action now doubles the amount of globally protected marine areas.
10. Earth's water was formed before the sun was born
A new study published in the journal Science suggests that between 10 to 30 per cent of the earth's water is older than the sun, and could likely have hailed from comets that were born outside our solar system. This could mean that the same thing happened to other planetary systems – and given that water is a precondition for life, the study highlights the likely possibility of life existing beyond our own planet.