10 things that happened around the world this week you should know about
Did you know that we bred with neanderthals just around 60,000 years ago? Or that ripples of independence continue to stem from Scotland's attempt to break away from the UK? What about a woman who swam nonstop between islands for more than 40 hours? After the week the world has had, those things are only skimming the surface.
Each Friday, we bring you a roundup of some of the biggest stories making headlines around the world. Here's 10 things that happened outside of Vancouver over the past week that you should know about (in no particular order):
October 17 to 23, 2014
1. Canada experiences a troubling week
[youtube id="d1AXPdtXnHw"]
2. Australian swimmer attempts longest open-water solo in history
Melbourne swimmer Chloe McCardel completed a 126 km swim between two islands in the Bahamas, with her team claiming that it is the longest, continuous open-water solo ever. After swimming for 42.5 hours, McCardel arrived dehydrated and exhausted at Nassau, but feeling triumphant. Despite her incredible feat, the Marathon Swimmer's Federation admits it is difficult to compare marathon swims due to the presence of multiple complicating factors, such as the favorability of currents.
3. Explosion in Germany kills one, injures 11
[youtube id="09-ES9SP1jE"]
An explosion at a building site in western Germany's Ludwigshafen yesterday has damaged 25 buildings and killed one builder and injuring four other construction workers. The explosion is thought to have been triggered by a digger hitting a gas pipe in a site near a chemical plant. Flames reportedly towered 100 metres in the air, but were kept under control four hours after the explosion occurred.
4. Mali confirms first Ebola case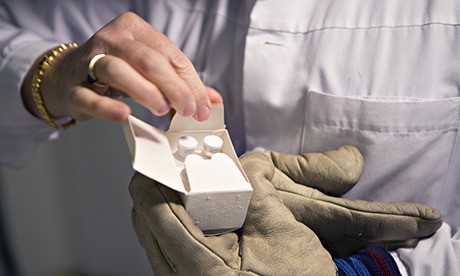 A two year-old girl returning from Guinea to Mali has been diagnosed with Ebola, Mali's health minister announced yesterday. Mali becomes the sixth African country to be hit with Ebola, although Senegal and Nigeria were declared Ebola-free by the World Health Organization earlier this week.
5. Highest known Ice Age settlement discovered 
Archaeologists exploring the Peruvian Andes have come upon what is potentially the highest Ice Age settlement in the world, at 14,700 feet above sea level. 2,000 years after people first entered South America, they were able to live at such cold, immense heights and quickly adapted to high altitudes. The field team was able to find the remains of a base camp at 14,300 feet and a rock shelter close by at 14,700 feet.
6. Catalonia campaigns for independence from Spain
Earlier this week, 110,000 people gathered in Barcelona's center to protest and call for snap regional elections, after their November 9 referendum to seek independence from Spain was cancelled due to pressure from Madrid. According to polls, about half of Catalans want independence from Spain, and protests are believed to only intensify unless they enter into power transfer negotiations with Madrid.
7. Boko Haram abducts more girls, despite cease-fire agreement
According to local journalists in Nigeria, Islamist militant group Boko Haram has kidnapped more girls in a village near the border of Cameroon, a stronghold for the group. Despite agreeing to a cease-fire and return of the previously kidnapped schoolgirls last week, Boko Haram stormed the village of Garta on Saturday searching for young women, taking about 60 girls captive, according to local bishops and news reports.
8. Oscar Pistorius sentenced to five years in prison
In a dramatic case that has received attention for more than a year, Pretoria's Judge Masipa finally made her ruling this week when she sentenced Paralympian athlete Oscar PIstorius to five years in prison for the culpable homicide of his girlfriend Reeva Steenkamp last year.
9. Ukraine rebels end ceasefire
Pro-Russian separatists in Donetsk have ended what has been a period of relative calm before Ukraine's parliamentary polls this weekend. Alexander Zakharchenko, the prime minister of the self-proclaimed Donetsk People's Republic, announced: "Periods of intense hostilities will follow. We will retake Slovyansk, Kramatorsk and Mariupol…" Ukraine's Prime Minister, Arseny Yatseniuk, has warned that Russia may attempt to destabilise the parliamentary election and has ordered security to be stepped up as a result.
10. Bone discovery helps date neanderthal and human mating 
The oldest human genome ever recovered has been found by chance in Siberia, in a bone on the banks of a river. The bone's DNA shows that the man lived 45,000 years ago and was related to both neanderthals and humans – in fact, that the two had first mated 60,000 years ago. The man was related to the ancestors of today's Europeans and Asians, and is an interesting factor in the ongoing speculation surrounding when people first left Africa and began interbreeding with Neanderthals living in Europe and Asia.