10 things that happened around the world this week you should know about
Protests end on one side of the world while they continue to stir up commotion in the West, and economics and politics take centre stage in Europe this week. We dig up some surprising news above and below the Earth's surface, and can only look forward to what we'll be discovering next week. It's been a busy one!
Each Friday, we bring you a roundup of some of the biggest stories making headlines around the world. Here's 10 things that happened outside of Vancouver over the past week that you should know about (in no particular order):
November 28 to December 4, 2014
1. Finland votes to legalize same-sex marriage
Last Friday, the Finnish Parliament approved one citizen's initiative to allow same-sex marriage by a narrow margin of 105-92 votes, making Finland the 12th European State to do so. Although Finnish gay couples have been able register their partnerships since 2002, marriage was still not an option until now. With this measure, same-sex couples will also now be able have equal rights, such as sharing a surname or adopting children.
2. Three Hong Kong protest leaders turn themselves in
On Wednesday, three of the founders of Hong Kong's Occupy Central protest movement surrendered themselves to the police. The intent was more symbolic rather than one with severe legal consequences (they were not arrested), as the leaders hope to end the movement. They are hopeful that this move will press the government into meeting their demands for free elections, and get exhausted protestors away from street camps.
3. Spain's Prime Minister dismisses Catalonia's independence bid
In his first appearance in Catalonia since the region held a symbolic vote for independence, Spanish Prime Minister Mariano Rajoy denounced the unofficial referendum, saying it had "failed resoundingly" in his opinion, in an attempt to continue to rally fellow ministers against it. He called it an "international propaganda operation" and essentially said that the unity of Spain is not up for discussion.
4. World's oldest form art was etched into a mollusk
A recent study published in Nature shows that etchings in a mollusk shell and shell tool discovered in Java, Indonesia are proof of the oldest art created by man, dating back to 540,000 years ago. The etchings provide deeper insight into the creativity and intelligence of early humans, capable of the kind of cognition and behaviour that was previously only attributed to modern humans.
5. Nicholas Sarkozy wins leadership of the French Conservative Party
In a potential step towards a bid for presidency a second time in 2017, France's ex-president Nicholas Sarkozy won the leadership of the French conservative UMP on Saturday. While he was able to get 64.5 per cent of the vote, it is not quite enough to make his rivals back off to become the undisputed party champion – he would have needed 70 per cent to secure that.
6. Oil spill floods desert nature reserve in Israel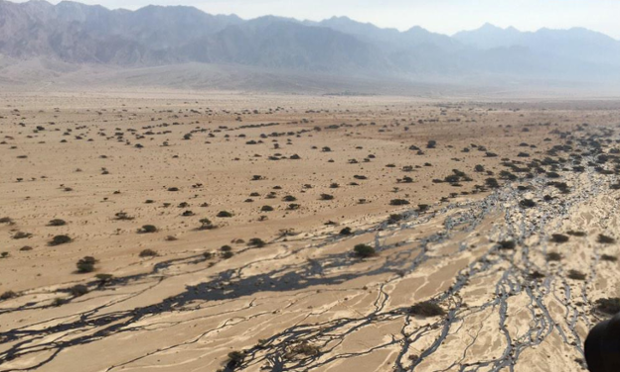 A breached pipeline caused millions of litres of oil to spill into the Israel's desert nature reserve of Evrona last Saturday, an event that is one of "Israel's gravest pollution events" and certainly tops the list of their environmental disasters. Known for its deer population and douma palms, the Ministry of Environment said major damage was done to the flora and fauna in the reserve, with rehabilitation estimated to take months, or even years.
7. New study shows that eels control their prey with electricity
For the first time, scientists have discovered an animal that can remotely control their prey with electricity – unsurprisingly, it is the electric eel. Its methods of control, however, are fascinating. The eel is able to deliver strong, fast pulses without touching the prey, which cause its victims muscles to contract and basically paralyze."The mechanism is the same as a taser," said Kenneth Catania, who made the find using a high speed camera while recording captive electric eels. "The answers were sitting right in front of us."
8. Russia and Turkey sign major trade deal
Russia and Turkey have signed significant trade and energy deals this week, with the aim of increasing their two-way volume from $33 bn to $100 bn by 2020. Russia's president, Vladimir Putin, said Russia would reduce the gas price for Turkey by six per cent starting next year, and Turkish construction firms are highly active in Russia. Moreover, instead of Moscow pursuing their South Stream natural gas pipeline project, Russia may focus on building a gas hub with Turkey in southern Europe instead.
9. Protests erupt in the US after police officer is spared prosecution
A video of Eric Garner, an "unarmed black man selling loose cigarettes in New York City" surfaced this summer showing him being tackled to the ground by a police officer and apparently placed in a chokehold – which is banned by the NYPD – that resulted in his death. This week, the officer responsible, Daniel Pantaleo, was not indicted by the jury in his case. With the echo of the Ferguson case fresh in American's minds, this has sparked another wave of protests against police brutality in the US.
10. Canada's homicide rates hit record low
Canada's murder rate in 2013 has fallen by eight per cent to its lowest level since 1996, according to a recent release by Statistics Canada. This is derived from police-reported homicides, which showed that the main reason for the drop was due to 40 fewer murders in Quebec last year. Toronto is at the top of the list with the most murders, while Regina has the highest homicide rate per 100,000 people.
Missed last week's roundup? Read it here,
Also check out our new weekly series, published every Wednesday – 10 good things that happened around the world last week.