It shows you just how monumental a challenge Tigres UANL pose to the Vancouver Whitecaps that some – me, for example – consider Tuesday night's match a success.
Playing on the road, the Whitecaps lost the first leg of the CONCACAF Champions League semifinal 2-0, and yes, there's reason to be happy as a Whitecaps supporter.
A valiant effort from the #VWFC tonight. They can leave El Volcan with their heads held high. #WhitecapsFC #SCCL #TIGvVAN

— Jorge Mendoza (@JorgeMendoza) March 15, 2017
But yet, it's somewhat tough to swallow leaving Mexico without a goal. There were chances missed and mistakes made that will keep the "what if" dreams spinning for weeks to come.
Looking at things dispassionately, though, it bears repeating that Tigres are A Very Good Team™. Only losing by two in the raucous, intimidating home of A Very Good Team™ is an acceptable result that sets Vancouver up for some not-impossible heroics at BC Place.
The first goal
You have to feel bad for Kendall Waston. The big Tico was a rock in the heart of Vancouver's defence all night along with Tim Parker, snuffing out attacks and stymieing attackers all night long. For 65 minutes, a 0-0 draw looked tantalizingly believable.
And then this happened:
The head-in-hands expression from Parker says it all. If Waston angles his leg a little differently, the ball goes out of play or back from whence it came. If Waston doesn't come charging in at all, Parker and Harvey have the man at the far post covered.
Oh dear, Waston

— Mark Dailey (@markjrdailey) March 15, 2017
Instead, Waston gets tunnel vision and tries for the heroic play to prevent any attempt on goal from a potentially dangerous cross. Good intentions; horrible result.
I'm more disappointed about the botched clearance than the own goal. 100% Avoidable. #VWFC #SCCL

— Jorge Mendoza (@JorgeMendoza) March 15, 2017
And no, this does not count as an away goal, sadly.
The second goal
So, this Eduardo Vargas guy is pretty good.
Botched or scrambled clearances began sneaking into the Whitecaps' repertoire as the endless waves of Tigres attacks began to take their toll. While the 'Caps escaped earlier punishment, the Chilean international made no mistake this time with a wicked volley that caught goalkeeper David Ousted just a hair out of position.
Fun fact: Vargas has 31 goals in 60 appearances for Chile, including one that eliminated Spain(!) from the 2014 FIFA World Cup.
It might be easier said that done, but maybe don't let that lethal a striker get a free look at goal.
What might have been
Speaking of things easier said than done, keeping one's balance:
Diving: It's Not Just For Latin American Teams™.
But seriously, Brek Shea, don't do that. Vancouver had a hard enough time shaking the diving rep thanks to the antics from the likes of Camilo, Sebastián Fernández, and Blas Pérez.
Could we maybe discuss you not disgracing the field with that kind of acting and focusing on just attempting to round the opposing goalkeeper for the tap-in?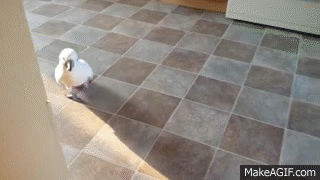 …no? Okay then.
Let's watch Nicolás Mezquida almost pull it off instead:
Oooof. That close to making the second leg extra interesting.
Full credit to Nico for the attempt, what with two Tigres defenders and an onrushing goalkeeper making his life difficult. One can only hope that goal won't be sorely missed for the second leg at BC Place.
What actually was
Oh, hi there, 2015 MLS Goalkeeper of the Year finalist David Ousted. So good of you to join us. You ready for this?
He's ready. It showed:
This is the guy supporters want to see in league play, not the guy who thinks leaving his box to try and beat Chris Wondolowski is a solid idea while up by two goals away from home. (Or, y'know, at all, anywhere, ever.)
The Ousted we saw tonight is the one that carried the 'Caps in 2015 and more often than not stole points for the team. After he's done serving his one-game suspension in MLS, that Ousted needs to show up in every game from now through November.