After 126 games and four years in Utica, it looks like Kole Lind may soon finally get his chance to suit up for NHL minutes with the Vancouver Canucks. 
The 33rd overall pick in the 2017 draft was called up to the Canucks' taxi squad on April 2, and could soon make his NHL debut as many players on the team are still recovering from the COVID-19 outbreak.
Lind has had a second straight productive season in the AHL, putting up eight points (5-3-8) in eight games as one of the Utica Comets' top centres this year. Last season, he scored 44 points (14-30-44) in 61 games. 
While pandemic factors pushed Lind out of his comfort zone on the wing, the 22-year-old adapted well in an adverse situation.
The centre position probably isn't in Lind's future at the NHL level, but he is a player who, if put in the right situations to maximize his skill-set, can find success. 
With the Comets, the Shaunavon, Saskatchewan product found scenarios where he could flex his shot, win second chance opportunities, and attack vigorously on the rush and forecheck. It will be up to the Canucks to find similar situations for 6-foot-1, 186-pound forward to flourish.
With the Canucks season winding down with a jam-packed schedule, this is essentially the perfect time for Lind to get NHL experience before the Canucks' 2021-2022 training camp. This development time in Vancouver will undoubtedly be essential in his path to the upper echelon of pro-hockey.
Let's examine how Lind's game might translate to the NHL. 
How Lind creates offence
Lind's offensive game shines when he can set up in the offensive zone and contribute to sustained pressure. This success radiates on the power play. 
Acting as either the bumper or net-front presence, Lind was a force when he activated through the slot, created traffic looking for deflection opportunities, and found open space to take advantage of his wicked one-timer. He's like Carl Sagan, both interested in the max velocity of objects in space, albeit different realms.  
Watch as Lind identifies the developing play, times his movement to open pass seams, and sets his skates, arms, and stick to deliver high-danger opportunities. He launches through his shots, with his arms unlocked from his body, ultimately made possible by early preparation. 
In addition, Lind does an excellent job at heightening his battle level to create second chance opportunities — an absolute necessity based on his usage near the crease. He is detail oriented, spinning off box-outs to attack rebounds. Watch as Lind intercepts pucks with thought-out stick placement and provides support to his teammates — he is always working to add himself as a pass option.  
Lind also attacks vigorously on the forecheck; he's physical, attacking passes early in their inception, timing stick-checks, and draping over defenders who lack small-ice skills. He's like a blanket you used to trap a bird that has snuck in your house — all encompassing.  
When Lind works the puck outside of the slot, he is a fairly adaptable passer, constantly rotating to open up lanes and find teammates in high-danger areas. He manipulates stick placements with head-fakes and fake shots, creating headaches as opponents try to predict his actions. He can sometimes be a bit inefficient with his attempts, but there are high-level actions here. 
Transitional attacks
Transitionally, Lind is incredibly interesting. While carrying the puck, he completed quite a few transitional attack sequences that led to dangerous chances.
He out-waits defender actions, again using manipulation through fake-shot attempts to create scenarios where he can attack closer to the crease. He loves to implement hand-offs that change attack angles, allowing him to shoot off the rush.
Watch some of his eye-opening sequences where he blended large-ice maneuverability and his hands to create offence for Utica.
Lind also found himself in many situations where he slipped behind opposing defenders to create rush chances. We get a look at Lind's in-stride wrist shot here; the amount of weight transfer he achieves is extremely impressive.
As may have noticed, when Lind is carrying the puck, he often holds it directly in front of his body. This is essentially a poor way to protect the puck and isn't wholly translatable at the NHL level. He must make more of a habit to hold the puck more laterally when he is facing opponents. Lind's hands also suffer in small ice scenarios around the boards — he often has trouble with dexterity in these scenarios. 
Under development
As with many players who were offensive stars at the junior level, Lind's defensive game is a work in progress. He actively supports his defenders to win battles down low and is quick enough to make reactive plays to prevent dangerous slot-occupying opponents. 
Where Lind will have to improve, is his proactiveness in defensive situations. This comes in the form of more scanning, identification of secondary threats, and improved decision-making in these high pressure scenarios.
He can be careless with the puck which can lead to more sustained pressure and he can become very puck-focused threats. 
He's also an amazing pest
As a parting note, I leave you with another aspect of Lind's game: he's an amazing pest — something every good team needs.  
Example #1: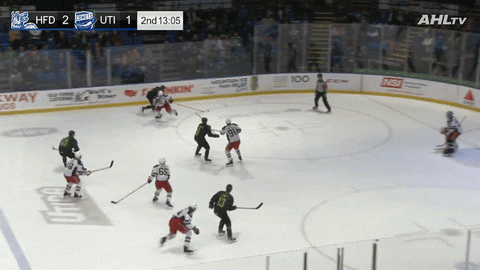 Example #2: