Seattle's Bug Chef coming to Vancouver for one night only February 28 at Hawkers Market
Expect weird, wild and wonderful at the next installment of Hawkers Market, the constantly evolving underground food market. Thanks to some special guests, this is going to be the most memorable Hawkers yet. As always Hawkers will have several special details planned for the evening that will trickle out before February 28.
David George Gordon is the award-winning author of "The Eat-a-Bug Cookbook" and 19 other titles, and for one night only he is in Vancouver to thrill the senses with a daring menu of insect-based cuisine. Gordon is regarded as one of the world's best chefs , and many hail him as the future of food.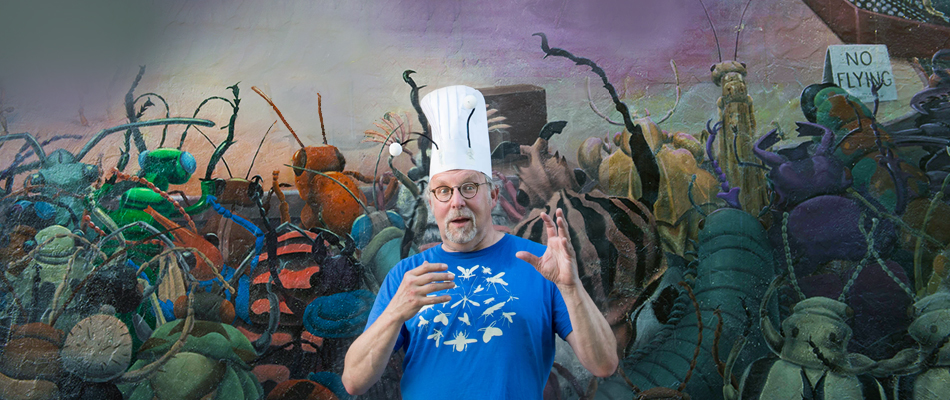 Image: David George Gordon
As The Bug Chef, Gordon has shared his exotic cuisine with visitors to Yale University, the Smithsonian Institution, Mondavi Institute for Food and Wine Science, San Diego Comic Con, Singapore Food Festival and Ripley's Believe It or Not! museums in Hollywood, San Francisco and Times Square.
He's been featured in The Wall Street Journal, USA Today, Time magazine and National Geographic online and appeared on Conan O'Brien, The Wil Wheaton Project and The View. Chef Gordon lives in Seattle with his wife Karen Luke Fildes, an illustrator, and their tank of tropical fish.
At Hawkers Market, Gordon will serve up a menu of culinary oddities and delights for any foodie who is daring or adventurous enough to take a bite…or two. He will be cooking with grasshoppers, scorpions, crickets and other land arthropod delights!
For the less adventurous, Hawkers Market has a jam-packed lineup of food, music and craft beer from Vancouver sprawling through their 10,000-square-foot warehouse and spilling outside with some brand new outdoor food hawkers launching for the first time February 28.
Head on over to HawkersMarket.com to have a peek at the lineup and grab tickets before they go, Vancouver!
Follow Hawkers on Instagram and Twitter – @hawkersmarket.
Read the latest on Gordon on BuzzFeed.
Feature Image: Buzzfeed