March 18th, 2017.
This date shall live forever in our hearts.
For it was on this day that the hardest working team you've ever seen took to the ice.
Man alive, did the Vancouver Canucks work hard.
They worked hard to the windows.
They worked hard to the walls.
They worked hard until the sweat dripped down their…ballsy effort they put forth.
Yes, sure, the Canucks lost 2-0 the Oilers.
But the important thing is how hard they worked. Do you realize how hard? So hard that at one point, you couldn't even tell if they were working hard, or hardly working. It became a grey fog of effort, chutzpah, temerity, battle level, compete level, wanting it more than the other guy, you know name it, if it involved working hard, the Canucks had it.
Once the game was over, you felt like you needed a smoke.
"You see these guys???" I texted my buddy. "You see how hard they worked tonight??"
"Dude, I wouldn't have missed it for the world." was his reply.
Where were you, March 18th, 2017?
I hardly think you'll forget.
1. Working it
The game was pretty depressing. A lot of it had to do with CBC beating us in the face with the "working so hard" narrative.
And to be fair, the Canucks had a decent effort, no one is saying they didn't. They outshot the Oilers 33-20, and held a decent Corsi advantage in the game. In the third period especially, they did their best to score. Only the cold cruel nature of the posts prevented a goal. The Sedins and Chaput all ended the game at 80% Corsi or higher, with Hank hitting a gaudy 90% (20 for, 2 against).
But the Canucks aren't making the playoffs. We all know that. And the team they're currently icing, it doesn't have a lot to wow the audience with.
So when you have CBC having literally nothing else to say except "Well look at them working so hard" it felt like your Grade 3 teacher handing you a participation ribbon for almost finishing the race in gym class. Then telling the class about it every five minutes.
I get it, everyone has a hand down some pants when it comes to big business hockey in regards to NHL TV rights and the NHL, so they're not going to come out and say "Man, look at the pile of garbage the Canucks are dressing tonight!" But it got tiring hearing about how hard they worked. It would have been nice to have had a commentary team more in touch with the local scene to at least give us some more varied material to work with.
To be fair, I am 100% in cynical pessimistic mode about this season, so I am sure some people loved the hard working storyline.
But for me, sometimes it's nice to have some cold hard commentary about the team, negative or not.
2. Setting the tone This was the first play of the game, and it was Sbisa making a bad play and giving up a good chance to Eberle.
The one good thing I'll say is that at least the Canucks didn't get blown out by seven goals. The next play of the game was just a lonely Canuck spinning off into obscurity.
It was at this point I knew we were in for a long night.
3. Reid Boucher, Waterboy
Unless I'm mistaken, Desjardins moved Boucher from the third line and moved Jayson Megna up in his stead.

— J.D. Burke (@JDylanBurke) March 19, 2017
I firmly expect Reid Boucher to run over Coach Willie at one point in the season.
Boucher, who started on the third line with Sutter and Cramarossa, didn't last long before getting the yank.
It's hard to see what Willie is looking for (we only know it has to do with "being consistent") but apparently Reid didn't manage to pull this off in his allotted two shifts of time. Boucher would end the night with 10:44 of ice time. Third lowest amongst forwards.
Worst ES #Canucks player in the first?

Sutter:
Shot attempts for – 0
Shot attempts against – 5

That's minus-5 if you're bad at counting..

— Omar A (@omarcanuck) March 19, 2017
4. Brandon Sutter is a big phony
Now to be fair to Boucher, getting away from Sutter might have been a favour from Coach Willie…
Everybody, it's time for us to look past #TeamTank. We have to look further. Team #ExposeSutter is taking on recruits now.

— Edward (@eddya52) March 19, 2017
For reals. At 5on5 Gudbransen has more primary assists (5) than Sutter (3) who's tied with Sbisa, Tryamkin, Hut & Skille. https://t.co/qQ5jUzmcql

— The Canuck Fan (@TheCanuckFan) March 19, 2017
Brandon Sutter has been on the advanced stats blacklist for quite a while now. Pretty much since the day they found out he was coming to Vancouver.
The short story of it all is that Brandon Sutter can score goals, but that's about it. He hurts his linemates, his "defensive game" has been propped up by his goalies happening to be playing well behind him, he gives up scoring chances like he's going out of business, and he has a really really bad goal song. Hang out at Canucks Army for a week and you'll get the gist.
On a winning team that goes on a playoff run, that's the sort of thing people can ignore. Sure, Sutter is hurting his linemates and not doing so great in his zone, but man did you see that Game 3 winner in overtime??
Goals are the foundation makeup of the NHL, allowing you to hide blemishes you would otherwise hope nobody sees. Except in a losing season like this, on a team devoid of talent like this one, that makeup starts to run under the hot glare of the spotlight of Vancouver.
Oh, the worst player in Corsi on the Canucks tonight?
Brandon Sutter. 10 for, 21 against. 32.26%.
5. Oilers goals
McDavid does a thing#Oilers up 1-0#Canucks pic.twitter.com/yeK2cxxMcS

— Ryan Biech (@ryanbiech) March 19, 2017
In case you missed the game and didn't want to watch your PVR of it, here are the Oilers goals.
The first goal is McDavid pretty much showing Vancouver how he will haunt them for the foreseeable future. The guy is ridiculously good at hockey and darts around the ice like he's got the turbo button jammed down at all times.
It makes you crave for a Pavel Bure in his prime with HD and gifs at our disposal.
Alas, all we have now is McDavid showing us why he's so bloody good at hockey.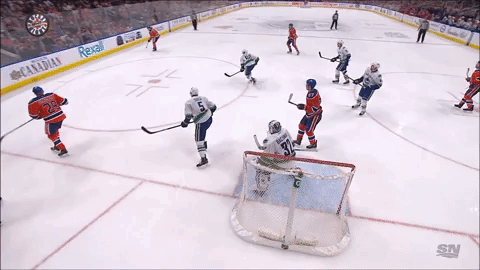 The second goal was just simple power play efficiency. The Oilers moved the puck around, running the Canucks ragged, until Letestu sniped a goal past Bachman.
6. Posts! Reid Boucher had a chance late in the third to tie the game up. As did Tryamkin.
Both of them are apparently on Coach Willie's shit list (Tryamkin had the lowest ice time of any d-man on the night by the way).
They tried to score, but were thwarted by the post.
Perhaps if Boucher had a 200-foot game like Megna, or Tryamkin fought and injured McDavid, they win that game.
Alas.