Haunted Vancouver: The seven ghosts of Hycroft Mansion
Hycroft Mansion, located in the upper class neighbourhood of Shaughnessy, is a 20,000-square-foot home with a history of well-documented paranormal activity.
There are seven ghosts said to roam the halls of this 30-room historic manor, making it more populated with the afterlife than other haunted Vancouver locations.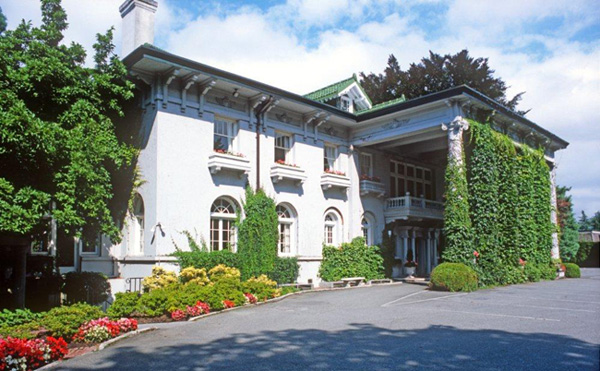 Image: University Women's Club of Vancouver
The home is known for its many secret panels. These panels are believed to be used by the family to store their valuable heirlooms.
Hycroft Mansion was built for politician and war hero General Alexander Duncan McRae in the early 1900s and has played host to many high society parties. Numerous sightings of an elderly man dressed in a World War I uniform have been reported over the years; this is believed to be the spirit of General McRae. Another ghostly figure is that of a lady, thought to be McRae's wife Blanche, who died in 1942.
Blanche McRae in the garden at Hycroft (Charles West via the Vancouver Archives)
After his wife's death, McRae gave the property to the Canadian government to use as a veteran's hospital, Shaughnessy Military Auxiliary . Hycroft's other ghosts purportedly come from this era in the home's history. There have been sightings of the ghosts of three World War I-era veterans (nicknamed "The Pranksters"), that of the hospital's head nurse, and lastly that of a ghost known simply as the "crying man, thanks to the tearful sounds that have been heard by many people in one of the lower floor rooms.
The ghosts that reside at Hycroft Mansion seem to only appear when film crews are shooting on location, especially shows that focus on paranormal activity, such as the "X-Files."

Photo of the Hycroft ballroom in 1942 by Don Coltman, Steffens Colmer via Vancouver Archives
One security guard positioned during the filming for "Catwoman" says he took photos with his digital camera of the property that show a ghostly white mist in the images. Staff have reported getting a spine-chilling sensation walking into certain rooms of the home.
Hycroft Mansion has been owned by the University Women's Club of Vancouver since 1962.
Featured image: Hycroft in 1927 (Leonard Frank Photos via Vancouver Archives)