9 good things that happened around the world last week
Every time we try to catch up on the news, negative stories constantly seem to dominate the headlines. There's a reason why we say some things "restore our faith in humanity" – it's because we rarely get exposed to the wealth of good things happening around us everyday.
That's why each Wednesday, we will be bringing you a roundup of some of the biggest positive stories from around the world to help brighten your day. Here's 9 good things that happened last week that you should know about (in no particular order):
November 30 to December 7, 2014
1. Beachgoers deliver a baby shark from dead mother
Warning: This video contains graphic content and may not be suitable for everyone
http://youtu.be/DcOEBMRF_H8
A family having a beach day in Cape Town, South Africa had a more eventful day than they expected when they saw a dead shark washed ashore with movement in its belly. The family sprang into action to reveal shark pups that were still alive, and tried to do their best to launch them into the water.
2. A twist on Disney brightens one cancer patient's day
Image: Mother Hubbard Photography 
Five year-old Isabella Harvey loved Disney princesses before she was diagnosed with leukemia, but the disease has since taken over her life. Recently, her mother, Pina Harvey, reached out to Gianna Nicole's Heart of Hope, which helps children who are battling cancer – and to help Isabella with her insecurity about losing her hair, they organized a photo shoot with a Disney princess wearing a bald cap. "When Cinderella came into the room and Isabella saw she didn't have any hair, her face was priceless… She felt like she could be a princess too," said Pina. The family saw the photos for the first time last week. Read more
3. Woman saves a kitten thrown from a car
Image: Indiegogo
Mandi Howard from Toronto has successfully raised $3,730 to help pay veterinarian bills for a kitten she rescued last week after it was thrown out of a car onto a busy highway. When she went to pick up the kitten, she said it was "covered in blood and screaming in pain." Howard said that the kitten will need surgeries to fix his broken jaw, split lips and multiple fractures, and is overwhelmed after donations surpassed her campaign goal of $2,000. Read more
4. UPS helps a fellow post enthusiast's dream come true
Four-year-old Carson developed a friendship with his UPS driver, Mr. Ernie, when he began receiving shipments of special milk. Carson has become fascinated by all things UPS, and since he wished he could do what Mr. Ernie does everyday, UPS made Carson a UPS driver for a day. As part of its campaign, UPS is donating $1 to charity for each wish shared on its website or via social media. Learn more
5. Strangers shower a dying girl in Utah with holiday cheer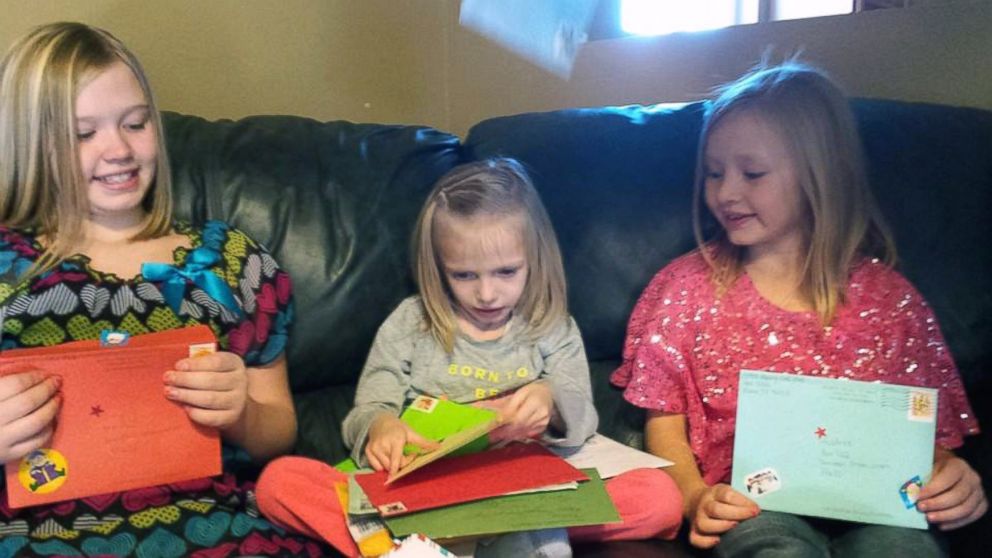 Image: Tami Fausett
Six-year-old Addie Fausett has an undiagnosed illness that has halted her growth since she was three, which is now causing cerebral atrophy. She has been deteriorating rapidly, and doctors have said she will live for only one more year, at the most. That's when Addie's family decided to make her last Christmas incredibly special, with Addie's grandmother posting on Facebook a request for people around the world to send her Christmas cards. After coverage by a local TV station, Addie has been receiving 1000 cards daily since Monday. Read more
6. Mother pens heartwarming letter to her daughter's stepmom
Image: Candice Curry
It's not often that you hear about acts of love and kindness between a mother and a stepmom raising the same child – but Candice Curry's recent touching open letter to her daughter's stepmom on her blog is proof that those stereotypes are slowly being erased. "I am extremely aware of what it looks like when a mother cannot emotionally accept her child's stepmother in their life. Gratefulness pours heavily from me that we are able to rise above anything like that and do what is truly right for our daughter," she wrote. Read more
7. A hospital patient says goodbye to a special friendship with 'Chef'
Image: Imgur
After 699 days in hospital, one patient bid farewell to the chef that brightened his days there. Every few days, they would exchange notes and silly pictures on the menu. "Eventually they started sending me off the menu meals of things they'd cook up especially for me whilst still cooking for 3,000+ people. I'll always be grateful Chef. So long," reads the post on the image-sharing site Imgur. Read more
8. The LA Clippers help bring one man's energy back on the court
Image: Fox Sports
Robbie Stanford was diagnosed with cancer 15 years ago, a time where he was physically active – a side of him that his children hadn't seen, up until last week. As one of his last wishes, Stanford wanted to be able to attend a Clippers game. But the team helped make that request even better, by inviting him to play with them during their practice drills. Read more
9. A couple's favourite waitress gets more than just a good tip
Gary Tackette and his wife Roxann surprised their favourite waitress at the Cracker Barrel in Branson, Missouri with a new 2008 Ford Fusion after seeing the run-down vehicle she was driving. The couple became fast friends with the waitress over the summer, and she was overwhelmed with shock and gratitude when they led her to her new car. Read more 
Do you know a local Good Samaritan? Send in your stories and photos of positive things you see in Vancouver to [email protected].