Here's how Metro Vancouver voted in the 2017 BC Election (MAP)
After a wild and long night of vote counting, the future of British Columbia's legislature is up in the air right now as we wait for recounts and absentee ballot counts to happen over the coming days and weeks.
In the meantime, here's a visual representation of how Metro Vancouver voted, as compared to the last election in 2013.
Note that in 2015, electoral districts were redistributed around the province, increasing the seat count to 87, which is why the boundaries are different.
Orange represents BC NDP ridings, blue is BC Liberals, and grey is independent. The GIF will flip between 2013 results and 2017 results.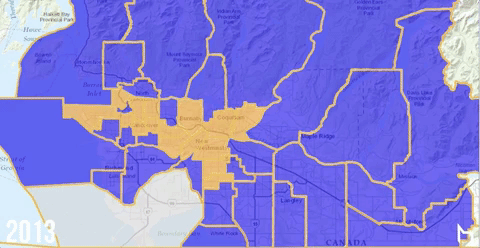 SEE ALSO: Complete list of elected Metro Vancouver MLAs
---
Find all of Daily Hive's BC Election 2017 coverage here: Battleground BC.